Abstract
Background
Harvesting the latissimus dorsi muscle flap endoscopically is a well-known and well-documented technique, though it is still not widespread in clinical practice. This approach provides autologous tissue for the oncological resection bed, creating the most favorable conditions for subsequent radiotherapy. The endoscopic approach minimizes scarring at the donor site.
Methods
Between September 2010 and November 2012, a total of 29 patients were operated on for breast cancer and immediately reconstructed using a latissimus dorsi muscle flap obtained endoscopically. In all cases, the tumor location was the upper and outer pole of the breast. In this paper, we present the results obtained in 19 patients operated on between September 2010 and November 2011 with a minimum follow-up of 12 months after surgery and at least 6 months after adjuvant radiotherapy. The filling volume obtained with the transposition of the flap was studied using magnetic resonance imaging within 6 months postradiotherapy.
Results
The mean hospital stay was 3 days. In all cases, suction drains in the breast and the donor site were removed within 8 days. No surgical revision was required. No necrosis was documented in any of the flaps. Minimal to moderate seroma was documented in nine cases (48 %). MRI studies revealed degenerative changes of the muscle fibers but which did not affect final breast volume because 30 % more muscle than necessary had been recruited. When interviewed a year after the intervention, none of the patients reported changes in the type of bra cup.
Conclusions
The use of the latissimus dorsi muscle flap obtained endoscopically is a highly effective technique in the reconstruction of partial breast defects immediately after cancer surgery. It is particularly useful when the tumor is located in the upper or outer quadrants. The endoscopic approach offers less associated scarring than the classical technique and minimal anatomical variability compared with the use of thoracodorsal artery perforator flaps.
Level of evidence: Level IV, therapeutic study.
This is a preview of subscription content, log in to check access.
Access options
Buy single article
Instant unlimited access to the full article PDF.
US$ 39.95
Price includes VAT for USA
Subscribe to journal
Immediate online access to all issues from 2019. Subscription will auto renew annually.
US$ 99
This is the net price. Taxes to be calculated in checkout.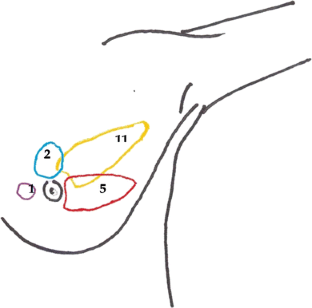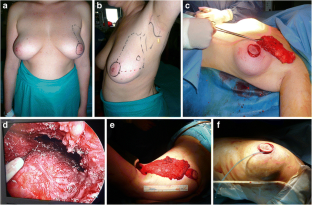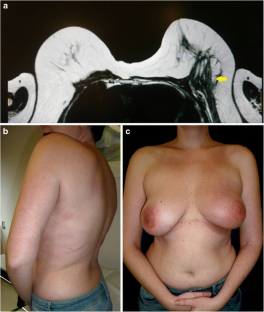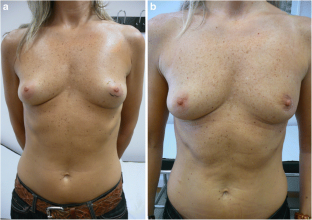 References
1.

Jahkola T, Asko-S S, von Smitten K (2003) Immediate breast reconstruction. Scand J Surg 92(4):249–256

2.

Losken A, Schaefer TG, Carlson GW, Jones GE (2004) Immediate endoscopic latissimus dorsi flap risk or benefit in reconstructing partial mastectomy defects. Ann Plast Surg 53(1):1–5

3.

Lin C, Wei FC, Levin SL et al (1999) Donor site morbidity comparision between endoscopically assisted and traditional harvest for free latissimus dorsi flap. Plast Reconstr Surg 104:1070–1078

4.

Friedlander L, Sundin J (1993) Minimally invasive harvesting of the latissimus dorsi. Plast Reconstr Surg 94:881–884

5.

Fine NA, Orgill DP, Pribaz JJ (1994) Early clinical experience in endoscopic assisted muscle flap harvest. Ann Plast Surg 33:465–472

6.

Bostwick J III (1999) Plastic reconstructive breast surgery, 2nd edn. Quality Medical Publishing, St. Louis

7.

Missana MC, Pomel C (2007) Endoscopic latissimus dorsi flap harvesting. Am J Surg 194:164–169

8.

Rainsbury R, Paramanthan N (1998) Recent progress in breast conserving volume replacement using latissimus dorsi mini flaps in U.K. patient. Breast Cancer 5:139–147

9.

Monticciolo DL, Ross D, Bostwick J III et al (1996) Autologous breast reconstruction with endoscopic latissimus dorsi musculosubcutaneous flaps in patients choosing breast-conserving therapy: mammographic appearance. Am J Roentgenol 167:385–389

10.

Fine NA, Orgill DP, Privaz JJ (1994) Early clinical experience in endoscopic assisted muscle flap harvest. Ann Plast Surg 33:465–469

11.

Pomel C, Missana MC (2003) Endoscopic muscular latissimus dorsi flap harvesting for immediate breast reconstruction after skin sparing mastectomy. Eur J Surg Oncol 29:127–231

12.

Pomel C, Missana MC, Lasser P (2002) Prélèvement endoscopique d'un lambeau musculaire pur de grand dorsal en reconstruction mammaire. Étude de faisabilité et revue de la littérature. Ann Chir 127:337–342

13.

Glassey N, Perks GB, McCulley SJ (2008) A prospective assessment of shoulder morbidity and recovery time scales following latissimus dorsi breast reconstruction. Plast Reconstr Surg 122:1334–1340

14.

Stenberg EG, Perdikis G, Mc Laughlin SA et al (2000) Latissimus dorsi flap remains an excellent choice for breast reconstruction. Ann Plast Surg 56:31–35

15.

Freeman ME, Perdikis G, Stenberg EG, TerKonda SP, Waldorf JC (2006) Latissimus dorsi reconstruction: a good option for patients with failed breast conservation therapy. Ann Plast Surg 57:134–137

16.

Lopez Ojeda AB, Carrasco Lopez C, Gomes Rodrigues TA, Muñoz Vidal J et al (2012) Thoracodorsal artery perforator (TDAP) flap in immediate breast reconstruction and the role of preoperative mapping:a clinical experience. Eur J Plast Surg. doi:10.1007/s00238-012-0769-0

17.

Halperin TJ, Fox SE, Caterson SA (2007) Delayed division of the thoracodorsal nerve: a useful adjunct in breast reconstruction. Ann Plast Surg 59(1):23–25

18.

Cho BC, Lee JH, Ramasastry SS et al (1995) Free Latissimus dorsi muscle transfer using endoscopic techniques. Ann Plast Surg 38:586–593

19.

Van Buskirk ER, Rehnke RD, Montgomery RL et al (1997) Endoscopic harvest of the latissimus dorsi muscle using the balloon dissection technique. Plast Reconstr Surg 99:899–903

20.

Karp NS, Bass LS, Kasabian AK et al (1997) Balloon assisted endoscopic harvest of the latissimus dorsi muscle. Plast Reconstr Surg 100:1061–1167

21.

Shwabegger A, Ninkovic M, Brenner E et al (1997) Seroma as a common donor site morbidity after harvesting the latissimus dorsi flap; observation on cause and prevention. Ann Plast Surg 38:594–597

22.

Tomita K, Yano K, Masuoka T et al (2007) Postoperative seroma formation in breast reconstruction with latissimus dorsi flaps; a restrospective study of 174 consecutive cases. Ann Plast Surg 59:149–151

23.

Randolph LC, Barone J, Angelats J, Dado DV, Vandevender DK, Shoup M (2005) Prediction of postoperative seroma after latissimus dorsi breast reconstruction. Plast Reconstr Surg 5:1287–1290

24.

Jeon B-J, Lee T-S, Lim S-Y et al (2012) Risk factors for donor-site seroma formation after immediate breast reconstruction with the extended latissimus dorsi flap. Ann Plast Surg 69:145–147

25.

Jain PK, Sowdi R, Anderson A, Macfie J (2004) Randomized clinical trial investigating the use of drains and fibrin sealant following surgery for breast cancer. Br J Surg 91:54–60

26.

Carless PA, Henry DA (2006) Systematic review and metaanalysis of the use of fibrin sealant to prevent seroma formation after breast cancer surgery. Br J Surg 93:810–819

27.

Daltrey I, Thomson H, Hussien M, Krishna K, Rayter Z, Winters ZE (2006) Randomised clinical trial of the effect of quilting latissimus dorsi flap donor site on seroma formation. Br J Surg 93:825–830
Conflicts of Interest
None.
Electronic supplementary material
Below is the link to the electronic supplementary material.
About this article
Cite this article
Muñoz i Vidal, J., Gomes Rodrigues, T.A., Carrasco Lopez, C. et al. Endoscopically harvested latissimus dorsi: a scarless technique in immediate partial breast reconstruction. Eur J Plast Surg 36, 627–632 (2013). https://doi.org/10.1007/s00238-013-0842-3
Received:

Accepted:

Published:

Issue Date:
Keywords
Endoscopic plastic surgery

Endoscopically latissimus dorsi

Scarless breast reconstruction