Abstract
Complex wounds of the hand and vital structures are important to reconstruct. They should be covered as soon as possible in order to maintain the function of the hand. The reversed radial forearm flap is a versatile option for hand reconstruction. Reversed radial forearm flaps were harvested in 15 cases. Doppler ultrasound was used in all cases to evaluate the vascular status of the flap. No complications were observed in this series. All skin grafts healed well. The reversed radial forearm flap is a workhorse tool for the coverage of the hand.
This is a preview of subscription content, log in to check access.
Access options
Buy single article
Instant unlimited access to the full article PDF.
US$ 39.95
Price includes VAT for USA
Subscribe to journal
Immediate online access to all issues from 2019. Subscription will auto renew annually.
US$ 99
This is the net price. Taxes to be calculated in checkout.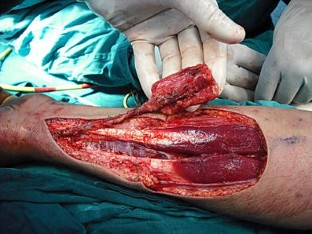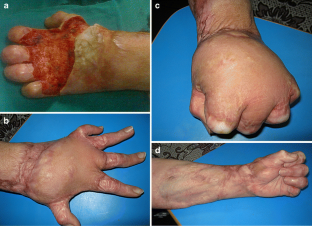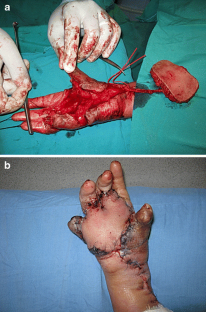 References
1.

Flugel A, Kehrer A, Heitmann C, Germann G, Sauerbier M (2005) Coverage of soft tissue defects of the hand with free fascial flaps. Microsurgery 25:47–53

2.

Gohla T, Kehrer A, Holle G, Megerle K, Germann G, Sauerbier M (2007) Functional and aesthetic refinements of free flap coverage at the dorsum of the hand and distal forearm. Unfallchirurg 110:5–13

3.

McGregor AD (1987) The free radial forearm flap—the management of the secondary defect. Br J Plast Surg 40:83–85

4.

Soutar DS, Tanner NSB (1984) The radial forearm flap in the management of soft tissue injuries of the hand. Br J Plast Surg 37:18–26

5.

Biemer E, Stock W (1983) Total thumb reconstruction: a one-stage reconstruction using an osteocutaneous forearm flap. Br J Plast Surg 36:52–55

6.

Foucher G, van Genechten F, Merle N, Michon J (1984) A compound radial artery forearm flap in hand surgery: an original modification of the Chinese forearm flap. Br J Plast Surg 37:139–148

7.

Gilbert DA (1981) An overview of flaps for hand and forearm reconstruction. Clin Plast Surg 8:129–139

8.

Knobloch K, Gohritz A, Spies M, Altintas MA, Rennekampff HO, Vogt PM (2009) External fixation in complicated groin flap surgery. Plast Reconstr Surg 124:268e–269e

9.

Jin YT, Guan WX, Shi TM, Quian YL, Xu LG, Chang TS (1985) Reversed island forearm fascial flap in hand surgery. Ann Plast Surg 15:340–347

10.

Page R, Chang J (2006) Reconstruction of hand soft-tissue defects: alternatives to the radial forearm fasciocutaneous flap. J Hand Surg Am 31:847–856

11.

Richardson D, Fisher SE, Vaughan ED, Brown JS (1997) Radial forearm flap donor-site complications and morbidity: a prospective study. Plast Reconstr Surg 99:109–115

12.

Huang CH, Chen HC, Huang YL, Mardini S, Feng GM (2004) Comparison of the radial forearm flap and the thinned anterolateral thigh cutaneous flap for reconstruction of tongue defects: an evaluation of donor-site morbidity. Plast Reconstr Surg 114:1704–1710

13.

De Bree R, Hartley C, Smeele LE, Kuik DJ, Quak JJ, Leemans CR (2004) Evaluation of donor site function and morbidity of the fasciocutaneous radial forearm flap. Laryngoscope 114:1973–1976

14.

Weinzweig N, Chen L, Chen ZW (1994) The distally based radial forearm fasciosubcutaneous flap with preservation of the radial artery: an anatomic and clinical approach. Plast Reconstr Surg 94:675–684

15.

Jones BM, O'Brien CJ (1985) Acute ischaemia of the hand resulting from elevation of a radial forearm flap. Br J Plast Surg 38:396–397

16.

Nunoo-Mensah J (1998) An unexpected complication after harvesting of the radial artery for coronary artery bypass grafting. Ann Thorac Surg 66:929–931

17.

Fox AD, Whiteley MS, Phillips-Hughes J, Roake J (1999) Acute upper limb ischemia: a complication of coronary artery bypass grafting. Ann Thorac Surg 67:535–536, discussion 536–537

18.

Heller F, Wei W, Wei FC (2004) Chronic arterial insufficiency of the hand with fingertip necrosis 1 year after harvesting a radial forearm free flap. Plast Reconstr Surg 114:728–731

19.

Higgins JP, Orlando GS, Chang P, Serletti JM (2001) Hypothenar hammer syndrome after radial forearm flap harvest: a case report. J Hand Surg Am 26:772–775

20.

Kleinman WB, O'Connell SJ (1993) Effects of the fasciocutaneous radial forearm flap on vascularity of the hand. J Hand Surg Am 18:953–958

21.

Suominen S, Ahovuo J, Asko-Seljavaara S (1996) Donor site morbidity of radial forearm flaps: a clinical and ultrasonographic evaluation. Scand J Plast Reconstr Surg Hand Surg 30:57–61

22.

Lorenzetti F, Giordano S, Suominen E, Asko-Seljavaara S, Suominen S (2010) Intraoperative hemodynamic evaluation of the radial and ulnar arteries during free radial forearm flap procedure. J Reconstr Microsurg 26:73–77
Electronic supplementary material
Below is the link to the electronic supplementary material.
Movement of the burnt hand after coverage of the burnt dorsum with reversed radial forearm flap (AVI 15,340 kb)
Movement of the burnt hand after coverage of the burnt dorsum with reversed radial forearm flap (AVI 15,340 kb)
About this article
Cite this article
El-Sabbagh, A.H., Zeina, A.A.E., Khalil, A.A.E. et al. Reversed radial forearm flap: an ad hoc flap for hand reconstruction. Eur J Plast Surg 35, 1–4 (2012). https://doi.org/10.1007/s00238-011-0623-9
Received:

Accepted:

Published:

Issue Date:
Keywords
Reversed radial forearm flap

Dorsum of hand

Palm of hand

Thumb