Abstract
Introduction
Carotid artery dissection is an important cause of ischemic stroke in all age groups, particularly in young patients. The purpose of this work was to assess whether there is an association between the presence of an internal carotid artery dissection (ICAD) and the arterial tortuosity.
Methods
This study considered 124 patients (72 males and 52 females; median age 57 years) with CT/MR diagnosis of ICAD of the internal carotid artery were considered in this multi-centric retrospective study. The arterial tortuosity was evaluated and, when present, was categorized as elongation, kinking, or coiling. For each patient, both the right and left sides were considered for a total number of 248 arteries in order to have the same number of cases and controls. Fisher's exact test was applied to test the association between elongation, kinking, coiling, dissection, and the side affected by CAD.
Results
Fisher's exact test showed a statistically significant association between the ICAD and kinking (p = 0.0089) and coiling (p = 0.0251) whereas no statistically significant difference was found with arterial vessel elongation (p = 0.444). ICAD was more often seen on the left side compared to the right (p = 0.0001). These results were confirmed using both carotid arteries of the same patient as dependent parameter with p = 0.0012, 0.0129, and 0.3323 for kinking, coiling, and elongation, respectively.
Conclusion
The presence of kinking and coiling is associated with ICAD.
This is a preview of subscription content, log in to check access.
Access options
Buy single article
Instant access to the full article PDF.
US$ 39.95
Price includes VAT for USA
Subscribe to journal
Immediate online access to all issues from 2019. Subscription will auto renew annually.
US$ 199
This is the net price. Taxes to be calculated in checkout.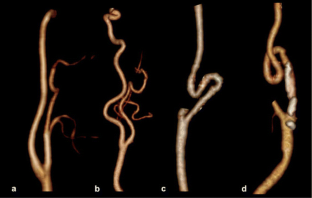 References
1.

Giroud M, Dumas R, Becker F (1993) Spontaneous vertebral artery dissection initially revealed by a pain in one upper arm. Stroke 33:480–481

2.

Bevan H, Sharma K, Bradley W (1990) Stroke in young adults. Stroke 21:382–386

3.

Dziewas R, Konrad C, Dräger B (2003) Cervical artery dissection clinical features, risk factors, therapy and outcome in 126 patients. J Neurol 250:1179–1184

4.

Schievink WI, Mokri B, Garrity JA, Nichols DA, Piepgras DG (1993) Ocular motor nerve palsies in spontaneous dissections of the cervical internal carotid artery. Neurology 43:1938–1941

5.

Chancellor AM, Glasgow GL, Ockelford PA, Johns A, Smith J (1989) Etiology, prognosis, and hemostatic function after cerebral infarction in young adults. Stroke 20:477–482

6.

Micheli S, Paciaroni M, Corea F, Agnelli G, Zampolini M, Caso V (2010) Cervical artery dissection: emerging risk factors. Open Neurol J 4:50–5

7.

Pezzini A, Caso V, Zanferrari C (2006) Arterial hypertension as risk factor for spontaneous cervical artery dissection. A case–control study. J Neurol Neurosurg Psychiatry 77:95–7

8.

Caso V, Paciaroni M, Corea F (2004) Recanalization of cervical artery dissection: influencing factors and role in neurological outcome. Cerebrovasc Dis 17:93–7

9.

Baumgartner RW, Arnold M, Baumgartner I (2001) Carotid dissection with and without ischemic events: local symptoms and cerebral artery findings. Neurology 57:827–32

10.

Gallai V, Caso V, Paciaroni M (2001) Mild hyperhomocyst(e)inemia: a possible risk factor for cervical artery dissection. Stroke 32:714–8

11.

Pezzini A, Del Zotto E, Archetti S (2005) Plasma homocysteine concentration, C677TMTHFR genotype, and 844ins68bp CBS cerebral artery dissection, 1st edn. Karger, Switzerland, pp 16–29

12.

Ulbricht D, Diederich J, Hermann-Le T, Metz RJ, Macian F, Pierard GE (2004) Cervical artery dissection. An atypical presentation with Ehrles-Danlos like collagen pathology? Neurology 63:1708–1710

13.

Arauz A, Hoyos L, Cantu C (2007) Mild hyperhomocysteinemia and low folate concentrations as risk factors for cervical arterial dissection. Cerebrovasc Dis 23:210–4

14.

Tzourio C, Cohen A, Lamisse N, Biousse V, Bousser MG (1997) Aortic root dilatation in patients with spontaneous cervical artery dissection. Circulation 95:2351–2353

15.

Heckmann JG, Tomandl B, Duhm C, Stefan H, Neundörfer B (2000) Collet-Sicard syndrome due to coiling and dissection of the internal carotid artery. Cerebrovasc Dis 10(6):487–8

16.

Pelkonen O, Tikkakoski T, Leinonen S, Pyhtinen J, Lepojärvi M, Sotaniemi K (2003) Extracranial internal carotid and vertebral artery dissections: angiographic spectrum, course and prognosis. Neuroradiology 45:71–7

17.

Saba L, Mallarini G (2010) Correlation between kinking and coiling of the carotid arteries as assessed using MDCTA with symptoms and degree of stenosis. Clin Radiol 65:729–34

18.

Macchi C, Gulisano M, Giannelli F, Catini C, Pratesi C, Pacini P (1997) Kinking of the human internal carotid artery: a statistical study in 100 healthy subjects by echocolor Doppler. J Cardiovasc Surg 38:629–37

19.

Derrick JR, Estess M, Williams D (1965) Circulatory dynamics in kinking of the carotid artery. Surgery 58:381–3

20.

Smith RB III, Dodson TF (1990) Treatment of carotid kinks, carotid coils, and fibromuscular dysplasia. In: Veith FJ (ed) Current critical problems in vascular surgery. Quality Medical Publishing, Inc, St. Louis, pp 398–406

21.

Metz H, Murray-Leslie RM, Bannister RG, Bull JWD, Marshall J (1961) Kinking of the internal carotid artery. Lancet 191:424–6

22.

Weibel J, Fields WS (1965) Tortuosity, coiling and kinking of the internal carotid artery. II. Relationship of morphological variation to cerebrovascular insufficiency. Neurology 15:462–8

23.

Schievink WI (2001) Spontaneous dissection of the carotid and vertebral arteries. N Engl J Med 344:898–906

24.

Trotter SE, Olsen EG (1991) Marfan's disease and Erdheim's cystic medionecrosis: a study of their pathology. Eur Heart J 12:83–7

25.

Ciccone MM, Sharma RK, Scicchitano P, Cortese F, Salerno C, Berchialla P, Frasso G (2014) Dolichocarotids: echo-color Doppler evaluation and clinical role. J Atheroscler Thromb 21:56–63

26.

Barbour PJ, Castaldo JE, Rae-Grant AD, Gee W, Reed JF 3rd, Jenny D, Longennecker J (1994) Internal carotid artery redundancy is significantly associated with dissection. Stroke 25:1201–6

27.

Baracchini C, Farina F, Tonello S, Citton V, Meneghetti G, Ballotta E, Manara R (2013) Endothelial dysfunction in carotid elongation. J Neuroimaging 23:18–20
Ethical standards and patient consent
We declare that all human and animal studies have been approved by the Institutional Review Board of the Azienda Ospedaliero Universitaria Department of Radiology and have therefore been performed in accordance with the ethical standards laid down in the 1964 Declaration of Helsinki and its later amendments. Patient consent was waived due to the retrospective nature of this study.
Conflict of interest
We declare that we have no conflict of interest.
About this article
Cite this article
Saba, L., Argiolas, G.M., Sumer, S. et al. Association between internal carotid artery dissection and arterial tortuosity. Neuroradiology 57, 149–153 (2015). https://doi.org/10.1007/s00234-014-1436-x
Received:

Accepted:

Published:

Issue Date:
Keywords