Abstract
Introduction
Assessment of the motion of the cerebellar tonsils is of interest in diseases affecting the CSF flow at the foramen magnum. Cardiac-gated balanced steady-state free-precession technique, which has recently been shown to demonstrate the pulsatile motion of neural structures, appears well suited to allow direct measurement of craniocaudal translation of cerebellar tonsils during the cardiac cycle. Our aim was to assess the intra-observer and inter-observer variability in the assessment of tonsillar motion utilizing this technique.
Methods
We retrospectively identified 44 patients who had undergone MR imaging with cine TrueFISP sequence, as a part of CSF flow study. Two neuroradiologists independently assessed the images. The tonsillar pulsatility was subjectively characterized into none, minimal, and marked categories after review of the images on a cine loop. For patients with identifiable tonsillar motion, the maximal extent of translation of the inferior edge of the cerebellar tonsil was directly measured. Both readers repeated the measurements after a minimum interval of 2 weeks. Intra- and inter-observer variability was characterized by calculating the kappa statistics.
Results
The intra-observer agreement for subjective assessment of tonsillar pulsatility was near perfect while the inter-observer agreement was substantial. A good intra- and inter-observer correlation was also seen for the objective measurements of the tonsillar motion. A good correlation was found between the subjective categorization of the tonsillar pulsatility and the objective measurements.
Conclusion
Steady-state balanced free-precession MR imaging technique allows for a reproducible subjective and objective assessment of tonsillar pulsatility.
This is a preview of subscription content, log in to check access.
Access options
Buy single article
Instant unlimited access to the full article PDF.
US$ 39.95
Price includes VAT for USA
Subscribe to journal
Immediate online access to all issues from 2019. Subscription will auto renew annually.
US$ 199
This is the net price. Taxes to be calculated in checkout.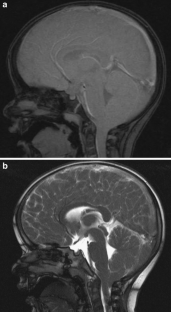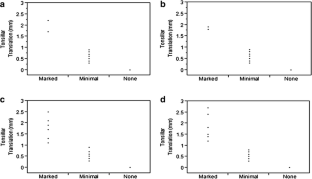 References
1.

Hofkes SK, Iskandar BJ, Turski PA, Gentry LR, McCue JB, Haughton VM (2007) Differentiation between symptomatic Chiari I malformation and asymptomatic tonsilar ectopia by using cerebrospinal fluid flow imaging: initial estimate of imaging accuracy. Radiology 245:532–540

2.

Quigley MF, Iskandar B, Quigley ME, Nicosia M, Haughton V (2004) Cerebrospinal fluid flow in foramen magnum: temporal and spatial patterns at MR imaging in volunteers and in patients with Chiari I malformation. Radiology 232:229–236

3.

Levy LM (2003) MR identification of Chiari pathophysiology by using spatial and temporal CSF flow indices and implications for syringomyelia. AJNR Am J Neuroradiol 24:165–166

4.

Haughton VM, Korosec FR, Medow JE, Dolar MT, Iskandar BJ (2003) Peak systolic and diastolic CSF velocity in the foramen magnum in adult patients with Chiari I malformations and in normal control participants. AJNR Am J Neuroradiol 24:169–176

5.

Pinna G, Alessandrini F, Alfieri A, Rossi M, Bricolo A (2000) Cerebrospinal fluid flow dynamics study in Chiari I malformation: implications for syrinx formation. Neurosurg Focus 8:E3

6.

Hofmann E, Warmuth-Metz M, Bendszus M, Solymosi L (2000) Phase-contrast MR imaging of the cervical CSF and spinal cord: volumetric motion analysis in patients with Chiari I malformation. AJNR Am J Neuroradiol 21:151–158

7.

Brugieres P, Idy-Peretti I, Iffenecker C et al (2000) CSF flow measurement in syringomyelia. AJNR Am J Neuroradiol 21:1785–1792

8.

Greitz D (2006) Unraveling the riddle of syringomyelia. Neurosurg Rev 29:251–263, discussion 264

9.

Oldfield EH, Muraszko K, Shawker TH, Patronas NJ (1994) Pathophysiology of syringomyelia associated with Chiari I malformation of the cerebellar tonsils. Implications for diagnosis and treatment. J Neurosurg 80:3–15

10.

Greitz D, Wirestam R, Franck A, Nordell B, Thomsen C, Stahlberg F (1992) Pulsatile brain movement and associated hydrodynamics studied by magnetic resonance phase imaging. The Monro-Kellie doctrine revisited. Neuroradiology 34:370–380

11.

Wolpert SM, Bhadelia RA, Bogdan AR, Cohen AR (1994) Chiari I malformations: assessment with phase-contrast velocity MR. AJNR Am J Neuroradiol 15:1299–1308

12.

Menick BJ (2001) Phase-contrast magnetic resonance imaging of cerebrospinal fluid flow in the evaluation of patients with Chiari I malformation. Neurosurg Focus 11:E5

13.

Pujol J, Roig C, Capdevila A et al (1995) Motion of the cerebellar tonsils in Chiari type I malformation studied by cine phase-contrast MRI. Neurology 45:1746–1753

14.

Algin O, Hakyemez B, Parlak M (2010) Phase-contrast MRI and 3D-CISS versus contrast-enhanced MR cisternography on the evaluation of the aqueductal stenosis. Neuroradiology 52:99–108

15.

Reubelt D, Small LC, Hoffmann MH, Kapapa T, Schmitz BL (2009) MR imaging and quantification of the movement of the lamina terminalis depending on the CSF dynamics. AJNR Am J Neuroradiol 30:199–202

16.

Cousins J, Haughton V (2009) Motion of the cerebellar tonsils in the foramen magnum during the cardiac cycle. AJNR Am J Neuroradiol 30:1587–1588

17.

Crewson PE (2005) Reader agreement studies. AJR Am J Roentgenol 184:1391–1397
Conflict of interest
We declare that we have no conflict of interest.
Electronic supplementary material
Below is the link to the electronic supplementary material.
Sagittal cine TrueFISP images viewed in a cine loop in three different patients. Each cine loop consists of 25 images obtained in the same location in the sagittal plane during the cardiac cycle. The images have been zoomed to highlight the change in the tonsillar position during the cardiac cycle. Based on the subjective perception of the extent of tonsillar translation, the tonsillar pulsatility was graded as 0 (video 1), 1 (video 2), and 2 (video 3) by both the readers.
About this article
Cite this article
Sharma, A., Parsons, M.S. & Pilgram, T.K. Balanced steady-state free-precession MR imaging for measuring pulsatile motion of cerebellar tonsils during the cardiac cycle: a reliability study. Neuroradiology 54, 133–138 (2012). https://doi.org/10.1007/s00234-011-0861-3
Received:

Accepted:

Published:

Issue Date:
Keywords
Cerebrospinal fluid

Chiari malformation

Syringomyelia

Magnetic resonance imaging