Abstract
Purpose
The β-1 adrenergic receptor blocker metoprolol is primarily metabolized by the polymorphic enzyme cytochrome P 450 2D6 (CYP2D6), an enzyme with substantial genetic heterogeneity. Our purpose was to investigate the impact of CYP2D6 metabolism on clinical effects and tolerability of metoprolol in patients after myocardial infarction (MI).
Methods
We included 136 patients with MI discharged on treatment with metoprolol with a recommendation to the general practitioner (GP) to increase the metoprolol dose up to 200 mg/day within 2 months if possible. At follow-up, metoprolol dosage after up-titration, metoprolol steady-state trough plasma concentrations, hemodynamic parameters, potential metoprolol-induced adverse drug reactions and number of visits to the GP were measured. CYP2D6 genotyping including the reduced-function variant alleles CYP2D6*9, CYP2D6*10 and CYP2D6*41 was performed after end of follow-up.
Results
According to the genotype-defined CYP2D6 phenotypes, 30% of the patients were metoprolol extensive metabolizers (EMs), 55% intermediate metabolizers (IMs) and 13% poor metabolizers (PMs; carriers of non-coding and reduced-function variant included). Dose-adjusted metoprolol trough concentrations were significantly higher in IM (2-fold) and PM (6.2-fold) groups vs. the EM group (p < 0.001). Only 35% of patients in the PM group achieved the primary end point, i.e. reaching at least 85% of the expected maximum heart rate (HR) during exercise, compared with 78% in the EM group (p < 0.01), and maximum observed HR at exercise was significantly lower in the PM group vs. the EM group (129 ± 5 vs. 142 ± 2 bpm, p < 0.007). In contrast, metoprolol maintenance dose, blood pressure, exercise capacity, number of visits at the GP and frequency and severity of self-reported potential metoprolol-related adverse drug reactions were not significantly different between the groups.
Conclusion
Using a comprehensive CYP2D6 genotyping panel, the present study demonstrates a > 6-fold increase of dose-adjusted plasma metoprolol trough concentration in CYP2D6 PMs vs. EMs with a parallel lower increase in achieved maximum HR during exercise but without association between genotype and frequency or severity of self-reported adverse drug effects. This may indicate that CYP2D6 PMs potentially could benefit of the increased plasma concentration per dose in a naturalistic setting.
This is a preview of subscription content, log in to check access.
Access options
Buy single article
Instant unlimited access to the full article PDF.
US$ 39.95
Price includes VAT for USA
Subscribe to journal
Immediate online access to all issues from 2019. Subscription will auto renew annually.
US$ 199
This is the net price. Taxes to be calculated in checkout.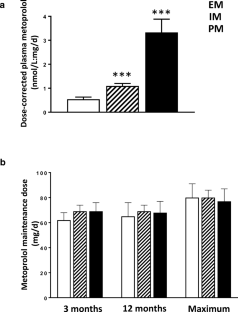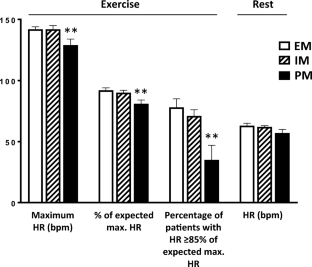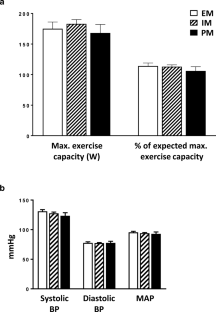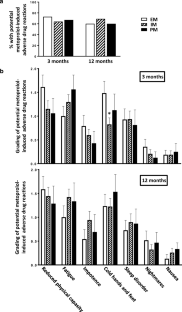 References
1.

Freemantle N, Cleland J, Young P, Mason J, Harrison J (1999) Beta blockade after myocardial infarction: systematic review and meta regression analysis. BMJ 318:1730–1737

2.

Blake CM, Kharasch ED, Schwab M, Nagele P (2013) A meta-analysis of CYP2D6 metabolizer phenotype and metoprolol pharmacokinetics. Clin Pharmacol Ther 94:394–399

3.

Hemeryck A, Lefebvre RA, De Vriendt C, Belpaire FM (2000) Paroxetine affects metoprolol pharmacokinetics and pharmacodynamics in healthy volunteers. Clin Pharmacol Ther 67:283–291

4.

Berger B, Bachmann F, Duthaler U, Krähenbühl S, Haschke M (2018) Cytochrome P450 enzymes involved in metoprolol metabolism and use of metoprolol as a CYP2D6 phenotyping probe drug. Front Pharmacol 9:774

5.

Ingelman-Sundberg M (2005) Genetic polymorphisms of cytochrome P450 2D6 (CYP2D6): clinical consequences, evolutionary aspects and functional diversity. Pharmacogenomics J 5:6–13

6.

Zhou SF (2009) Polymorphism of human cytochrome P450 2D6 and its clinical significance: part I. Clin Pharmacokinet 48:689–723

7.

Very Important Pharmacogene: CYP2D6 (2019) Available at www.pharmgkb.org/vip/PA128. Accessed 9 Nov 2019

8.

Haslemo T, Eliasson E, Jukic MM, Ingelman-Sundberg M, Molden E (2019) Significantly lower CYP2D6 metabolism measured as the O/N-desmethylvenlafaxine metabolic ratio in carriers of CYP2D6*41 versus CYP2D6*9 or CYP2D6*10: a study on therapeutic drug monitoring data from 1003 genotyped Scandinavian patients. Br J Clin Pharmacol 85:194–201

9.

Dean L (2017) Metoprolol therapy and CYP2D6 genotype. In: Pratt V, McLeod H, Rubinstein W, Dean L, Kattman B, Malheiro A (eds) Medical genetics summaries, Bethesda, p 2012

10.

Batty JA, Hall AS, White HL, Wikstrand J, de Boer RA, van Veldhuisen D, van der Harst P, Waagstein F, Hjalmarson Å, Kjekshus J, Balmforth AJ, MERIT-HF Study Group (2014) An investigation of CYP2D6 genotype and response to metoprolol CR/XL during dose titration in patients with heart failure: a MERIT-HF substudy. Clin Pharmacol Ther 95:321–330

11.

Bijl MJ, Visser LE, van Schaik RH et al (2009) Genetic variation in the CYP2D6 gene is associated with a lower heart rate and blood pressure in beta-blocker users. Clin Pharmacol Ther 85:45–50

12.

Hamadeh IS, Langaee TY, Dwivedi R et al (2014) Impact of CYP2D6 polymorphisms on clinical efficacy and tolerability of metoprolol tartrate. Clin Pharmacol Ther 96:175–181

13.

Rau T, Wuttke H, Michels LM, Werner U, Bergmann K, Kreft M, Fromm MF, Eschenhagen T (2009) Impact of the CYP2D6 genotype on the clinical effects of metoprolol: a prospective longitudinal study. Clin Pharmacol Ther 85:269–272

14.

Wuttke H, Rau T, Heide R, Bergmann K, Böhm M, Weil J, Werner D, Eschenhagen T (2002) Increased frequency of cytochrome P450 2D6 poor metabolizers among patients with metoprolol-associated adverse effects. Clin Pharmacol Ther 72:429–437

15.

Zineh I, Beitelshees AL, Gaedigk A et al (2004) Pharmacokinetics and CYP2D6 genotypes do not predict metoprolol adverse events or efficacy in hypertension. Clin Pharmacol Ther 76:536–544

16.

Gao X, Wang H, Chen H (2017) Impact of CYP2D6 and ADRB1 polymorphisms on heart rate of post-PCI patients treated with metoprolol. Pharmacogenomics. https://doi.org/10.2217/pgs-2017-0203

17.

Chen L, Xiao T, Chen L, Xie S, Deng M, Wu D (2018) The association of ADRB1 and CYP2D6 polymorphisms with antihypertensive effects and analysis of their contribution to hypertension risk. Am J Med Sci 355:235–239

18.

Wu D, Li G, Deng M, Song W, Huang X, Guo X, Wu Z, Wu S, Xu J (2015) Associations between ADRB1 and CYP2D6 gene polymorphisms and the response to β-blocker therapy in hypertension. J Int Med Res 43:424–434

19.

Caudle KE, Sangkuhl K, Whirl-Carrillo M, Swen JJ, Haidar CE, Klein TE, Gammal RS, Relling MV, Scott SA, Hertz DL, Guchelaar HJ, Gaedigk A (2019) Standardizing CYP2D6 genotype to phenotype translation: consensus recommendations from the Clinical Pharmacogenetics Implementation Consortium and Dutch Pharmacogenetics Working Group. Clin Transl Sci. https://doi.org/10.1111/cts.12692

20.

Gundersen POM, Helland A, Spigset O, Hegstad S (2018) Quantification of 21 antihypertensive drugs in serum using UHPLC-MS/MS. J Chromatogr B Analyt Technol Biomed Life Sci 1089:84–93

21.

MERIT-HF Study Group (1999) Effect of metoprolol CR/XL in chronic heart failure: metoprolol CR/XL randomised intervention trial in congestive heart failure (MERIT-HF). Lancet 353:2001–2007

22.

Halvorsen S, Jortveit J, Hasvold P, Thuresson M, Øie E (2016) Initiation of and long-term adherence to secondary preventive drugs after acute myocardial infarction. BMC Cardiovasc Disord 16:115

23.

Poulussen FCP, Peters BJ, Hua KH, Houthuizen P, Grouls RJ, Deenen MJ (2019) The effect of the CYP2D6 genotype on the maintenance dose of metoprolol in a chronic Dutch patient population. Pharmacogenet Genomics 29:179–182

24.

Terra SG, Pauly DF, Lee CR, Patterson JH, Adams KF, Schofield RS, Belgado BS, Hamilton KK, Aranda JM, Hill JA, Yarandi HN, Walker JR, Phillips MS, Gelfand CA, Johnson JA (2005) Beta-adrenergic receptor polymorphisms and responses during titration of metoprolol controlled release/extended release in heart failure. Clin Pharmacol Ther 77:127–137

25.

Ko DT, Hebert PR, Coffey CS, Sedrakyan A, Curtis JP, Krumholz HM (2002) Beta-blocker therapy and symptoms of depression, fatigue, and sexual dysfunction. JAMA 288:351–357

26.

Zhou Y, Ingelman-Sundberg M, Lauschke VM (2017) Worldwide distribution of cytochrome P450 alleles: a meta-analysis of population-scale sequencing projects. Clin Pharmacol Ther 102:688–700

27.

Pietarinen P, Tornio A, Niemi M (2016) High frequency of CYP2D6 ultrarapid metabolizer genotype in the Finnish population. Basic Clin Pharmacol Toxicol 119:291–296
Ethics declarations
All procedures performed in studies involving human participants were in accordance with the ethical standards of Diakonhjemmet Hospital and the regional research committee (Regional Committee for Medical and Health Research Ethics South East; reference number 2012/139) and with the 1964 Helsinki declaration and its later amendments or comparable ethical standards.
Conflict of interest
The authors declare that they have no conflicts of interest.
Data availability
The datasets generated during and analysed during the current study are available from the corresponding author on reasonable request.
Additional information
Publisher's note
Springer Nature remains neutral with regard to jurisdictional claims in published maps and institutional affiliations.
About this article
Cite this article
Anstensrud, A.K., Molden, E., Haug, H.J. et al. Impact of genotype-predicted CYP2D6 metabolism on clinical effects and tolerability of metoprolol in patients after myocardial infarction – a prospective observational study. Eur J Clin Pharmacol (2020) doi:10.1007/s00228-020-02832-0
Received:

Accepted:

Published:
Keywords
Metoprolol

CYP2D6

Genotype

Metabolism

Myocardial infarction