Abstract
Purpose
This study investigated the effects of clotrimazole troche on the risk of transplant rejection and the pharmacokinetics of tacrolimus.
Methods
The data mining approach was used to investigate whether the use of clotrimazole increased the risk of transplant rejection in patients receiving tacrolimus therapy. Patient data were acquired from the US Food and Drug Administration's Adverse Event Reporting System (FAERS) from the first quarter of 2004 to the end of 2017. Next, we retrospectively investigated the effect of clotrimazole troche on tacrolimus pharmacokinetics in seven patients who underwent heart transplantation between March and December 2017.
Results
The FAERS subset data indicated a significant association between transplant rejection and tacrolimus with clotrimazole [reporting odds ratio 1.92, 95% two-sided confidence interval (95% CI) 1.43–2.58, information component 0.81, 95% CI 0.40–1.23]. The pharmacokinetic study demonstrated a significant correlation between trough concentration (C0) and area under the concentration-time curve of tacrolimus after discontinuation of clotrimazole (R2 = 0.60, P < 0.05) but not before its discontinuation. Furthermore, the median clearance/bioavailability of tacrolimus after discontinuation of clotrimazole was 2.2-fold greater than that before its discontinuation (0.27 vs. 0.59 L/h/kg, P < 0.05). The median C0 decreased from 10.7 ng/mL on the day after discontinuation of clotrimazole to 6.5 ng/mL at 1 day and 5.3 ng/mL at 2 days after its discontinuation.
Conclusion
Immediate dose adjustments of tacrolimus may be beneficial to avoid transplant rejection when clotrimazole troche is added or discontinued.
This is a preview of subscription content, log in to check access.
Access options
Buy single article
Instant unlimited access to the full article PDF.
US$ 39.95
Price includes VAT for USA
Subscribe to journal
Immediate online access to all issues from 2019. Subscription will auto renew annually.
US$ 199
This is the net price. Taxes to be calculated in checkout.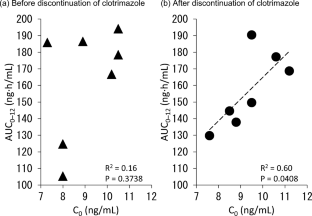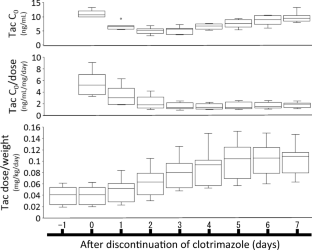 References
1.

Pappas PG, Alexander BD, Andes DR, Hadley S, Kauffman CA, Freifeld A, Anaissie EJ, Brumble LM, Herwaldt L, Ito J, Kontoyiannis DP, Lyon GM, Marr KA, Morrison VA, Park BJ, Patterson TF, Perl TM, Oster RA, Schuster MG, Walker R, Walsh TJ, Wannemuehler KA, Chiller TM (2010) Invasive fungal infections among organ transplant recipients: results of the Transplant-Associated Infection Surveillance Network (TRANSNET). Clin Infect Dis 50(8):1101–1111

2.

Paya CV (1993) Fungal infections in solid-organ transplantation. Clin Infect Dis 16(5):677–688

3.

Shirasaka Y, Chang SY, Grubb MF, Peng CC, Thummel KE, Isoherranen N, Rodrigues AD (2013) Effect of CYP3A5 expression on the inhibition of CYP3A-catalyzed drug metabolism: impact on modeling CYP3A-mediated drug-drug interactions. Drug Metab Dispos 41(8):1566–1574

4.

Yamazaki H, Nakamoto M, Shimizu M, Murayama N, Niwa T (2010) Potential impact of cytochrome P450 3A5 in human liver on drug interactions with triazoles. Br J Clin Pharmacol 69(6):593–597

5.

Dai Y, Hebert MF, Isoherranen N, Davis CL, Marsh C, Shen DD, Thummel KE (2006) Effect of CYP3A5 polymorphism on tacrolimus metabolic clearance in vitro. Drug Metab Dispos 34(5):836–847

6.

Iwasaki K (2007) Metabolism of tacrolimus (FK506) and recent topics in clinical pharmacokinetics. Drug Metab Pharmacokinet 22(5):328–335

7.

Sattler M, Guengerich FP, Yun CH, Christians U, Sewing KF (1992) Cytochrome P-450 3A enzymes are responsible for biotransformation of FK506 and rapamycin in man and rat. Drug Metab Dispos 20(5):753–761

8.

Uesugi M, Masuda S, Katsura T, Oike F, Takada Y, Inui K (2006) Effect of intestinal CYP3A5 on postoperative tacrolimus trough levels in living-donor liver transplant recipients. Pharmacogenet Genomics 16(2):119–127

9.

Bruggemann RJ, Alffenaar JW, Blijlevens NM, Billaud EM, Kosterink JG, Verweij PE, Burger DM (2009) Clinical relevance of the pharmacokinetic interactions of azole antifungal drugs with other coadministered agents. Clin Infect Dis 48(10):1441–1458

10.

Glotzbecker B, Duncan C, Alyea E 3rd., Campbell B, Soiffer R (2012) Important drug interactions in hematopoietic stem cell transplantation: what every physician should know. Biol Blood Marrow Transplant 18(7):989–1006

11.

Nivoix Y, Levêque D, Herbrecht R, Koffel JC, Beretz L, Ubeaud-Sequier G (2008) The enzymatic basis of drug-drug interactions with systemic triazole antifungals. Clin Pharmacokinet 47(12):779–792

12.

Paterson DL, Singh N (1997) Interactions between tacrolimus and antimicrobial agents. Clin Infect Dis 25(6):1430–1440

13.

Saad AH, DePestel DD, Carver PL (2006) Factors influencing the magnitude and clinical significance of drug interactions between azole antifungals and select immunosuppressants. Pharmacotherapy 26(12):1730–1744

14.

Trofe-Clark J, Lemonovich TL (2013) Interactions between anti-infective agents and immunosuppressants in solid organ transplantation. Am J Transplant 13(Suppl 4):318–326

15.

Gombert ME, duBouchet L, Aulicino TM, Butt KM (1987) A comparative trial of clotrimazole troches and oral nystatin suspension in recipients of renal transplants. Use in prophylaxis of oropharyngeal candidiasis. JAMA 258(18):2553–2555

16.

Owens NJ, Nightingale CH, Schweizer RT, Schauer PK, Dekker PT, Quintiliani R (1984) Prophylaxis of oral candidiasis with clotrimazole troches. Arch Intern Med 144(2):290–293

17.

Seo M, iida H, Miura Y (1977) Basic experiments with clotrimazole administered orally. Curr Med Res Opin 5 (2): 169-178

18.

Choy M (2010) Tacrolimus interaction with clotrimazole: a concise case report and literature review. P T 35(10):568–569

19.

El-Asmar J, Gonzalez R, Bookout R, Mishra A, Kharfan-Dabaja MA (2016) Clotrimazole troches induce supratherapeutic blood levels of sirolimus and tacrolimus in an allogeneic hematopoietic cell-transplant recipient resulting in acute kidney injury. Hematol Oncol Stem Cell Ther 9(4):157–161

20.

Laub MR, Crow SA, Personett HA, Dierkhising R, Boilson B, Razonable R (2018) Effects of clotrimazole troches on tacrolimus dosing in heart transplant recipients. Transpl Infect Dis 20(6):e12979

21.

Mieles L, Venkataramanan R, Yokoyama I, Warty VJ, Starzl TE (1991) Interaction between FK506 and clotrimazole in a liver transplant recipient. Transplantation 52(6):1086–1087

22.

Vasquez E, Pollak R, Benedetti E (2001) Clotrimazole increases tacrolimus blood levels: a drug interaction in kidney transplant patients. Clin Transplant 15(2):95–99

23.

Vasquez EM, Shin GP, Sifontis N, Benedetti E (2005) Concomitant clotrimazole therapy more than doubles the relative oral bioavailability of tacrolimus. Ther Drug Monit 27(5):587–591

24.

Viesselmann CW, Descourouez JL, Jorgenson MR, Radke NA, Odorico JS (2016) Clinically significant drug interaction between clotrimazole and tacrolimus in pancreas transplant recipients and associated risk of allograft rejection. Pharmacotherapy 36(3):335–341

25.

Uno T, Wada K, Matsuda S, Terada Y, Terakawa N, Oita A, Yokoyama S, Kawase A, Hosomi K, Takada M (2019) Effects of clotrimazole on tacrolimus pharmacokinetics in patients with heart transplants with different CYP3A5 genotypes. Eur J Clin Pharmacol 75(1):67–75

26.

Fujimoto M, Higuchi T, Hosomi K, Takada M (2015) Association between statin use and cancer: data mining of a spontaneous reporting database and a claims database. Int J Med Sci 12(3):223–233

27.

Inose R, Hosomi K, Takahashi K, Yokoyama S, Takada M (2019) Risk of malignant lymphoma in patients with rheumatoid arthritis treated with biological disease-modifying antirheumatic drugs and methotrexate. Int J Clin Pharmacol Ther 57(2):63–72

28.

Takada M, Fujimoto M, Yamazaki K, Takamoto M, Hosomi K (2014) Association of statin use with sleep disturbances: data mining of a spontaneous reporting database and a prescription database. Drug Saf 37(6):421–431

29.

Takada M, Fujimoto M, Hosomi K (2016) Association between benzodiazepine use and dementia: data mining of different medical databases. Int J Med Sci 13(11):825–834

30.

Takada M, Fujimoto M, Motomura H, Hosomi K (2016) Inverse association between sodium channel-blocking antiepileptic drug use and cancer: data mining of spontaneous reporting and claims databases. Int J Med Sci 13(1):48–59

31.

van Puijenbroek EP, Bate A, Leufkens HG, Lindquist M, Orre R, Egberts AC (2002) A comparison of measures of disproportionality for signal detection in spontaneous reporting systems for adverse drug reactions. Pharmacoepidemiol Drug Saf 11(1):3–10

32.

Bate A, Lindquist M, Edwards IR, Olsson S, Orre R, Lansner A, De Freitas RM (1998) A Bayesian neural network method for adverse drug reaction signal generation. Eur J Clin Pharmacol 54(4):315–321

33.

Almenoff JS, Pattishall EN, Gibbs TG, DuMouchel W, Evans SJ, Yuen N (2007) Novel statistical tools for monitoring the safety of marketed drugs. Clin Pharmacol Ther 82(2):157–166

34.

Sakaeda T, Tamon A, Kadoyama K, Okuno Y (2013) Data mining of the public version of the FDA Adverse Event Reporting System. Int J Med Sci 10(7):796–803

35.

Steiner RW, Awdishu L (2011) Steroids in kidney transplant patients. Semin Immunopathol 33(2):157–167

36.

Cangemi G, Barco S, Bonifazio P, Maffia A, Agazzi A, Melioli G (2013) Comparison of antibody-conjugated magnetic immunoassay and liquid chromatography-tandem mass spectrometry for the measurement of cyclosporine and tacrolimus in whole blood. Int J Immunopathol Pharmacol 26(2):419–426

37.

Groll AH, Townsend R, Desai A, Azie N, Jones M, Engelhardt M, Schmitt-Hoffman AH, Bruggemann RJM (2017) Drug-drug interactions between triazole antifungal agents used to treat invasive aspergillosis and immunosuppressants metabolized by cytochrome P450 3A4. Transpl Infect Dis 19(5):e12751

38.

Zhang S, Pillai VC, Mada SR, Strom S, Venkataramanan R (2012) Effect of voriconazole and other azole antifungal agents on CYP3A activity and metabolism of tacrolimus in human liver microsomes. Xenobiotica 42(5):409–416

39.

Shord SS, Chan LN, Camp JR, Vasquez EM, Jeong HY, Molokie RE, Baum CL, Xie H (2010) Effects of oral clotrimazole troches on the pharmacokinetics of oral and intravenous midazolam. Br J Clin Pharmacol 69(2):160–166

40.

Rosenkranzkw H, PÜtter J (1976) The binding of clotrimazole to the proteins of human serum. Eur J Drug Metab Pharmacokinet 1(2):73–76

41.

Iwasaki K, Miyazaki Y, Teramura Y, Kawamura A, Tozuka Z, Hata T, Undre N (1996) Binding of tacrolimus (FK506) with human plasma proteins re-evaluation and effect of mycophenolic acid. Res Commun Mol Pathol Pharmacol 94(3):251–257

42.

Nakagita K, Wada K, Terada Y, Matsuda S, Terakawa N, Oita A, Takada M (2018) Effect of fluconazole on the pharmacokinetics of everolimus and tacrolimus in a heart transplant recipient: case report. Int J Clin Pharmacol Ther 56(6):270–276

43.

Banerjee R, Leaver N, Lyster H, Banner NR (2001) Coadministration of itraconazole and tacrolimus after thoracic organ transplantation. Transplant Proc 33(1-2):1600–1602

44.

Imai H, Kotegawa T, Ohashi K (2011) Duration of drug interactions: putative time courses after mechanism-based inhibition or induction of CYPs. Expert Rev Clin Pharmacol 4(4):409–411

45.

Rifai N, Sakamoto M, Law T, Platt O, Mikati M, Armsby CC, Brugnara C (1995) HPLC measurement, blood distribution, and pharmacokinetics of oral clotrimazole, potentially useful antisickling agent. Clin Chem 41(3):387–391

46.

el-Dahshan KF, Bakr MA, Donia AF, Badr A-S, Sobh MA (2004) Co-administration of ketoconazole to tacrolimus-treated kidney transplant recipients: a prospective randomized study. Nephrol Dial Transplant 19 (6): 1613-1617

47.

Shitrit D, Ollech JE, Ollech A, Bakal I, Saute M, Sahar G, Kramer MR (2005) Itraconazole prophylaxis in lung transplant recipients receiving tacrolimus (FK 506): efficacy and drug interaction. J Heart Lung Transplant 24(12):2148–2152

48.

Winston DJ, Limaye AP, Pelletier S, Safdar N, Morris MI, Meneses K, Busuttil RW, Singh N (2014) Randomized, double-blind trial of anidulafungin versus fluconazole for prophylaxis of invasive fungal infections in high-risk liver transplant recipients. Am J Transplant 14(12):2758–2764

49.

Nakatani T, Fukushima N, Ono M, Saiki Y, Matsuda H, Nunoda S, Sawa Y, Isobe M (2016) The registry report of heart transplantation in Japan (1999–2014). Circ J 80(1):44–50
Acknowledgments
We would like to thank all the patients who participated in this study.
Funding information
This research received no specific grant from any funding agency in the public, commercial, or not-for-profit
sector.
Ethics declarations
Conflict of interest
The authors declare that they have no conflicts of interest.
Ethical approval
This study was approved by the local ethics committee of the National Cerebral and Cardiovascular Center.
Informed consent
This study was a retrospective observational study, and informed consent to participate was obtained via the opt-out method.
Additional information
Publisher's note
Springer Nature remains neutral with regard to jurisdictional claims in published maps and institutional affiliations.
Electronic supplementary material
About this article
Cite this article
Uno, T., Wada, K., Hosomi, K. et al. Drug interactions between tacrolimus and clotrimazole troche: a data mining approach followed by a pharmacokinetic study. Eur J Clin Pharmacol 76, 117–125 (2020) doi:10.1007/s00228-019-02770-6
Received:

Accepted:

Published:

Issue Date:
Keywords
Tacrolimus

Clotrimazole

Drug interaction

Transplant rejection

Heart transplantation