Abstract
Purpose
In critically ill patients treated with meropenem, the proposed pharmacokinetics/pharmacodynamics (PK/PD) efficacy index is to keep the free drug concentration 4–5 times above the minimum inhibitory concentration (MIC) of the germ isolated, for 100% of the interval regimen. The objectives were to design a population pharmacokinetics model for meropenem in critically ill patients and to evaluate different dosage schemes that achieve the optimal PK/PD objectives.
Methods
This retrospective, observational, single-centre study included 80 critically ill patients (154 samples) treated with meropenem between May 2011 and December 2017. Patient data, concentrations, treatment and bacteriological variables were collected from electronic medical records. Total and free concentrations of meropenem were modelled in Pmetrics. Monte Carlo simulations were performed to assess the probability of achieving the PK/PD target for different dosage regimens. For patients with available data, the number of patients with a free concentration 4 times higher or lower than the observed MIC for the P. aeruginosa and E. coli was investigated.
Results
A one-compartment model with first-order elimination adequately described serum total and free meropenem concentrations. The only variable that significantly influenced the elimination constant of meropenem was the creatinine clearance (CLcr) calculated using the CKD-EPI formula. The highest probability of achieving the pharmacodynamic objective was with 3-h infusion dosage regimens. Sixty percent and 89% of patients attained a free drug concentration 4 times above the MIC for P. aeruginosa and E. coli respectively.
Conclusions
This study proposed different dosing regimens depending on renal clearance strata and the MIC of the germ targeted.
This is a preview of subscription content, log in to check access.
Access options
Buy single article
Instant unlimited access to the full article PDF.
US$ 39.95
Price includes VAT for USA
Subscribe to journal
Immediate online access to all issues from 2019. Subscription will auto renew annually.
US$ 199
This is the net price. Taxes to be calculated in checkout.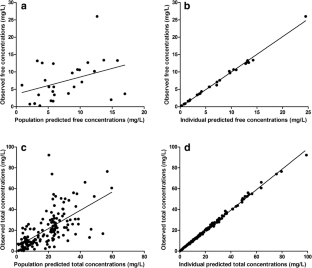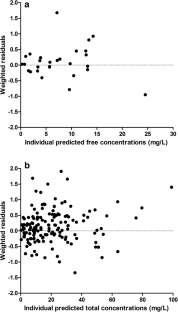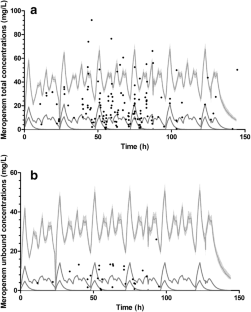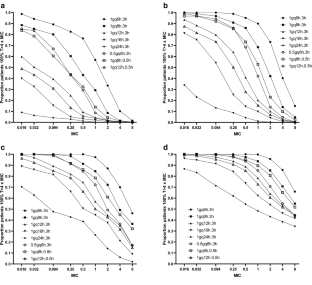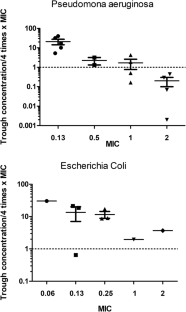 References
1.

Friedman ND, Temkin E, Carmeli Y (2016) The negative impact of antibiotic resistance. Clin Microbiol Infect 22:416–422

2.

Roberts JA, Lipman J (2009) Pharmacokinetic issues for antibiotics in the critically ill patient. Crit Care Med 37:840–851 quiz 859

3.

Nicolau DP (2008) Pharmacokinetic and pharmacodynamic properties of meropenem. Clin Infect Dis 47(Suppl 1):S32–S40

4.

Perrott J, Mabasa VH, Ensom MHH (2010) Comparing outcomes of meropenem administration strategies based on pharmacokinetic and pharmacodynamic principles: a qualitative systematic review. Ann Pharmacother 44:557–564

5.

Pea F, Viale P (2009) Bench-to-bedside review: appropriate antibiotic therapy in severe sepsis and septic shock--does the dose matter? Crit Care 13:214

6.

Capitano B, Nicolau DP, Potoski BA, Byers KE, Horowitz M, Venkataramanan R, Paterson DL (2004) Meropenem administered as a prolonged infusion to treat serious gram-negative central nervous system infections. Pharmacotherapy 24:803–807

7.

Roberts JA, Webb S, Paterson D, Ho KM, Lipman J (2009) A systematic review on clinical benefits of continuous administration of beta-lactam antibiotics. Crit Care Med 37:2071–2078

8.

Neely MN, van Guilder MG, Yamada WM, Schumitzky A, Jelliffe RW (2012) Accurate detection of outliers and subpopulations with Pmetrics, a nonparametric and parametric pharmacometric modeling and simulation package for R. Ther Drug Monit 34:467–476

9.

Goutelle S, Bourguignon L, Maire PH, Van Guilder M, Conte JE, Jelliffe RW (2009) Population modeling and Monte Carlo simulation study of the pharmacokinetics and antituberculosis pharmacodynamics of rifampin in lungs. Antimicrob Agents Chemother 53:2974–2981

10.

Ramon-Lopez A, Allen JM, Thomson AH, Dheansa BS, James SE, Hanlon GW, Stewart B, Davies JG (2015) Dosing regimen of meropenem for adults with severe burns: a population pharmacokinetic study with Monte Carlo simulations. J Antimicrob Chemother 70:882–890

11.

Mathew SK, Mathew BS, Neely MN, Naik GS, Prabha R, Jacob GG, K S, Fleming DH (2016) A nonparametric pharmacokinetic approach to determine the optimal dosing regimen for 30-minute and 3-hour meropenem infusions in critically ill patients. Ther Drug Monit 38:593–599

12.

Goncalves-Pereira J, Silva NE, Mateus A, Pinho C, Povoa P (2014) Assessment of pharmacokinetic changes of meropenem during therapy in septic critically ill patients. BMC Pharmacol Toxicol 15:21

13.

Roberts JA, Kirkpatrick CMJ, Roberts MS, Robertson TA, Dalley AJ, Lipman J (2009) Meropenem dosing in critically ill patients with sepsis and without renal dysfunction: intermittent bolus versus continuous administration? Monte Carlo dosing simulations and subcutaneous tissue distribution. J Antimicrob Chemother 64:142–150

14.

Kim YK, Lee D-H, Jeon J, Jang H-J, Kim H-K, Jin K, Lim SN, Lee SS, Park BS, Kim YW, Shin JG, Kiem S (2018) Population pharmacokinetic analysis of meropenem after intravenous infusion in Korean patients with acute infections. Clin Ther 40:1384–1395

15.

Usman M, Frey OR, Hempel G (2017) Population pharmacokinetics of meropenem in elderly patients: dosing simulations based on renal function. Eur J Clin Pharmacol 73:333–342

16.

Minichmayr IK, Roberts JA, Frey OR, Roehr AC, Kloft C, Brinkmann A (2018) Development of a dosing nomogram for continuous-infusion meropenem in critically ill patients based on a validated population pharmacokinetic model. J Antimicrob Chemother 73:1330–1339

17.

Jaruratanasirikul S, Sriwiriyajan S, Punyo J (2005) Comparison of the pharmacodynamics of meropenem in patients with ventilator-associated pneumonia following administration by 3-hour infusion or bolus injection. Antimicrob Agents Chemother 49:1337–1339

18.

de Stoppelaar F, Stolk L, van Tiel F, Beysens A, van der Geest S, de Leeuw P (2000) Meropenem pharmacokinetics and pharmacodynamics in patients with ventilator-associated pneumonia. J Antimicrob Chemother 46:150–151

19.

Nduka OO, Parrillo JE (2009) The pathophysiology of septic shock. Crit Care Clin 25:677–702 vii

20.

Wittau M, Scheele J, Kurlbaum M, Brockschmidt C, Wolf AM, Hemper E, Henne-Bruns D, Bulitta JB (2015) Population pharmacokinetics and target attainment of meropenem in plasma and tissue of morbidly obese patients after laparoscopic intraperitoneal surgery. Antimicrob Agents Chemother 59:6241–6247

21.

Olaechea PM, Insausti J, Blanco A, Luque P (2010) Epidemiology and impact of nosocomial infections. Med Int 34:256–267

22.

Vincent JL, Bihari DJ, Suter PM, Bruining HA, White J, Nicolas-Chanoin MH et al (1995) The prevalence of nosocomial infection in intensive care units in Europe. Results of the European prevalence of infection in intensive care (EPIC) study. EPIC international advisory committee. JAMA 274:639–644

23.

Mertens K, Morales I, Catry B (2013) Infections acquired in intensive care units: results of national surveillance in Belgium, 1997-2010. J Hosp Infect 84:120–125
Acknowledgements
We are grateful to K. Poole for manuscript editing.
Funding information
The project was supported by FBCN (Fundación Bancaria Caja Navarra) through a "mobility grant for Ph.D. research studies" for Ana Isabel Idoate Grijalba.
Ethics declarations
Conflict of interest
The authors declare that they have no conflict of interest.
Additional information
Publisher's note
Springer Nature remains neutral with regard to jurisdictional claims in published maps and institutional affiliations.
What is already known about this subject (up to three bullet points)
• Meropenem is a time-dependent antibiotic and its bactericidal activity is associated with free concentration (%T > 4 MIC).
• Dosage regimens that have been applied to healthy volunteers or in vitro studies are not appropriate for critically ill patients due to their pathophysiologic changes.
What this study adds
• Dosage regimens recommended in the literature (1 g/6 h, 1 g/8 h) are not always suitable for real-world critically ill populations.
• 60% and 89% of patients attained free drug concentrations 4 times above the MIC for P. aeruginosa and E. coli respectively
• Dosing regimens depending on renal clearance strata and the MIC of the germ targeted are proposed.
Electronic supplementary material
About this article
Cite this article
Idoate Grijalba, A.I., Aldaz Pastor, A., Marquet, P. et al. Evaluation of a non-parametric modelling for meropenem in critically ill patients using Monte Carlo simulation. Eur J Clin Pharmacol 75, 1405–1414 (2019). https://doi.org/10.1007/s00228-019-02716-y
Received:

Accepted:

Published:

Issue Date:
Keywords
Meropenem

Population pharmacokinetics

Pmetrics

Probability of target attainment