Reconsidering clinical pharmacology frameworks as a necessary strategy for improving the health care of patients: a systematic review
Background
Clinical pharmacology (CP) is a multidisciplinary scientific field involving all aspects of the relationship between drugs and humans, encompassing professionals with a wide variety of skills including medicine, pharmacology, pharmacy, and biomedical science. The term "clinical pharmacologist" is commonly used in the professional sense to refer to medical doctors or PhD-level natural scientists/pharmacists with proven experience in improving patient care by developing new medicines and promoting the safer and more effective use of drugs. Clinical pharmacologists today should have experience even in various phases of drug development in basic and clinical research, regulatory agencies, and/or the pharmaceutical industry.
There was an important debate in 2006 that tried to define the main mission of CP [1, 2], identifying at least three priorities: First, CP is a laboratory discipline dealing with biomarkers, pharmacokinetics (PK), drug metabolism, and genetics. Second, CP is a desk discipline dealing with 1) the design and evaluation of clinical trials, 2) drug utilisation, 3) clinical guidelines and health technology assessment (HTA) for drug use, and 4) pharmacovigilance. Third, CP is a hands-on clinical discipline dealing with 1) patient care, 2) experimental studies of old and new drugs, 3) clinical investigation of adverse reactions (ADR), and 4) interaction and consultancy/support services to other clinicians who are dealing with a particular drug issue. The conclusion of this research was that CP reflects all these elements, with the important consideration that medical schools with a CP specialty can offer local affiliated hospitals with a well established and affordable "learning device".
The first impression seems to be that CP is the purest form of general medicine [3, 4], as most clinical pharmacologists undertake duties in general or internal medicine. Thus they are generalists in their approach to diagnosis and management, but specialists in relation to the complexity of prescribing and the recognition and management of the disease. A clinical pharmacologist physician also contributes to the understanding of the pathology of diseases which may result in emergency medical admissions. In this context, there is also a strong link between CP and general, internal, and acute medicine, because adverse drug reactions give rise to a cascade of events including the effects on patients, extension of hospitalisation, and re-hospitalisation, which is currently a challenge for most public health services in terms of bed capacity and cost.
Pharmacists specialising in CP represent an important workforce for the National Health Service, due to their participation in local medicine and therapeutics committees: They can contribute to the writing and development of specific hospital guidelines, formularies, and many other activities related to the correct use of medicines. They may collaborate with other specialists, clinical pharmacists, and general practitioners. In addition, they can collaborate with national authorities in the development and delivery of HTA and the assessment of therapeutic guidelines.
Finally, clinical pharmacologists, physicians, and pharmacists cooperate in drug evaluation, reducing the tension between aversion to uncertainty and willingness to accept unknowns about a drug before its approval—the regulatory paradox [5].
In the 1950s, Gaddum delivered an address to the American Society for Pharmacology and Experimental Therapeutics, which was subsequently published as an article in Nature titled "The Science of Pharmacology", and which has been referred to as a "manifesto" for a discipline called "Pharmacology 1.0" [6]. Several priorities were identified in the document, including the study of PK/PD profiles of drugs and their toxicity, collaboration with clinicians in designing clinical trials, and the teaching of pharmacology to medical students. In the ensuing years, "Pharmacology 1.0" has evolved towards "Pharmacology 4.0", and the concept of personalised medicine. The introduction into clinical practice of increasing numbers of biologic drugs—often antibodies, chimeric or modified proteins, and small interfering and micro-RNA—represents a significant challenge for pharmacologists. These innovative drugs have multiple or even unknown modes of action; many have non-linear dose–response curves, with unpredictable PK and half-life times [7, 8]. The "Pharmacology 4.0" approach may also offer solutions to demographic issues such as population growth and aging: certain medicines which are effective in younger people but potentially inappropriate in older primary care patients [9] because of their frequent impaired renal and hepatic function, with a significant impact on drug elimination and a greater chance of adverse reactions [10]. (Pharmacology 4.0 is a strategy that is based on horizontal interventions by promoting interdisciplinary activities through the collection of data and their analysis, whose products can rationalize costs by optimizing performance.)
Aim of the present review
The purpose of this review is to investigate the services provided by the CP organisational model and to highlight their potential to improve hospital assistance in five economically and demographically comparable western European Union (EU) countries, and Switzerland, a top-rated country with a strong medical and strategic partnership with the EU.
Methods
Data sources and searches
The study was conducted utilising the Preferred Reporting Items for Systematic Reviews and Meta-Analyses (PRISMA) guidelines, including the PRISMA checklist, to ensure inclusion of relevant information. [11]. A literature search was conducted using the PubMed/MEDLINE, Embase, and CINAHL [Cumulative Index to Nursing and Allied Health Literature (EBSCO)] databases, with manual searches of peer-reviewed literature including observational studies, reviews, original research articles, commentaries, mini-reviews, and opinion papers published in English between December 2006 and May 2017, using the following combinations of Medical Subject Headings (MeSH) terms: "Pharmacology, Clinical/economics" OR "Pharmacology, Clinical/legislation and jurisprudence" OR "Pharmacology, Clinical/methods" OR "Pharmacology, Clinical/organisation and administration" OR "Pharmacology, Clinical/standards" OR "Pharmacology, Clinical/statistics and numerical data" OR "Pharmacology, Clinical/trends".
In order to obtain any relevant research published outside of peer-reviewed journals, we also searched the grey literature including manifestos, guidelines and government documents, position papers, and statements of professional societies, published in English, Italian, French, Spanish, or German. In addition, the websites of pharmacology societies and hospitals were screened using Google Scholar™, applying a query with the key words "clinical pharmacology and services" and "drug information centre and therapeutics". Finally, we obtained additional references and clarification from outside experts through interviews.
Inclusion/exclusion criteria
Peer-reviewed research studies were included in the review if they met at least one of the following inclusion criteria: 1) the study examined the role of clinical pharmacologists in hospital practice; 2) the study reported the position of national institutions and scientific societies on clinical pharmacologist practices in hospitals.
Publications and other sources dated before 2006 were excluded, given the significant changes in hospital services that have taken place in the wake of the European economic crisis of 2007–2008, which may make earlier studies less relevant. The following information was considered from each work: name of first author, year of publication, country and setting where the actual study was conducted, target of intervention, relevant outcomes, and results. For each work, the following aspects were considered: the study design information, baseline professional characteristics, competence, structure, and details of the process.
Data synthesis and analysis
Titles and abstracts were screened by one author (DG), and studies identified for full text and selected according to inclusion criteria were agreed upon by the second author (VAC) and a third reviewer (GS). Each study was analysed, and a written summary of the findings was prepared. The results of this review process were compared, and any discrepancies were discussed and resolved by consensus.
Results
Identification and selection of studies
The peer-reviewed literature selection and research strategy with inclusion/exclusion criteria are shown in Fig. 
1
. We identified a total of 674 peer-reviewed articles in the electronic databases, and, fixing a retrospective limit in date of publication to an 11-year range (2006–2017), the number of works was reduced to 403. After removal of duplicate records, most full-text articles were excluded either because they reported a different outcome of interest or because CP was not the primary topic (
n
 = 387). After applying all the inclusion/exclusion criteria, a total of 16 full texts were eligible for the project (Fig.
1
).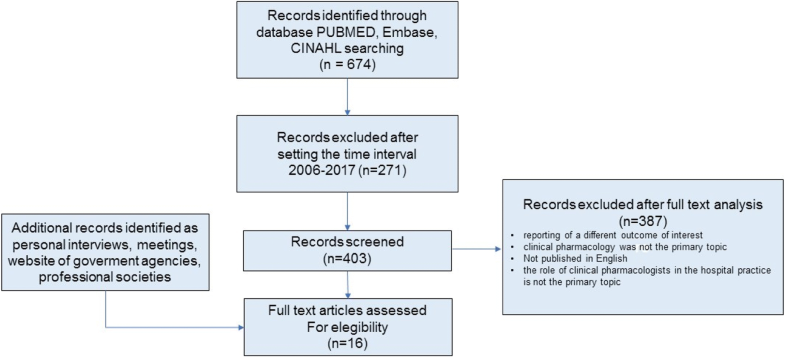 Characteristics of included studies
Major characteristics of the included studies are presented in Table
1
. The article types were as follows: review (
n
 = 7), commentary and comment (
n
 = 4), correspondence and letters (
n
 = 2), research article and education paper (
n
 = 3), and World Health Organisation (WHO) policy summary (
n
 = 1). The majority of the articles originated in the UK (8 studies) or USA (5 papers), with France, Belgium, and Denmark having one contribution each.
Table 1
Characteristics and summary of selected articles
Author, year, reference

Country, setting

Design, study

Relevant topics – main results

Breckenridge et al. 2006 [1]

UK

Correspondence

Knowledge about what medicines do to the body has expanded rapidly, and there is a need for improved safety in approving, prescribing, and monitoring new therapies in personalised medicine

Revitalising CP in the UK is in the national interest as a key factor in ensuring future economic health and working with NICE and other institutions to guarantee clinical excellence

Maxwell and Webb 2006 [2]

UK

Comment

CP in the UK seems to be in decline, and despite the rapid advances in therapeutics and the need for safe and effective prescribing, it may further deteriorate

The UK Department of Health must provide opportunities for CP to expand, by providing new posts in health services and innovative training programmes, and revitalising the value of the specialty to the public health service

Aronson 2010 [3]

UK

Review

BPS has been highly active in bringing to public attention its concerns about deficiencies in undergraduate training and the relative lack of expertise in pharmacology and CP

There is evidence that more CP-experienced doctors make fewer prescribing errors than those newly qualified (7 vs 9%). Investment in CP education may be an important remedy

Walport et al. 2012 [4]

USA

Correspondence

No catch to UK charity funding

UK government supports charity-funded research as part of its higher education, and the charities themselves invest in research infrastructure and resources

Zineh and Woodcock 2013 [5]

USA

Review

The "regulatory paradox" is the tension between aversion to uncertainty and willingness to accept unknowns about a drug before its approval

CP in the regulatory setting is well positioned to build on its past successes in the advancement and acceleration of drug development

Martin et al. 2015 [12]

UK

Commentary

There is an increasing need for actions to improve the proper use of medicines with a combination of drug discovery and development, training of safe prescribers, and providing objective and evidence-based therapeutic information to ethics, regulatory, and pricing bodies

The CP discipline must be supported by teaching, training, and policy organisation to communicate the full benefits of CP services to support a growing clinical, academic, and regulatory need

Agoram 2008 [7]

UK

Research article

Regulatory guidance has highlighted the importance of using PK/PD modelling in the selection of starting doses in first-in-human trials of high-risk biologics

An interpretation of the recommend dose-selection methodology and the minimum anticipated biological effect level principle contained in the updated EMA guidance on risk mitigation strategies for first-in-human studies

Thomson et al. 2014 [13]

Denmark

WHO policy summary

The 2008 crisis has given substance to an old and often hypothetical debate about the financial sustainability of health systems in Europe

Among European countries affected by the 2008 crisis, the degree to which the health budget suffered varied. Some countries experienced a substantial and sustained decline in public health spending; others did not

Mavilio 2017 [8]

France

Review

Focus on opportunity for synergy between academia and industry to develop gene and cell therapies for rare disease

Cooperation between academia and industry, including CP training, is an opportunity to de-risk innovative approaches and ensure faster and more economical development of therapies for diseases with high unmet medical need

Allegaert et al. 2013 [14]

Belgium

Educational paper

Effective and safe drug administration in young infants should be based on integrated knowledge of physiology and PK/PD profile of given drugs

The complexity and the need for neonatal clinical pharmacology is meaningfully evident. Development of CP networks is helpful for achieving appropriate goals and for validation of drug dosing regimens and infant-tailored formulations

Kearns 2009 [15]

USA

Review

Improving paediatric clinical pharmacology is necessary to avoid inadequacies in pharmacological management of children

Professional intervention by a clinical pharmacologist might make the difference between effective and failed therapy

Chen and Snyder 2012 [16]

USA

Review

Combined "-omics" information leads to global profiling of health and disease

Systems biology provides a new, improved approach for personalised health monitoring and preventive medicine

Roger and Goldsmith 2008 [17]

UK

Commentary

Biosimilars must be sufficiently tested to ensure patient safety

Specific pharmacovigilance activity is necessarily challenging and costly

Hawcutt et al. 2016 [18]

UK

Research article

The overall frequency of ADR reporting for those aged <2 years is low; new systems for generating ADR data from specific groups such as sentinel sites may be required to improve the quality and the quantity of reporting

The increased complexity of actions required by new systems for data generation and ADR reporting may afford new opportunities to employ clinical pharmacologists' expertise in hospitals

Paul 2014 [19]

USA

Review

In Europe, paediatric regulation has provided a framework encouraging an expansion of paediatric research

Because of such regulatory involvement, a greater number of studies are being performed. The contribution of CP in providing more information on paediatric dosing, efficacy, and safety is significant

Birkett et al. 2010 [20]

UK

Review

A complete review setting the scene for CP in the early part of the 21st century following the concepts of WHO

CP brings relevant expertise to the delivery of better health care for all populations
Most of the works are reviews focussing on the contribution that physicians skilled in CP could make to reducing medical errors [3], as a counterbalance to the regulatory paradox caused by the demand for faster approval of new drugs in the face of a reduced number of specialists in regulatory affairs [5], and the need for an investment in paediatric pharmacology and personalised medicine programmes [14, 15, 19]. Other works focus on opportunities to promote new synergies between academia and the pharmaceutical industry [8] and to prevent the decline of the CP specialty through new public and private funding [2, 3, 4], by extending new tasks to clinical pharmacologists in hospital clinical services dedicated to pharmacovigilance, clinical research, and academic research [7].
Other outcomes
In Europe, the employment situation among pharmacologists and clinical pharmacologists reflects the national health system policy of each country. The national translations of new European legislation on pharmacovigilance, clinical research, medication errors, and the regulation of advanced therapies could benefit from the employment of clinical pharmacologists in hospitals, regulatory agencies, and pharmaceutical companies.
Unfortunately, the pressure on European health systems' budgets and the dissemination of different organisational models as a result of disparate regional or national visions of the public health system has in most cases limited the aggregation of the collective skills of clinical pharmacologists into unitary functional structures and facilities. The new pharmacovigilance legislation 1027/2012 [21], which came into effect in July 2012 [an amendment to existing pharmacovigilance laws contained in Directive 2001/83/EC and Regulation (EC) No 726/2004] was by far the most significant change to the regulation of human medicines in the EU since 1995. It had significant implications for applicants and holders of EU marketing authorisations, as well as for patients, healthcare professionals, and regulators. One important change involved the assessment of risk. In the 726/2004 legislation, Article 61a had established the Pharmacovigilance Risk Assessment Committee (PRAC), responsible for assessing and monitoring the safety of human medicines, which was to include six members appointed by the EU Commission to ensure that the relevant expertise was available within the committee, including CP and pharmacoepidemiology. With the new regulation 1027/2012, the PRAC is now also tasked with approving new post-authorisation safety study (PASS) protocols. It can even require PASS or post-authorisation efficacy studies (PAES) to improve the benefit–risk monitoring of medicines. It is also worth noting that among the 56 members of this committee, 28 hold a CP diploma or advanced training in CP.
Requirements for the conduct of clinical trials in the EU are provided for in "Directive 2001/20/EC of the European Parliament and of the Council of 4 April 2001 on the approximation of the laws, regulations and administrative provisions of the Member States relating to the implementation of good clinical practice in the conduct of clinical trials on medicinal products for human use" (the "Clinical Trials Directive") [22].
Directive 2001/20/EC was repealed with the adoption of Regulation (EU) No 536/2014 of the European Parliament and of the Council of 16 April 2014 on clinical trials on medicinal products for human use (the "Clinical Trials Regulation"), which was published in the Official Journal on 27 May 2014 [23].
Although in 536/2014, the words "clinical pharmacology or pharmacologist" are never mentioned, Chapter 5, Article 21 of Commission Directive 2005/28/EC requires that the inspectors, appointed by the member states pursuant to Article 15 of Directive 2001/20/EC, have completed education at the university level or have equivalent experience in medicine, pharmacy, pharmacology, toxicology, or other relevant fields. An interesting point of view comes from the Italian legislation on early-phase clinical trials in Directive 809/2015, approved by the Italian Medicines Agency (AIFA), where it is indicated that pharmacologists will have an active role in phase 1 of clinical trial facilities.
The EU institutions agreed on a regulation on advanced therapies, Regulation (EC) 1394/2007 [24], designed to ensure the free movement of advanced therapy products within Europe, to facilitate access to the EU market, and to foster the competitiveness of European companies in the field, while guaranteeing the highest level of health protection for patients.
The Committee for Advanced Therapies (CAT) is the European Medicines Agency's (EMA) committee responsible for assessing the quality, safety, and efficacy of advanced therapy medicinal products (ATMPs) and for following scientific developments in the field. It was established in accordance with Regulation (EC) No 1394/2007 as a multidisciplinary committee, gathering some of the best available experts in Europe.
Although the words "clinical pharmacology" and "clinical pharmacologist" are not mentioned either in 1394/2007 or in major developments of guidelines on advanced therapies, it is interesting to note that among the members of CAT, there are two experts who are specialists in CP.
There is also an urgent need for paediatric clinical pharmacologists. The clinical pharmacology research programme in the EU aims to improve the labelling of old and new drugs used to treat neonates, infants, children, and adolescents to guarantee the safe and effective use of medicines in the paediatric population. One example of this need can be seen in the gap between current and best clinical practice for two commonly administered compounds (aminoglycosides for infections and ibuprofen for patent ductus arteriosus) and one new compound (bevacizumab, to treat threshold retinopathy of prematurity) [14]. These aspects also include scrutiny of over-the-counter (OTC) cough and cold medications and pain relievers, challenges to the routine use of antibiotics for endocarditis and vesicoureteral reflux prophylaxis, and controversies over the safety of and monitoring requirements for stimulant medication use for children with attention-deficit/hyperactivity disorder [19].
The challenge today is in generating new information about a multitude of drugs (analgesics, sedatives, immunomodulators, antiepileptic agents, antiarrhythmic agents, antihypertensive agents, bronchodilators, classical anti-asthmatic drugs, cytostatic agents) that can be generalised and is of therapeutic importance in defining age-appropriate therapeutic regimens [15].
European legislation introduced in 2007, Regulation (EC) No. 1901/2006, recognises the need to study all new medicines where appropriate, but does not endorse the study of numerous "me-too" drugs in children. Clinical trials in paediatric patients invariably need to be less invasive than clinical trials in healthy adult volunteers. Blood sampling and other invasive procedures should be kept to a minimum or avoided entirely if not clinically relevant [18].
The CP framework in the European countries is summarised in Online Resource 1. Full details of 67 CP centres and units operating in reviewed countries for which we were able to retrieve information by accessing their institutional websites are summarised in Online Resource 2.
Discussion
The role of CP in Europe is crucial to ensuring the best clinical use of medicines in the continuity of care between hospital territories. CP is a specialty whose professionals—physicians, pharmacists, and biologists—undertake research, frame policy, give advice, and take part in healthcare technology assessment [12], serving to bridge the gap between stakeholders among the various healthcare processes, namely national authorities, hospitals, university, and industry.
The recent WHO position paper on the role of CP in health care, teaching, and research [25] clarifies the impact of the clinical pharmacologist in the hospital setting, in collaboration with hospital pharmacists, as part of "drug information services" or specific "drug offices", which may provide support to clinicians and offer a wide variety of services, including therapeutic drug monitoring (TDM), clinical toxicology, drug interaction, pharmacovigilance, assessing and reducing potentially inappropriate prescriptions (PIPs) and potentially inappropriate medications (PIMs), and supporting clinical research. An interesting example illustrating the importance of the role of CP is the management of infections in the critical care patient in the hospital. The range of organ dysfunction, together with drug interactions and other therapeutic interventions (e.g. haemodynamically active drugs and continuous renal replacement therapies), may have a strong impact on antimicrobial pharmacokinetics in critically ill patients. The appropriate dosing based on PK and PD properties of drugs is essential in facilitating the translation of microbiological activity to clinical situations, ensuring a successful outcome and reducing the risk of resistance.
Such CP services may also aid regulatory agencies in taking a position on innovative therapies (gene therapy, stem cell therapy, biologics), as well as in evaluating the appropriate pricing and effectiveness of emerging drugs. For example, the efficiency of approval processes for new biosimilars warrants closer scrutiny, because it is expected they may save only 15–20% of the cost of the original drugs [17]. Therefore, the assessment of the benefit–risk ratio of biologic medicines, biosimilars, and of all new medicines and therapeutics becomes a challenge for physicians, pharmacists, manufacturers, and regulatory authorities, and requires collaborative efforts to weigh the need for drug innovation and the cost to hospitals on the one hand, and patient safety on the other.
Despite the adoption of the WHO document and its interpretations [20], there are significant differences across European countries in the organisational models of CP services, also called drug information centres (DIC), which generally deal with pharmacovigilance and TDM. With respect to other potential goals of CP described in the WHO document, only a few sites in Europe offer these additional services to clinicians, which include proactive support for clinical research (in addition to first-in-human trials), connection with local HTA committees, and cooperation with risk management units to limit medication errors. Interestingly, even after issuing new directives on pharmacovigilance and medication errors (1027/2012), clinical research (536/2014), and advanced therapies (1394/2007), the terms "clinical pharmacology", "clinical pharmacologist", and "clinical pharmacology unit or office" are never citied, although there are several clinical pharmacologists or pharmacists with proven experience in CP among the members of control committees (PRAC and CAT).
Clearly, uncertainty persists in some countries as to the future of CP, as well as its professionals. The global economic crisis that began in 2007–2008 has had a dramatic impact on the European economy, resulting in a rapid transformation of health systems and changes to welfare programmes [13]. The consequent budgetary constrictions have had a negative effect on hiring of human resources assigned to hospitals which have resized and reorganised clinical services, with a significant delay in adopting the so-called Pharmacology 4.0 paradigm, which is the concept of personalised medicine [16]. This has created a paradox—the demand for innovative, advanced, and expensive pharmaceutical technologies, but the lack of a parallel investment in the development of competencies and recognition of the value of clinical pharmacologists' skills towards improving the quality of health care management and the rational use of medicines.
There is no doubt that reform is needed in postgraduate training in CP. The specialty should become more attractive and rewarding for deserving students. It should be emphasised that this discipline, crucial for the continuous exchange and constructive relations between industry, academia, and hospitals, with the support of national pharmacological societies, will soon be necessary to promote more innovative and accountable organisational structures that will put the health of the population at the centre of the health care system.
Our research obviously presents some limitations, because only peer-reviewed articles published in English were assessed for this review. There may have been other peer-reviewed articles published in specific national languages and, although it was considered, a number of documents from the grey literature published in other languages. In addition, articles such as conference papers or other unpublished reports were not considered, and the list of national CP units presented here may not be completely accurate because of last-minute improvements to the CP units and/or their organisation.
Conclusions
Since the launch of CP in the 1950s, the discipline has evolved through many changes and innovations. Nowadays, to emphasise the relationship with preclinical and basic pharmacology, an alternative designation for CP—"translational medicine"—can be used, and thus clinical pharmacologists should be very experienced in several fields of science and technology. Although current European legislation does not assign a proper role to clinical pharmacologists, our research has shown a strong and vital presence of CP in European hospitals across many different facilities, with the potential for forming a collaborative clinical training network of considerable importance. The presence of these experts in the clinical setting becomes critical to improving the introduction of complex novel drugs, while significantly aiding in the design, conduct, and completion of clinical trials.
Notes
Acknowledgements
The authors would like to acknowledge Professor David Webb and Doctor Lee Page of British Pharmacological Society, Professor Alexander Jetter of Klinik für Klinische Pharmakologie und Toxikologie, Zurich. The authors would also like to acknoweledge Omar Alexander for his contributions in the linguistic revising.
Contributors
DG and VAC were responsible for the study concept and design under the supervision of FS. The literature search, abstract screening, and data extraction were undertaken by DG with further confirmation by AC, GS and VAC. DG wrote the manuscript that was reviewed by AC. All the authors have read and approved the final manuscript submitted.
Funding
This research received no specific grant from any funding agency in the public, commercial or not-for-profit sectors.
Compliance with ethical standards
Conflict of interest
The authors declare that they have no conflict of interest.
Copyright information
© Springer-Verlag GmbH Germany, part of Springer Nature 2018