Abstract
Objective
Ezetimibe is used as a second-line lipid-lowering medication (LLM) if statin therapy is not tolerated or cholesterol targets are not reached by statins alone. We aimed to investigate the impact of sociodemographic factors on ezetimibe initiation as (a) incident LLM therapy, (b) add-on therapy, and (c) switch from statins.
Methods
All individuals aged 30+ who had filled at least one prescription for either statins (N = 581.074) or ezetimibe (N = 7.932) in 2011 were followed in the nationwide Danish registries to explore LLM prescribing patterns from 1 January 2011 to end 2012. Using logistic regression analyses, the odds ratio (OR) with 95 % confidence intervals (CIs) was calculated for (a) incident ezetimibe use among LLM initiators (N = 77,472), (b) ezetimibe switching by discontinuing statin users (N = 37,509), and (c) ezetimibe as add-on by non-discontinuing statin users (N = 442,672).
Results
Women had higher odds for initiating ezetimibe than men (switch OR = 1.55; 95 % CI = 1.32–1.82). While prior use of newer high-potency statins was the strongest predictor (add-on (5.56; 4.95–6.24), income was the strongest socioeconomic predictor for incident LLM use (1.33; 1.14–1.56) and switching (1.64; 1.27–2.13). Both income and education were predictors for add-on therapy, with the educational effect mediated by prior use of high-potency statins. Odds for ezetimibe prescribing were highest in myocardial infarction patients.
Conclusion
While higher income is a predictor for switching to ezetimibe, both higher education and income are weak predictors for using ezetimibe as add-on therapy. Women and individuals with myocardial infarction are more likely to be prescribed ezetimibe than others, despite lack of evidence of ezetimibe lowering the risk of cardiovascular events.
This is a preview of subscription content, log in to check access.
Access options
Buy single article
Instant access to the full article PDF.
US$ 39.95
Price includes VAT for USA
Subscribe to journal
Immediate online access to all issues from 2019. Subscription will auto renew annually.
US$ 199
This is the net price. Taxes to be calculated in checkout.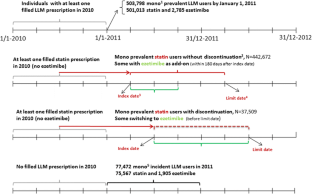 References
1.

Kannel WB, Castelli WP, Gordon T, McNamara PM (1971) Serum cholesterol, lipoproteins, and the risk of coronary heart disease. The Framingham study. Ann Intern Med 74(1):1–12

2.

Randomised trial of cholesterol lowering in 4444 patients with coronary heart disease: the Scandinavian Simvastatin Survival Study (4S) (1994 Lancet. 344(8934): 1383–1389

3.

Ong HT (2005) The statin studies: from targeting hypercholesterolaemia to targeting the high-risk patient. QJM 98(8):599–614

4.

(2002) Third Report of the National Cholesterol Education Program (NCEP) Expert Panel on Detection, Evaluation, and Treatment of High Blood Cholesterol in Adults (Adult Treatment Panel III) final report. Circulation 106(25): 3143–3421.

5.

The most prescribed drugs. 2011. United States. WebMD News archive. 13-6-2015

6.

Robinson JG, Davidson MH (2006) Combination therapy with ezetimibe and simvastatin to achieve aggressive LDL reduction. Expert Rev Cardiovasc Ther 4(4):461–476

7.

Wei MY, Ito MK, Cohen JD, Brinton EA, Jacobson TA (2013) Predictors of statin adherence, switching, and discontinuation in the USAGE survey: understanding the use of statins in America and gaps in patient education. J Clin Lipidol 7(5):472–483

8.

Golomb BA, Evans MA (2008) Statin adverse effects: a review of the literature and evidence for a mitochondrial mechanism. Am J Cardiovasc Drugs 8(6):373–418

9.

Davidson MH (2003) Newer pharmaceutical agents to treat lipid disorders. Curr Cardiol Rep 5(6):463–469

10.

Gazi IF, Daskalopoulou SS, Nair DR, Mikhailidis DP (2007) Effect of ezetimibe in patients who cannot tolerate statins or cannot get to the low density lipoprotein cholesterol target despite taking a statin. Curr Med Res Opin 23(9):2183–2192

11.

Golomb BA, Evans MA, Dimsdale JE, White HL (2012) Effects of statins on energy and fatigue with exertion: results from a randomized controlled trial. Arch Intern Med 172(15):1180–1182

12.

Verlinde E, De LN, De MS, Deveugele M, Willems S (2012) The social gradient in doctor-patient communication. Int J Equity Health 11:12

13.

Halava H, Helin-Salmivaara A, Junnila J, Huupponen R (2009) Selective prescribing of simvastatin and atorvastatin by patient characteristics at treatment initiation over a 7-year period in Finland. Eur J Clin Pharmacol 65(9):927–933

14.

Roer K, Fonager K, Bingley P, Mortensen JT (2010) The use of antidepressants and introduction of new types in different socio-economic groups: a Danish registry-based cross-sectional study. Nord J Psychiatry 64(4):268–272

15.

Bestehorn K, Voller H, Benecke H, Renner H, Karmann B, Wegscheider K (2006) Drug utilization of ezetimibe in rehabilitation centres: registry analysis of factors influencing prescription and effectiveness of treatment. Curr Med Res Opin 22(4):631–639

16.

Pedersen KM (2003) Pricing and reimbursement of drugs in Denmark. Eur J Health Econom 4:60–65

17.

Wallach-Kildemoes H, Hendriksen C, Andersen M (2012) Drug utilization according to reason for prescribing: a pharmacoepidemiologic method based on an indication hierarchy. Pharmacoepidemiol Drug Saf 21(10):1027–1035

18.

Kildemoes HW, Sorensen HT, Hallas J (2011) The Danish National Prescription Registry. Scand J Public Health 39(Supple 7):38–41

19.

WHO Collaborating centre for Drug Statistics Methodology, Guidelines for ATC classification and DDD assignment, 2014. Oslo: Norwegian Institute of Public Health 2014

20.

Thygesen LC, Daasnes C, Thaulow I, Bronnum-Hansen H (2011). Introduction to Danish (nationwide) registers on health and social issues: structure, access, legislation and archiving. Scand J Public Health. 39(Supple 7): 12–16.

21.

Rasmussen JN, Gislason GH, Rasmussen S, Abildstrom SZ, Schramm TK, Kober L et al (2007) Use of statins and beta-blockers after acute myocardial infarction according to income and education. J Epidemiol Community Health 61(12):1091–1097

22.

Wallach-Kildemoes H, Andersen M, Diderichsen F, Lange T (2013) Adherence to preventive statin therapy according to socioeconomic position. Eur J Clin Pharmacol 69(8):1553–1563

23.

Ohlsson H, Chaix B, Merlo J (2009) Therapeutic traditions, patient socioeconomic characteristics and physicians' early new drug prescribing—a multilevel analysis of rosuvastatin prescription in south Sweden. Eur J Clin Pharmacol 65(2):141–150

24.

Lange T, Vansteelandt S, Bekaert M (2012) A simple unified approach for estimating natural direct and indirect effects. Am J Epidemiol 176(3):190–195

25.

Tehrani FR, Behboudi-Gandevani S, Ghanbarian A, Azizi F (2014) Effect of menopause on cardiovascular disease and its risk factors: a 9-year follow-up study. Climacteric 17(2):164–172

26.

Abramson BL, Benlian P, Hanson ME, Lin J, Shah A, Tershakovec AM (2011) Response by sex to statin plus ezetimibe or statin monotherapy: a pooled analysis of 22,231 hyperlipidemic patients. Lipids Health Dis 10:146

27.

Stone NJ, Robinson J, Lichtenstein AH, Bairey Merz CN, Lloyd-Jones DM, Blum CB et al. (2013) 2013 ACC/AHA Guideline on the Treatment of Blood Cholesterol to Reduce Atherosclerotic Cardiovascular Risk in Adults: a report of the American College of Cardiology/American Heart Association Task Force on Practice Guidelines. J Am Coll Cardiol

28.

Suckling K (2008) The ENHANCE Study: an unusual publication of trial data raises questions beyond ezetimibe. Expert Opin Pharmacother 9(7):1067–1070

29.

Khanderia U, Regal RE, Rubenfire M, Boyden T (2011) The ezetimibe controversy: implications for clinical practice. Ther Adv Cardiovasc Dis 5(4):199–208
Acknowledgments
The authors wish to acknowledge Theis Lange, associate professor, Section of Biostatistics, University of Copenhagen, for our fruitful discussions about the mediation analyses.
Approval of data access
Access to data was provided and secured through collaboration between the University of Copenhagen and Statistics Denmark. Approval was obtained from the Danish Data Protection Agency through Statistics Denmark. No person identifiers were provided to the researchers. According to Danish law, purely registry-based studies do not require ethical approval [20].
Conflict of interest
EHH has received an unrestricted grant from MSD, the market authorization holder of Ezetrol (ezetimibe) in Denmark. Both authors declare that they have no conflicts of interest regarding the content of the present study.
Author contributions
EHH had the idea for the study, which was modified during the literature review. Both authors discussed the study design. HWK carried out the literature review, analyzed, and drafted the article. EHH revised the manuscript, and both authors read and agreed on the final version.
About this article
Cite this article
Wallach-Kildemoes, H., Hansen, E.H. Sociodemographic and diagnostic characteristics of prescribing a second-line lipid-lowering medication: ezetimibe used as initial medication, switch from statins, or add-on medication. Eur J Clin Pharmacol 71, 1245–1254 (2015). https://doi.org/10.1007/s00228-015-1907-y
Received:

Accepted:

Published:

Issue Date:
Keywords
Lipid-lowering medication

Second-line treatment

Ezetimibe

Statins

Sociodemographics