Abstract
Introduction
We assessed the frequency and determinants of tablet splitting in primary care in Germany and evaluated the quality of information on divisibility in the Summary of Product Characteristics (SPCs) and in the Package Leaflet (PL) as legal sources of information for health care providers and patients.
Methods
We performed a cross-sectional questionnaire survey among patients of 59 general practitioners in the German Federal State Saxony-Anhalt in 2005 in order to collect detailed information on all drugs of patients maintained on more than three drugs.
Results
The response rate was 82.1% (n=905) and 3,158 drugs (tablets and dragées) were included in the analyses. Of all drugs, 24.1% were split (762 of 3,158): 8.7% of all split tablets were unscored (66 of 762) and 3.8% of all split tablets were not allowed to be split (29 of 762). Tablets of the higher price categories and higher strengths were twice as likely to be split. Only 22.5% of the SPCs (9 of 40) of the split unscored tablet brands contained explicit information on divisibility and only 36.4% of the PLs (8 of 22) of the split brands that were not allowed to be split stated that splitting was not appropriate.
Conclusion
The splitting of tablets in primary care is a frequent habit likely driven by medical and economic considerations. Almost 1% of all tablets are split that must not be fragmented. However, the SPC and PL provide only limited information on divisibility stressing the need to improve this information promptly to avoid medication errors.
This is a preview of subscription content, log in to check access.
Access options
Buy single article
Instant unlimited access to the full article PDF.
US$ 39.95
Price includes VAT for USA
Subscribe to journal
Immediate online access to all issues from 2019. Subscription will auto renew annually.
US$ 199
This is the net price. Taxes to be calculated in checkout.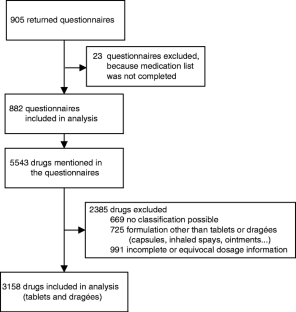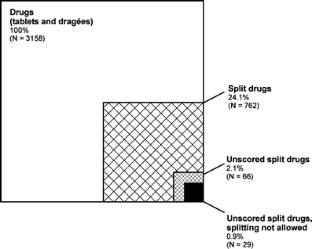 References
1.

Rodenhuis N, De Smet PAGM, Barends DM (2004) The rationale of scored tablets as dosage form. Eur J Pharm Sci 21:305–308

2.

Van Santen E, Barends DM, Frijlink HW (2002) Breaking of scored tablets: a review. Eur J Pharm Biopharm 53:139–145

3.

Cohen JS (1999) Ways to minimize adverse drug reactions. Individualized doses and common sense are key. Postgrad Med 106:163–172

4.

Wrenger E, Müller R, Moesenthin M, Welte T, Frölich JC, Neumann KH (2003) Interaction of spironolactone with ACE inhibitors or angiotensin receptor blockers: analysis of 44 cases. BMJ 327:147–149

5.

Backman JT, Kivistö KT, Olkkola KT, Neuvonen PJ (1998) The area under the plasma concentration-time curve for oral midazolam is 400-fold larger during treatment with itraconazole than with rifampicin. Eur J Clin Pharmacol 54:53–58

6.

Dalen P, Dahl ML, Ruiz ML, Nordin J, Bertilsson L (1998) 10-Hydroxylation of nortriptyline in white persons with 0, 1, 2, 3, and 13 functional CYP2D6 genes. Clin Pharmacol Ther 63:444–452

7.

Stafford RS, Radley DC (2003) The potential of pill splitting to achieve cost savings. Am J Manag Care 8:706–712

8.

Bachynsky J, Wiens C, Melnychuk K (2002) The practice of splitting tablets: cost and therapeutic aspects. Pharmacoeconomics 20:339–346

9.

Cohen CI, Cohen SI (2000) Potential cost savings from splitting newer psychotropic medications. Psychiatr Serv 51:517–529

10.

MMI Pharmindex Datenbestand Version 2005 July 15 [compact disc]. Medizinische Medien Informations GmbH, Neu-Isenburg

11.

Bergk V, Gasse C, Schnell R, Haefeli WE (2004) Requirements for a successful implementation of drug interaction information systems in general practice: results of a questionnaire survey in Germany. Eur J Clin Pharmacol 60: 595–602

12.

Wensing M, Broge B, Kaufmann-Kolle P, Andres E, Szecsenyi J (2004) Quality circles to improve prescribing in primary medical care: what is their actual impact? J Eval Clin Pract 10:457–466

13.

Kaltschmidt J, Gallin S, Haefeli WE (2004) Essential functional requirements for an effective electronic drug information system in a hospital. Int J Clin Pharmacol Ther 42:615 (abstract)

14.

Cook TJ, Edwards S, Gyemah C, Shah M, Shah I, Fox T (2004) Variability on tablet fragment weights when splitting unscored cyclobenzaprine 10 mg tablets. J Am Pharm Assoc 44:583–586

15.

Polli JE, Kim S, Martin BR (2003) Weight uniformity of split tablets required by a Veterans Affairs policy. J Manag Care Pharm 9:401–407

16.

Atkin PA, Finnegan TP, Ogle SJ, Shenfield GM (1994) Functional ability of patients to manage medication packaging: a survey of geriatric inpatients. Age Ageing 23:113–116

17.

Rodenhuis N, De Smet PAGM, Barends DM (2003) Patient experiences with the performance of tablet score lines needed for dosing. Pharm World Sci 25:173–176

18.

Biron C, Licznar S, Hansel S, Schved JF (1999) Oral anticoagulant drugs: do not cut tablets in quarters. Thromb Haemost 82:1201

19.

Fawell NG, Cookson TL, Scranton SS (1999) Relationship between tablet splitting and compliance, drug acquisition cost, and patient acceptance. Am J Health-Syst Pharm 56:2542–2545

20.

Schwabe U (2006) Arzneiverordnungen 2004 im Überblick. In: Schwabe U, Paffrath D (eds) Arzneiverordnungsreport 2005. Springer, Berlin Heidelberg New York, pp 3–36

21.

European Commission (2005) Notice to applicants. A guideline on summary of product characteristics. Available from: http://pharmacos.eudra.org/F2/eudralex/vol-2/C/SPCGuidRev1-Oct2005.pdf. Accessed: March 21, 2006
Acknowledgements
This study is part of a larger quality improvement project, which is supported by grant No. 217-43794-6/8 from the German Ministry of Health and Social Security. We are grateful to the participating GPs in Saxony-Anhalt who helped us to perform a questionnaire survey with a good response rate.
About this article
Cite this article
Quinzler, R., Gasse, C., Schneider, A. et al. The frequency of inappropriate tablet splitting in primary care. Eur J Clin Pharmacol 62, 1065–1073 (2006) doi:10.1007/s00228-006-0202-3
Received:

Accepted:

Published:

Issue Date:
Keywords
Package leaflet

Summary of product characteristics

Survey

Tablet splitting