Abstract
Maerl beds are among the most endangered habitats in coastal temperate waters and a priority for conservation. Passive acoustics is a potential non-intrusive approach for surveying this fragile ecosystem with minor disturbances. Invertebrate sounds can be major contributors to natural coastal soundscapes but are not well studied. We conducted controlled tank-based experiments to identify sound-producing invertebrates inhabiting north-east Atlantic maerl beds and to characterise their sounds in terms of frequency features and source levels. We also determined which sound types are able to be detected above natural maerl ambient noise and suitable for in situ monitoring. Tank recording sessions of 20 abundant and potentially soniferous invertebrates from maerl beds revealed eight soniferous species and 15 different sound types. Two new sound-producing families were identified, Calyptraeidae and Majidae. Six sound types had properties consistent with detectability and identification for in situ acoustic studies: the feeding sound of sea urchins Echinus esculentus, Paracentrotus lividus and Psammechinus miliaris, snapping sound of the snapping shrimp Athanas nitescens, and feeding and other sounds of the spider crab Maja brachydactyla. Estimated detection distances ranged from a few metres for sea urchin feeding sounds up to about 40 m for A. nitescens snaps and spider crab feeding sounds. These invertebrates, particularly A. nitescens, probably make a substantial contribution to the maerl ambient noise. This invertebrate sound library sets a basis for in situ acoustic studies.
This is a preview of subscription content, log in to check access.
Access options
Buy single article
Instant unlimited access to the full article PDF.
US$ 39.95
Price includes VAT for USA
Subscribe to journal
Immediate online access to all issues from 2019. Subscription will auto renew annually.
US$ 199
This is the net price. Taxes to be calculated in checkout.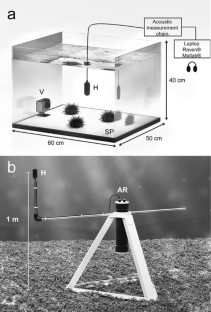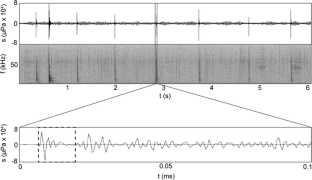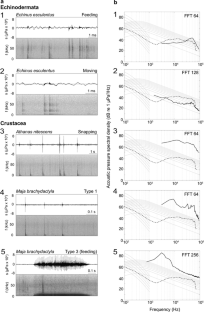 References
Akamatsu T, Okumura T, Novarini N, Yan HY (2002) Empirical refinements applicable to the recording of fish sounds in small tanks. J Acoust Soc Am 112:3073–3082

Alongi DM (1990) The ecology of tropical soft-bottom benthic ecosystems. Oceanogr Mar Biol Annu Rev 28:381–496

Andrew N, Agatsuma Y, Ballesteros E, Bazhin A, Creaser E, Barnes D, Botsford L, Bradbury A, Campbell A, Dixon J (2003) Status and management of world sea urchin fisheries. Oceanogr Mar Biol Annu Rev 40:343–425

Au WWL, Banks K (1998) The acoustics of the snapping shrimp Synalpheus parneomeris in Kaneohe Bay. J Acoust Soc Am 103:41–47

Au WWL, Hastings MC (2008) Principles of marine bioacoustics. Springer, New York

Au WWL, Richlen M, Lammers MO (2012) Soundscape of a nearshore coral reef near an urban center. In: Popper AN, Hawkins A (eds) The effects of noise on aquatic life. Springer, New York, pp 345–351

Bremner J, Rogers S, Frid C (2003) Assessing functional diversity in marine benthic ecosystems: a comparison of approaches. Mar Ecol Prog Ser 254:11–25

Budelmann BU (1992) Hearing in crustacea. In: Webster D, Popper A, Fay R (eds) The evolutionary biology of hearing. Springer, New York, pp 131–139

Buscaino G, Filiciotto F, Gristina M, Bellante A, Buffa G, Di Stefano V, Maccarrone V, Tranchida G, Buscaino C, Mazzola S (2011) Acoustic behaviour of the European spiny lobster Palinurus elephas. Mar Ecol Prog Ser 441:177–184

Buscaino G, Gavio A, Galvan D, Filiciotto F, Maccarrone V, de Vincenzi G, Mazzola S, Orensanz JM (2015) Acoustic signals and behaviour of Ovalipes trimaculatus in the context of reproduction. Aquat Biol 24:61–73

Cato DH (1978) Marine biological choruses observed in tropical waters near Australia. J Acoust Soc Am 64:736–743

Chitre M, Legg M, Koay T-B (2012) Snapping shrimp dominated natural soundscape in Singapore waters. Contrib Mar Sci 2012:127–134

Clay CS, Medwin H (1977) Acoustical oceanography: principles and applications. Wiley, New York

D'Spain GL, Batchelor HH (2006) Observations of biological choruses in the Southern California Bight: a chorus at midfrequencies. J Acoust Soc Am 120:19–42

Di Iorio L, Gervaise C, Jaud V, Robson AA, Chauvaud L (2012) Hydrophone detects cracking sounds: non-intrusive monitoring of bivalve movement. J Exp Mar Biol Ecol 432–433:9–16

Erbe C (2010) Underwater acoustics: noise and the effects on marine mammals. JASCO Applied Sciences, Brisbane

Everest FA, Young RW, Johnson MW (1948) Acoustical characteristics of noise produced by snapping shrimp. J Acoust Soc Am 20:137–142

Freeman SE, Rohwer FL, D'Spain GL, Friedlander AM, Gregg AK, Sandin SA, Buckingham MJ (2014) The origins of ambient biological sound from coral reef ecosystems in the Line Islands archipelago. J Acoust Soc Am 135:1775

Grall J (2002) Biodiversité spécifique et fonctionnelle du maerl: réponses à la variabilité de l'environnement côtier. Ph.D. dissertation, Université de Bretagne Occidentale

Grall J, Hall-Spencer JM (2003) Problems facing maerl conservation in Brittany. Aquat Conserv Mar Fresh Ecosyst 13:S55–S64

Gray J, Aschan M, Carr M, Clarke K, Green R, Pearson T, Rosenberg R, Warwick R (1988) Analysis of community attributes of the benthic macrofauna of Frierfjord/Langesundfjord and in a mesocosm experiment. Mar Ecol Prog Ser 46:151–165

Guillou M, Grall J, Connan S (2002) Can low sea urchins densities control macro epiphytic biomass in NE Atlantic maerl beds. J Mar Biol Assoc 82:867–876

Hall-Spencer JM (1998) Conservation issues relating to maerl beds as habitats for molluscs. J Conchol 2:271–286

Hall-Spencer JM, Moore PG (2000) Scallop dredging has profound, long-term impacts on maerl habitats. ICES J Mar Sci 57:1407–1415

Hall-Spencer JM, White NA, Gillespie E, Gillham K, Foggo A (2006) Impact of fish farms on maerl beds in strongly tidal areas. Mar Ecol Prog Ser 326:1–9

Harley CD, Hughes AR, Hultgren KM, Miner BG, Sorte CJ, Thornber CS, Rodriguez LF, Tomanek L, Williams SL (2006) The impacts of climate change in coastal marine systems. Ecol Lett 9:228–241

Harmelin JG, Bouchon C, Hong JS (1981) Impact de la pollution sur la distribution des échinodermes des substrats durs en Provence (Méditerranée Nord-occidentale). Thétys 10:13–36

Harrold C, Pearse JS (1987) The ecological role of echinoderms in kelp forests. Echinoderm Stud 2:137–233

Iversen RTS, Perkins PJ, Dionne RD (1963) An indication of underwater sound production by squid. Nature 199:250–251

Johnson MW, Everest FA, Young RW (1947) The role of snapping shrimp (Crangon and Synalpheus) in the production of underwater noise in the sea. Biol Bull 93:122–138

Kamenos NA, Moore PG, Hall-Spencer JM (2004a) Small-scale distribution of juvenile gadoids in shallow inshore waters; what role does maerl play? ICES J Mar Sci 61:422–429

Kamenos NA, Moore PG, Hall-Spencer JM (2004b) Attachment of the juvenile queen scallop (Aequipecten opercularis (L.)) to maerl in mesocosm conditions; juvenile habitat selection. J Exp Mar Biol Ecol 306:139–155

Kamenos NA, Moore PG, Hall-Spencer JM (2004c) The importance of maerl grounds for recruitment of queen scallops (Aequipecten opercularis) and other invertebrates. Mar Ecol Prog Ser 274:183–189

Kay SM (1998) Fundamentals of statistical signal processing. In: Detection theory, vol II. Prentice Hall, Upper Saddle River

Kelly JR, Sceibling RE, Balch T (2011) Invasion-mediated shifts in the macrobenthic assemblage of a rocky subtidal ecosystem. Mar Ecol Prog Ser 437:69–78

Kennedy EV, Holderied MW, Mair JM, Guzman HM, Simpson SD (2010) Spatial patterns in reef-generated noise relate to habitats and communities: evidence from a Panamanian case study. J Exp Mar Biol Ecol 395:85–92

Kim BN, Hahn J, Choi BK, Kim BC (2010) Snapping shrimp sound measured under laboratory conditions. Jpn J Appl Phys 49:1–4

Kinda GB, Simard Y, Gervaise C, Mars J, Fortier L (2013) Under-ice ambient noise in Eastern Beaufort Sea, Canadian Arctic, and its relation to environmental forcing. J Acoust Soc Am 134:77–87

Knowlton RE, Moulton JM (1963) Sounds production in the snapping shrimps Alpheus (Crangon) and Synalpheus. Biol Bull 125:311–331

Koay TB, Tan ET, Chitre M, Potter JR (2003) Estimating the spatial and temporal distribution of snapping shrimp using a portable, broadband 3-dimensional acoustic array. In: Proceedings of the Oceans 2003. Marine Technology and Ocean Science Conference, pp 2706–2713

Lammers MO, Brainard RE, Au WWL, Mooney TA, Wong KB (2008) An ecological acoustic recorder (EAR) for long-term monitoring of biological and anthropogenic sounds on coral reefs and other marine habitats. J Acoust Soc Am 123:1720–1728

Lawrence JM (1975) On the relationships between marine plants and sea urchins. Oceanogr Mar Biol Annu Rev 13:213–286

Lawrence JM (2006) Edible sea urchins: biology and ecology. Elsevier, Oxford

Le Foll D (1993) Biologie et exploitation de l'araignée de mer Maja squinado Herbst en Manche Ouest. Ph.D. dissertation, Université de Bretagne Occidentale

Lillis A, Eggleston DB, Bohnenstiehl DR (2013) Oyster larvae settle in response to habitat-associated underwater sounds. PLoS One 8:e79337

Lillis A, Eggleston DB, Bohnenstiehl DR (2014) Estuarine soundscapes: distinct acoustic characteristics of oyster reefs compared to soft-bottom habitats. Mar Ecol Prog Ser 505:1–17

Lobel PS (2002) Sounds produced by spawning fishes. Environ Biol Fishes 33:351–358

Lucrezi S, Schlacher TA (2014) The ecology of ghost crabs. Oceanogr Mar Biol Annu Rev 52:201–256

Luczkovich JJ, Mann DA, Rountree RA (2008) Passive acoustics as a tool in fisheries science. Trans Am Fish Soc 137:533–541

Mathias D, Gervaise C, Di Iorio L (2016) Wind dependence of shallow water ambient noise in a biologically rich temperate coastal area. J Acous Soc Am 139:EL839

McCauley RD, Cato DH (2000) Patterns of fish calling in a nearshore environment in the Great Barrier Reef. Philos Trans R Soc Lond B Biol Sci 355:1289–1293

Mellinger DK, Stafford KM, Moore SE, Dziak R, Matsumoto H (2007) An overview of fixed passive acoustic observation methods for cetaceans. Oceanography 20:36–45

Meyer-Rochow VB, Penrose JD (1976) Sound production by the western rock lobster Panulirus longipes (Milne Edwards). J Exp Mar Biol Ecol 23:191–209

Moore SE, Stafford KM, Mellinger DK, Hildeband JA (2006) Listening for large whales in off-shore waters of Alaska. Bioscience 56:49–55

Myrberg AA (1981) Sound communication and interception in fishes. In: Tavolga W, Popper A, Fay R (eds) Hearing and sound communication in fishes. Springer, New York, pp 395–426

Nedelec SL, Simpson SD, Holderied M, Radford AN, Lecellier G, Radford C, Lecchini D (2015) Soundscapes and living communities in coral reefs: temporal and spatial variation. Mar Ecol Prog Ser 524:125–135

Okumura T, Akamatsu T, Yan HY (2002) Analyses of small tank acoustics: empirical and theoretical approaches. Bioacoustics 12:330–332

Parvulescu A (1964) Problems of propagation and processing. In: Tavolga WN (ed) Marine bio-acoutics. Pergamon, Oxford, pp 87–100

Parvulescu A (1967) The acoustics of small tanks. In: Tavolga WN (ed) Marine bio-acoutics. Pergamon, Oxford, pp 7–13

Patek SN (2001) Spiny lobsters stick and slip to make sound. Nature 411:153–154

Patek SN (2002) Squeaking with a sliding joint: mechanics and motor control of sound production in palinurid lobsters. J Exp Biol 205:2375–2385

Patek SN, Caldwell R (2006) The stomatopod rumble: low frequency sound production in Hemisquilla californiensis. Mar Freshw Behav Phys 39:99–111

Peña V, Bárbara I, Grall J, Maggs CA, Hall-Spencer JM (2014) The diversity of seaweeds on maerl in the NE Atlantic. Mar Biodiv 44:1–19

Picciulin M, Bolgan M, Codarin A, Fiorin R, Zucchetta M, Malavasi S (2013) Passive acoustic monitoring of Sciaena umbra on rocky habitats in the Venetian littoral zone. Fish Res 145:76–81

Piercy JJ, Codling EA, Hill AJ, Smith DJ, Simpson SD (2014) Habitat quality affects sound production and likely distance of detection on coral reefs. Mar Ecol Prog Ser 516:35–47

Popper AN, Salmon M, Horch KW (2001) Acoustic detection and communication by decapods crustaceans. J Comp Phys A 187:83–89

Radford CA, Jeffs AG, Tindle CT, Montgomery JC (2008a) Resonating sea urchin skeletons create coastal choruses. Mar Ecol Prog Ser 362:37–43

Radford CA, Jeffs AG, Tindle CT, Montgomery JC (2008b) Temporal patterns in ambient noise of biological origin from a shallow water temperate reef. Oecologia 156:921–929

Radford CA, Stanley JA, Tindle CT, Montgomery JC, Jeffs AG (2010) Localised coastal habitats have distinct underwater sound signatures. Mar Ecol Prog Ser 401:21–29

Salmon M (1967) Coastal distribution, display and sound production by Florida fiddler crabs (Genus Uca). Anim Behav 15:449–459

Salmon M (1983) Acoustic "calling" by fiddler and ghost crabs. Mem Aust Mus 18:63–76

Schmitz B (2002) Sound production in Crustacea with special reference to the Alpheidae. In: Wiese K (ed) The crustacean nervous system. Springer, New York, pp 536–547

Simpson SD, Meekan M, Montgomery JC, McCauley R, Jeffs AG (2005) Homeward sound. Science 308:221

Smaldon G, Holthuis LB (1993) Coastal shrimps and prawns: keys and notes for identification of the species. Linnean Society of London and the Estuarine and Coastal Sciences Association by Field Studies Council, Shrewsbury

Staaterman ER, Clark CW, Gallagher AJ, deVries MS, Claverie T, Patek SN (2011) Rumbling in the benthos: acoustic ecology of the California mantis shrimp Hemisquilla californiensis. Aquat Biol 13:97–105

Staaterman ER, Paris CB, DeFerrari HA, Mann DA, Rice AN, Alessandro EK (2014) Celestial patterns in marine soundscapes. Mar Ecol Prog Ser 508:17–32

Stanley JA, Radford CA, Jeffs AG (2012) Location, location, location: finding a suitable home among the noise. Proc Biol Sci 279:3622–3631

Team BIOMAERL (2003) Conservation and management of northeast Atlantic and Mediterranean maerl beds. Aquat Conserv Mar fresh Ecosyst 13:565–576

Tolimieri N, Jeffs AG, Montgomery JC (2000) Ambient sound as a cue for navigation by the pelagic larvae of reef fishes. Mar Ecol Prog Ser 207:219–224

Tricas TC, Boyle KS (2014) Acoustic behaviours in Hawaiian coral reef fish communities. Mar Ecol Prog Ser 511:1–16

Tyack P, Clark C (2000) Communication and acoustic behaviour of dolphins and whales. In: Au WL, Fay R, Popper A (eds) Hearing by whales and dolphins. Springer, New York, pp 156–224

Urick RJ (1984) Ambient noise in the sea. McGraw-Hill, New York

Versluis M, Schmitz B, von der Heydt A, Lohse D (2000) How snapping shrimp snap: through cavitating bubbles. Science 289:2114–2117

Watanabe M, Sekine M, Hamada E, Ukita M, Imai T (2002) Monitoring of shallow sea environment by using snapping shrimps. Water Sci Technol 46:419–424

Wenz GM (1962) Acoustic ambient noise in the ocean: spectra and sources. J Acoust Soc Am 34:1936–1956
Acknowledgments
We thank Céline Liret, Dominique Barthélémy, Sébastien Delaporte, Marie-Pierre Pelecq and the aquariology staff of the public aquarium Océanopolis in Brest for their technical support. We also thank the IUEM diving team and the crew of the research vessel Albert Lucas for inventorying maerl beds and fauna sampling. We thank Sébastien Hervé for Fig. 1 and anonymous reviewers for comments on a previous version of the manuscript. This research was supported by the French ANR program "MER CALME" (ANR Project-12-ASTR-0021-03) and carried out as part of the Ph.D. thesis of L. Coquereau for Université de Bretagne Occidentale with the President grants.
Additional information
Reviewed by D. R. Bohnenstiehl, I. Hinojosa and an undisclosed expert.
Responsible Editor: M. Thiel.
Electronic supplementary material
Below is the link to the electronic supplementary material.
About this article
Cite this article
Coquereau, L., Grall, J., Chauvaud, L. et al. Sound production and associated behaviours of benthic invertebrates from a coastal habitat in the north-east Atlantic. Mar Biol 163, 127 (2016). https://doi.org/10.1007/s00227-016-2902-2
Received:

Accepted:

Published:
Keywords
Hydrophone

Ambient Noise

Sound Production

Acoustic Spectrum

Spider Crab