Abstract
Predation of fish on their scyphozoan hosts has not been clearly defined using analysis of gut contents because gelatinous prey are difficult to visually detect and are dissolved by fixative solutions. Therefore, scyphomedusae have been generally considered not relevant in fish diet. To determine the contribution of their scyphozoan host tissue to the assimilated diet of age-0 Chloroscombrus chrysurus, we determined δ13C and δ15N of fish, their hosts (scyphomedusae Aurelia sp. and Drymonema larsoni) and their potential prey—small plankton (<200 μm) and mesozooplankton (>200 μm)—in the coastal waters of Alabama, USA. The diet of C. chrysurus was defined using the Bayesian mixing model Stable Isotope Analysis in R (SIAR). Models indicated that the scyphozoan hosts contributed on average ~90 % to fish assimilated diet. In contrast with previous dietary assessments based on analysis of gut contents, these results highlight that scyphozoans are important to the diet of fish associated with them. Because several ecologically and economically important fish species live in association with scyphomedusae, a redefinition of trophic links in marine food webs may be needed in light of the findings in this study.
This is a preview of subscription content, log in to check access.
Access options
Buy single article
Instant unlimited access to the full article PDF.
US$ 39.95
Price includes VAT for USA
Subscribe to journal
Immediate online access to all issues from 2019. Subscription will auto renew annually.
US$ 199
This is the net price. Taxes to be calculated in checkout.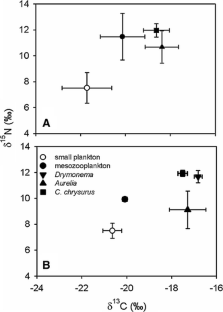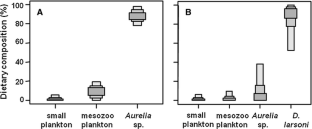 References
Arai MN (1988) Interactions of fish and pelagic coelenterates. Can J Zool 66:1913–1927

Arai MN (2005) Predation on pelagic coelenterates: a review. J Mar Biol Assoc UK 85:523–536

Arai MN, Welch DW, Dunsmuir AL, Jacobs MC, Ladouceur AR (2003) Digestion of pelagic Ctenophora and Cnidaria by fish. Can J Fish Aquat Sci 60:825–829

Bayha KM, Graham WM, Higgins JH III, Fletcher HA (2012) Predation potential of the jellyfish Drymonema larsoni Bayha & Dawson (Scyphozoa: Drymonematidae) on the moon jellyfish Aurelia sp. in the northern Gulf of Mexico. Hydrobiologia 690:189–197

Bjorndal K (1997) Foraging ecology and nutrition of sea turtles. In: Lutz PL, Musick JA, Wyneken J (eds) The biology of sea turtles. CRC Press, New York, pp 199–231

Brodeur RD (1998) In situ observations of the association between juvenile fishes and scyphomedusae in the Bering Sea. Mar Ecol Prog Ser 163:11–20

Carassou L, Dzwonkowski B, Hernandez FJ Jr, Powers SP, Park K, Graham WM, Mareska J (2011) Environmental influence on juvenile fish abundances in a river-dominated coastal system. Mar Coast Fish 3:411–427

Cardona L, De Quevedo IÁ, Borrell A, Aguilar A (2012) Massive Consumption of Gelatinous Plankton by Mediterranean Apex Predators. PLoS one 7:e31329

D'Ambra I (2012) Application of stable isotopes in the analysis of trophic interactions between jellyfish and fish. Dissertation, University of South Alabama

D'Ambra I, Carmichael RH, Graham WM (2014) Determination of δ13C and δ15N and trophic fractionation in jellyfish: implications for food web ecology. Mar Biol 161:473–480

Davenport J (1998) Sustaining endothermy on a diet of cold jelly: energetics of the leatherback turtle Dermochelys coriacea. Br Herpetol Soc Bull 62:4–8

Doyle TK, Houghton JDR, McDevitt R, Davenport J, Hays GC (2007) The energy density of jellyfish: estimates from bomb-calorimetry and proximate-consumption. J Exp Mar Biol Ecol 343:239–252

Fleming NEC, Houghton JDR, Magill CL, Harrod C (2011) Preservation methods alter stable isotope values in gelatinous zooplankton: implications for interpreting trophic ecology. Mar Biol 158:2141–2146

Fleming NEC, Harrod C, Griffin DC, Newton J, Houghton JDR (2014) Scyphozoan jellyfish provide short-term reproductive habitat for hyperiid amphipods in a temperate near-shore environment. Mar Ecol Prog Ser 510:229–240

Fossette S, Gleiss AC, Casey JP, Lewis AR, Hays GC (2012) Does prey size matter? Novel observations of feeding in the leatherback turtle (Dermochelys coriacea) allow a test of predator–prey size relationships. Biol Lett 8:351–354

González Carman V, Botto F, Gaitán E, Albareda D, Campagna C, Mianzan H (2014) A jellyfish diet for the herbivorous green turtle Chelonia mydas in the temperate SW Atlantic. Mar Biol 161:339–349

Grimes CB (2001) Fishery production and the Mississippi River discharge. Fisheries 26:17–26

Grimes CB, Finucane JH (1991) Spatial distribution and abundance of larval and juvenile fish, chlorophyll and macrozooplankton around the Mississippi River discharge plume, and the role of the plume in fish recruitment. Mar Ecol Prog Ser 75:109–119

Lucas CH, Pitt KA, Purcell JE, Lebrato M, Condon RH (2011) What's in a jellyfish? Proximate and elemental composition and biometric relationships for use in biogeochemical studies. Ecology 92:1704

Lynam C, Brierley AS (2007) Enhanced survival of 0-group gadoid fish under jellyfish umbrellas. Mar Biol 150:1397–1401

Mansueti R (1963) Symbiotic behavior between small fishes and jellyfishes, with new data on that between the Stromateid, Peprilus alepidotus, and the Scyphomedusa, Chrysaora quinquecirrha. Copeia 1:40–80

McCutchan JHJ, Lewis WM Jr, Kendall C, McGrath CC (2003) Variation in trophic shift for stable isotope ratios of carbon, nitrogen and sulfur. Oikos 102:378–390

Mianzan H, Mari N, Prenski B, Sanchez F (1996) Fish predation on neritic ctenophores from Argentine continental shelf: a neglected food source? Fish Res 27:69–79

Mianzan H, Pajaro M, Colombo GA, Madirolas A (2001) Feeding on survival food: gelatinous zooplankton as a source food for anchovies. Hydrobiologia 451:45–53

Milisenda G, Rosa S, Fuentes VL, Boero F, Guglielmo L, Purcell JE, Piraino S (2014) Jellyfish as Prey: frequency of Predation and Selective Foraging of Boops boops (Vertebrata, Actinopterygii) on the Mauve Stinger Pelagia noctiluca (Cnidaria, Scyphozoa). PLoS one 9:e94600

Parnell A, Inger R, Bearhop S, Jackson AL (2010) Source partitioning using stable isotopes: coping with too much variation. PLoS one 5:e9672

Peterson BJ, Fry B (1987) Stable isotopes in ecosystem studies. Ann Rev Ecol Syst 18:293–320

Phillips PJ, Burke WD, Keener EJ (1969) Observations on the trophic significance of jellyfish in Mississippi sound with quantitative data on the associative behaviour of small fishes with medusae. Trans Am Fish Soc 4:703–712

Pitt KA, Welsh DT, Condon RH (2009) Influence of jellyfish blooms on carbon, nitrogen and phosphorus cycling and plankton production. Hydrobiologia 616:133–149

Post DM, Layman CA, Arrington DA, Takimoto G, Quattrocchi J, Montaña GC (2007) Getting to the fat of the matter: models, methods and assumptions for dealing with lipids in stable isotope analysis. Oecologia 152:179–189

Purcell JE (2012) Jellyfish and ctenophore blooms coincide with human proliferations and environmental perturbations. The Ann Rev Mar Sci 4:209–235

Purcell JE, Arai MN (2001) Interactions of pelagic cnidarians and ctenophores with fish: a review. Hydrobiologia 451:27–44

Purcell JE, Brown ED, Slokesbury KDE, Haldorson LH, Shirley TC (2000) Aggregations of the jellyfish Aurelia labiata: abundance, distribution, association with age-0 walleye pollock, and behaviors promoting aggregation in Prince William Sound, Alaska. Mar Ecol Prog Ser 195:145–158

Sal Moyano MP, Schiariti A, Giberto DA, Briz LD, Gavio MA, Mianzan HW (2012) The symbiotic relationship between Lychnorhiza lucerna (Scyphozoa, Rhizostomeae) and Libinia spinosa (Decapoda, Epialtidae) in the Río de la Plata (Argentina–Uruguay). Mar Biol 159:1933–1941

Shaw RF, Drullinger DL (1990) Early-life-history profiles, seasonal abundance, and distribution of four species of Carangid larvae off Louisiana, 1982 and 1983. NOAA Technical Report NMFS 89:44

Tolley SG (1987) Association of young Chloroscombrus chrysurus (Pisces:Ccarangidae)with the jellyfish Aurelia aurita. Copeia 1:216–219

Towanda T, Thuesen EV (2006) Ectosymbiotic behavior of Cancer gracilis and its trophic relationships with his host Phacellophora camtschatica and the parasitoid Hyperia medusarum. Mar Ecol Prog Ser 315:221–236

Vanderklift MA, Ponsard S (2003) Sources of variation in consumer-diet δ15N enrichment: a meta-analysis. Oecologia 136:169–182
Acknowledgments
Funding for this study was provided by the National Oceanographic and Atmospheric Agency (NOAA)—R.C. Shelby Center for Ecosystem-Based Fisheries Management, and the National Science Foundation NSF-RAPID (OCE-1043413) to WMG. We thank the Biological Oceanography and FOCAL laboratories at the Dauphin Island Sea Lab (Alabama, USA) for plankton collection. C. Culpepper, J. Herrmann, L. Linn, R. Shipplett, and K. Weiss provided invaluable help in the field. We appreciated the comments by Drs C. Harrod and JDR Houghton, which improved the submitted manuscript. This paper is dedicated to our dear friend and colleague Hermes Mianzan, who searched for jellyfish in fish stomachs during his whole but short life.
Additional information
Communicated by C. Harrod.
About this article
Cite this article
D'Ambra, I., Graham, W.M., Carmichael, R.H. et al. Fish rely on scyphozoan hosts as a primary food source: evidence from stable isotope analysis. Mar Biol 162, 247–252 (2015) doi:10.1007/s00227-014-2569-5
Received:

Accepted:

Published:

Issue Date:
Keywords
Stable Isotope Analysis

Fork Length

Early Life Stage

Trophic Link

Bell Diameter