Abstract
This study describes the reproductive cycle of Petrosia ficiformis and documents for the first time embryogenesis in an oviparous haplosclerid demosponge. Gonochoric adults, occurring in 2:1 female/male ratios, spawned in late autumn, after a 7-month long oogenesis and a 2.5-week-long spermatogenesis. Following a remarkable migration, the oocytes were released as 250 μm eggs bearing attached polar bodies and a thin mucous cover. Round-headed spermatozoa with three large mitochondria, and many proacrosomal vesicles fertilized the eggs externally. A fertilization membrane appeared around the zygotes. Nearly equal and total cleavage led to a stereoblastula that subsequently became an entirely ciliated larva. The larva alternated spherical and multilobate body shape and consisted of undifferentiated cells. It had poor abilities to swim and glide, probably experiencing passive dispersal and unselective attachment. Settlers developed choanocyte chambers after 1.5 months. Symbiotic microbes were absent from gametes and larvae, being necessarily acquired from the ambient at each sponge generation.
This is a preview of subscription content, log in to check access.
Access options
Buy single article
Instant unlimited access to the full article PDF.
US$ 39.95
Price includes VAT for USA
Subscribe to journal
Immediate online access to all issues from 2019. Subscription will auto renew annually.
US$ 199
This is the net price. Taxes to be calculated in checkout.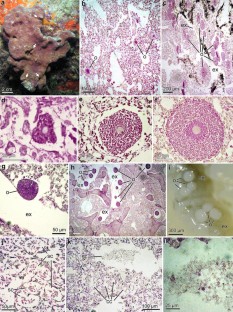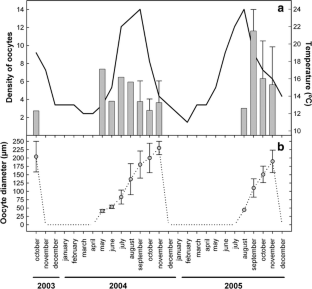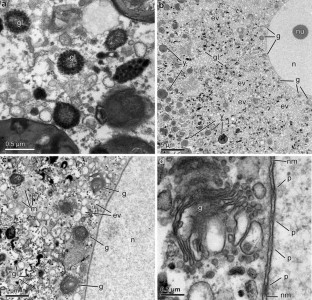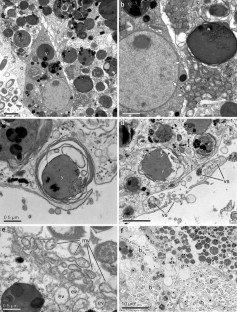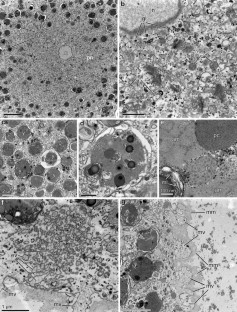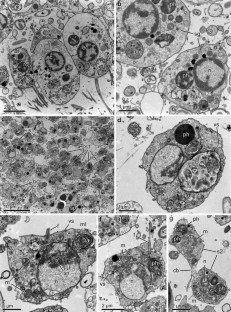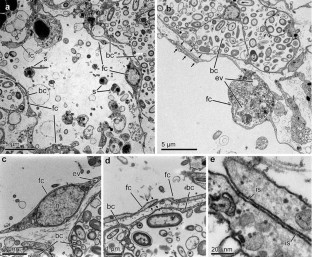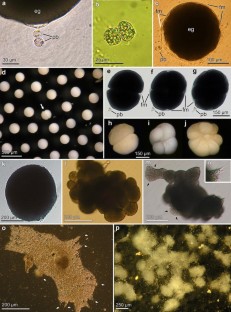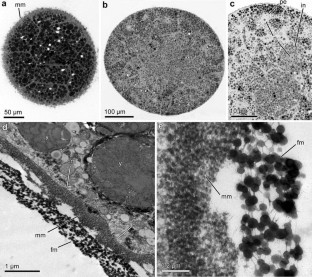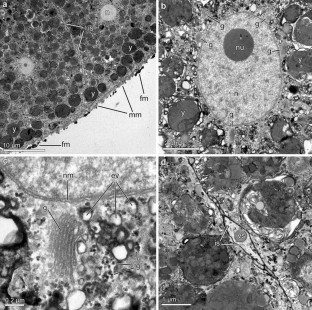 References
Barea-Azcón JM, Ballesteros-Duperón E, Moreno D (2008) Libro Rojo de los Invertebrados de Andalucía: Tomo IV. Junta de Andalucía, Sevilla

Cerrano C, Magnino G, Sarà A et al (2001) Necrosis in a population of Petrosia ficiformis (Porifera, Demospongiae) in relation with environmental stress. Ital J Zool 68:131–136

Diaz JP, Connes R (1980) Étude ultrastructurale de la spermatogenèse d'une Démosponge. Biol Cell 38:225–230

Elvin DW (1976) Seasonal growth and reproduction of an intertidal sponge, Haliclona permollis (Bowerbank). Biol Bull 151:108

Ferretti C, Marengo B, De Ciucis C et al (2007) Effects of Agelas oroides and Petrosia ficiformis crude extracts on human neuroblastoma cell survival. Int J Oncol 30:161–169

Fromont J, Bergquist PR (1994) Reproductive biology of three sponge species of the genus Xestospongia (Porifera: Demospongiae: Petrosiida) from the Great Barrier Reef. Coral Reefs 13:119–126

Lepore E, Sciscioli M, Gherardi M et al (1995) The ultrastructure of the mature oocyte and the nurse cells of the Ceractinomorpha Petrosia ficiformis. Cah Biol Mar 36:1520

Lévi C (1956) Étude des Halisarca de Roscoff. Embryologie et systématique des Demosponges. Arch Zool Exp Gén 93:1–181

Maldonado M (2006) The ecology of the sponge larva. Can J Zool 84:175–194

Maldonado M (2007) Intergenerational transmission of symbiotic bacteria in oviparous and viviparous demosponges, with emphasis on intracytoplasmically compartmented bacterial types. J Mar Biol Assoc UK 87:1701–1713

Maldonado M (2009) Embryonic development of verongid demosponges supports independent acquisition of spongin skeletons as alternative to the siliceous skeleton of sponges. Biol J Linn Soc 97:427–447

Maldonado M, Bergquist PR (2002) Phylum Porifera. In: Young CM, Sewell MA, Rice ME (eds) Atlas of marine invertebrate larvae. Academic Press, San Diego, pp 21–50

Maldonado M, Riesgo A (2008a) Reproductive output in a Mediterranean population of the homosclerophorid Corticium candelabrum (Porifera, Demospongiae), with notes on the ultrastructure and behavior of the larva. Mar Ecol Evol Persp 29:298–316

Maldonado M, Riesgo A (2008b) Reproduction in the phylum Porifera: a synoptic overview. Treb Soc Cat Biol 59:29–49

Maldonado M, Carmona MC, Velásquez Z et al (2005) Siliceous sponges as a silicon sink: an overlooked aspect of the benthopelagic coupling in the marine silicon cycle. Limnol Oceanogr 50:799–809

Mercurio M, Corriero G, Gaino E (2007) A 3-year study of sexual reproduction in Geodia cydonium (Jameson 1811) (Porifera, Demospongiae) from a semi-enclosed Mediterranean bay. Mar Biol 151:1491–1500

Poiret JLM (1789) Voyage en Barbarie, ou lettres écrites de l'ancienne Numidie pendant les années 1785 & 1786, sur la religion, les coutumes & les mœurs des maures & des arabes-bédouins; avec un essai sur l'histoire naturelle de ce pays. Deuxème Partie, Paris

Redmond NE, McCormack GP (2008) Large expansion segments in 18S rDNA support a new sponge clade (Class Demospongiae, Order Haplosclerida). Mol Phylogenet Evol 47:1090–1099

Redmond NE, van Soest RMW, Kelly M et al (2007) Reassessment of the classification of the Order Haplosclerida (Class Demospongiae, Phylum Porifera) using 18S rRNA gene sequence data. Mol Phylogenet Evol 43:344–352

Regoli F, Cerrano C, Chierici E et al (2004) Seasonal variability of prooxidant pressure and antioxidant adaptation to symbiosis in the Mediterranean Petrosia ficiformis. Mar Ecol Prog Ser 275:129–137

Riesgo A, Maldonado M (2008) Differences in reproductive timing between sponges sharing habitat and thermal regime. Invertebr Biol 127(4):357–367

Riesgo A, Maldonado M, Durfort M (2007) Dynamics of gametogenesis, embryogenesis, and larval release in a Mediterranean homosclerophorid demosponge. Mar Fresh Res 58:398–417

Riesgo A, Maldonado M, Durfort M (2008) Occurrence of somatic cells within the spermatic cysts of demosponges: a discussion of their role. Tissue Cell 40(5):387–396

Ritson-Williams R, Becerro MA, Paul VP (2005) Spawning of the giant barrel sponge Xestospongia muta in Belize. Coral Reefs 24:160

Scalera-Liaci L, Sciscioli M (1975) Sexual cycles of some marine Porifera European Marine Biology Symposium Acts Suppl. Pubblicazioni della Stazione Zoologica di Napoli, pp 307–316

Scalera-Liaci L, Sciscioli M, Matarrese A (1973) Raffronto tra il comportamento sessuale di alcune Ceractinomorpha. Riv Biol 66:135–162

Tuzet O (1970) La polarité de l'oeuf et la symétrie de la larve des éponges calcaires. Symp Zool Soc London 25:437–448

Tuzet O, Garrone R, Pavans de Ceccatty M (1970) Observations ultrastructurales sur la spermatogenèse chez la Démosponge Aplysilla rosea Schulze (Dendroceratide): Une métaplaisie exemplaire. Ann Sci Nat Zoologie 12eme Série:27–50
Acknowledgments
The authors thank Alba Canyelles, Laura Núñez, Guillem Roca, and Sergio Taboada for help in fieldwork and Almudena García (Microscopy Service, UB) for help with TEM sample processing. We also thank Francesc Gómez for help with video processing. This study was funded by 2 grants of the Spanish Government (CTM2005-05366/MAR and BFU2008-00227/BMC).
Additional information
Communicated by M. Byrne.
Electronic supplementary material
Below is the link to the electronic supplementary material.
About this article
Cite this article
Maldonado, M., Riesgo, A. Gametogenesis, embryogenesis, and larval features of the oviparous sponge Petrosia ficiformis (Haplosclerida, Demospongiae). Mar Biol 156, 2181–2197 (2009). https://doi.org/10.1007/s00227-009-1248-4
Received:

Accepted:

Published:

Issue Date:
Keywords
Sponge

Polar Body

Mature Oocyte

Nurse Cell

Glycogen Granule