Abstract
We establish connections between parameterized/kernelization complexity of graph modification problems and expressibility in logic. For a first-order logic formula φ, we consider the problem of deciding whether an input graph can be modified by removing/adding at most k vertices/edges such that the resulting modification has the property expressible by φ. We provide sufficient and necessary conditions on the structure of the prefix of φ specifying when the corresponding graph modification problem is fixed-parameter tractable (parameterized by k) and when it admits a polynomial kernel.
This is a preview of subscription content, log in to check access.
Access options
Buy single article
Instant unlimited access to the full article PDF.
US$ 39.95
Price includes VAT for USA
Subscribe to journal
Immediate online access to all issues from 2019. Subscription will auto renew annually.
US$ 99
This is the net price. Taxes to be calculated in checkout.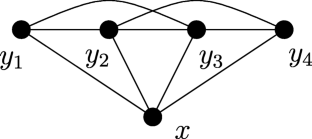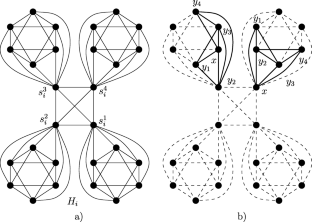 References
1.

Abu-Khzam, F.N.: A kernelization algorithm for d-hitting set. J. Comput. Syst. Sci. 76, 524–531 (2010)

2.

Bodlaender, H.L., Downey, R.G., Fellows, M.R., Hermelin, D.: On problems without polynomial kernels. J. Comput. Syst. Sci. 75, 423–434 (2009)

3.

Bodlaender, H.L., Jansen, B.M.P., Kratsch, S.: Kernelization lower bounds by cross-composition. SIAM J. Discrete Math. 28, 277–305 (2014)

4.

Börger, E., Grädel, E., Gurevich, Y.: The Classical Decision Problem. Springer Science & Business Media, Berlin (2001)

5.

Cai, L., Cai, Y.: Incompressibility of H-free edge modification problems. Algorithmica 71, 731–757 (2015)

6.

Cygan, M., Fomin, F.V., Kowalik, L., Lokshtanov, D., Marx, D., Pilipczuk, M., Pilipczuk, M., Saurabh, S.: Parameterized Algorithms. Springer, Berlin (2015)

7.

Downey, R.G., Fellows, M.R.: Fundamentals of Parameterized Complexity, Texts in Computer Science. Springer, Berlin (2013)

8.

Fagin, R.: Generalized first-order spectra and polynomial-time recognizable sets. In: Complexity of Computation, vol. 7, pp. 43–74. AMS (1974)

9.

Flum, J., Grohe, M.: Parameterized Complexity Theory, Texts in Theoretical Computer Science. An EATCS Series. Springer, Berlin (2006)

10.

Frick, M., Grohe, M.: The complexity of first-order and monadic second-order logic revisited. Ann. Pure Appl. Logic 130, 3–31 (2004)

11.

Gottlob, G., Kolaitis, P.G., Schwentick, T.: Existential second-order logic over graphs: Charting the tractability frontier. J. ACM 51, 312–362 (2004)

12.

Grohe, M.: Descriptive Complexity, Canonisation, and Definable Graph Structure Theory, vol. 47. Cambridge University Press, Cambridge (2017)

13.

Guillemot, S., Havet, F., Paul, C., Perez, A.: On the (non-)existence of polynomial kernels for p ℓ-free edge modification problems. Algorithmica 65, 900–926 (2013)

14.

Impagliazzo, R., Paturi, R., Zane, F.: Which problems have strongly exponential complexity? J. Comput. Syst. Sci. 63, 512–530 (2001)

15.

Kratsch, S., Wahlström, M.: Two edge modification problems without polynomial kernels. Discret. Optim. 10, 193–199 (2013)

16.

Lewis, J.M., Yannakakis, M.: The node-deletion problem for hereditary properties is NP-complete. J. Comput. Syst. Sci. 20, 219–230 (1980)

17.

Niedermeier, R.: Invitation to fixed-parameter algorithms, vol. 31 of Oxford Lecture Series in Mathematics and its Applications Oxford University Press (2006)

18.

Smorynski, C.: The incompleteness theorems. In: Handbook of Mathematical Logic, vol. 90 of Stud. Logic Found. Math., pp. 821–865. North-Holland, Amsterdam (1977)

19.

Vardi, M.Y.: The complexity of relational query languages (extended abstract). In: Proceedings of the 14th Annual ACM Symposium on Theory of Computing, May 5–7, 1982, pp. 137–146. ACM, San Francisco (1982)

20.

Williams, R.: Faster decision of first-order graph properties. In: Joint Meeting of the Twenty-Third EACSL Annual Conference on Computer Science Logic (CSL) and the Twenty-Ninth Annual ACM/IEEE Symposium on Logic in Computer Science (LICS), CSL-LICS '14, pp. 80:1–80:6. ACM, Vienna, July 14 - 18, 2014 (2014)

21.

Yannakakis, M.: Edge-deletion problems. SIAM J. Comput. 10, 297–309 (1981)
Acknowledgments
We are grateful to Pål Drange for his very helpful remarks.
Additional information
Publisher's Note
Springer Nature remains neutral with regard to jurisdictional claims in published maps and institutional affiliations.
The two first authors have been supported by the Research Council of Norway via the projects "CLASSIS" and "MULTIVAL". The third author has been supported by projects DEMOGRAPH (ANR-16-CE40-0028) and ESIGMA (ANR-17-CE23-0010). All authors have been supported by the Research Council of Norway and the French Ministry of Europe and Foreign Affairs, via the Franco-Norwegian project PHC AURORA 2019.
About this article
Cite this article
Fomin, F.V., Golovach, P.A. & Thilikos, D.M. On the Parameterized Complexity of Graph Modification to First-Order Logic Properties. Theory Comput Syst 64, 251–271 (2020). https://doi.org/10.1007/s00224-019-09938-8
Keywords
First-order logic

Graph modification

Parameterized complexity

Descriptive complexity

Kernelization