Abstract
We investigated whether embodied ownership is evident in early childhood. To do so, we gifted a drinking bottle to children (aged 24–48 months) to use for 2 weeks. They returned to perform reach–grasp–lift–replace actions with their own or the experimenter's bottle while we recorded their movements using motion capture. There were differences in motor interactions with self- vs experimenter-owned bottles, such that children positioned self-owned bottles significantly closer to themselves compared with the experimenter's bottle. Age did not modulate the positioning of the self-owned bottle relative to the experimenter-owned bottle. In contrast, the pattern was not evident in children who selected one of the two bottles to keep only after the task was completed, and thus did not 'own' it during the task (Experiment 2). These results extend similar findings in adults, confirming the importance of ownership in determining self–other differences and provide novel evidence that object ownership influences sensorimotor processes from as early as 2 years of age.
This is a preview of subscription content, log in to check access.
Access options
Buy single article
Instant unlimited access to the full article PDF.
US$ 39.95
Price includes VAT for USA
Subscribe to journal
Immediate online access to all issues from 2019. Subscription will auto renew annually.
US$ 199
This is the net price. Taxes to be calculated in checkout.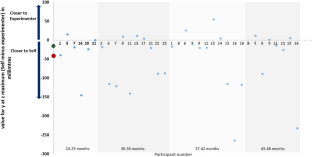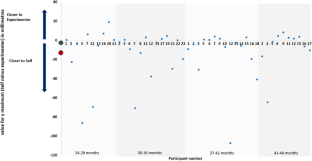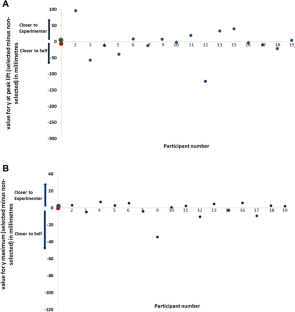 Notes
1.

One child in the youngest age group (24–30 months) had an aluminium bottle.

2.

Younger children are not included in this N because they were administered a different test battery, the Bayley Scales.
References
Attwood A, Frith U, Hermelin B (1988) The understanding and use of interpersonal gestures by Autistic and Down's syndrome. Child J Autism Dev Disord 18:241–257. https://doi.org/10.1007/BF02211950

Baron-Cohen S (1989) Perceptual role taking and protodeclarative pointing in autism. Br J Dev Psychol 7:113–127. https://doi.org/10.1111/j.2044-835X.1989.tb00793.x

Beggan JK (1992) On the social nature of nonsocial perception: the mere ownership effect. J Pers Soc Psychol 62(2):229–237. https://doi.org/10.1037/0022-3514.62.2.229

Belk RW (1988) Possessions and the extended self. J Consum Res 15(2):139–168. https://doi.org/10.1086/209154

Belk RW (2014) The extended self unbound. J Mark Theory Pract 22:133–134. https://doi.org/10.2753/MTP1069-6679220202

Bremner AJ, Holmes NP, Spence C (2016) Infants lost in (peripersonal) space. Trends Cogn Sci 12:2980305. https://doi.org/10.1016/j.tics.2008.05.003

Brownell CA, Iesue SS, Nichols SR, Svetlova M (2013) Mine or yours? Development of sharing in toddlers in relation to ownership understanding. Child Dev 84(3):906–920. https://doi.org/10.1111/cdev.12009

Capirci O, Contaldo A, Caselli MC, Volterra V (2005) From action to language through gesture: a longitudinal perspective. Gesture 5:155–177. https://doi.org/10.1075/gest.5.1.12cap

Constable MD, Kritikos A, Bayliss AP (2011) Grasping the concept of personal property. Cognition 119:430–437. https://doi.org/10.1016/j.cognition.2011.02.007

Constable MD, Kritikos A, Lipp OV, Bayliss AP (2014) Object ownership and action: the influence of social context and choice on the physical manipulation of personal property. Exp Brain Res 232:3749–3761. https://doi.org/10.1007/s00221-014-4063-1

Cunningham SJ, Vergunst F, Macrae CN, Turk DJ (2013) Exploring early self-referential memory effects through ownership. Br J Dev Psychol 31:289–301. https://doi.org/10.1111/bjdp.12005

Diesendruck G, Perez R (2015) Toys are me: children's extension of self to objects. Cognition 134:11–20. https://doi.org/10.1016/j.cognition.2014.09.010

Dunn L, Dunn D (2007) PPVT-4: peabody picture vocabulary test manual, 4th edn. Pearson Assessments, Minneapolis

Eisenberg-berg N, Haake R, Hand M, Sadalla E (1979) Effects of instructions concerning ownership of a toy on preschoolers' sharing and defensive behaviors. Dev Psychol 15:460–461. https://doi.org/10.1037/0012-1649.15.4.460

Fasig LG (2000) Toddlers' understanding of ownership: implications for self-concept development. Soc Dev 9:370–382. https://doi.org/10.1016/j.cogdev.2013.09.003

Folio MR, Fewell RR (2000) Peabody developmental motor scales, 2nd edn. Pro-Ed, Austin

Friedman O, Van de Vondervoort JW, Defeyter MA, Neary KR (2013) First possession, history, and young children's ownership judgements. Child Dev. https://doi.org/10.1111/cdev.12080

Furby L (1978) Sharing: Decisions and moral judgments about letting others use one's possessions. Psychol Rep 43:595–609. https://doi.org/10.2224/sbp.1978.6.1.49

Gelman SA, Davidson NS (2016) Young children's preference for unique owned objects. Cognition 155:146–154. https://doi.org/10.1016/j.cognition.2016.06.016

Gelman SA, Manczak EM, Noles NS (2012) The nonobvious basis of ownership: preschool children trace the history and value of owned objects. Child Dev 83:1732–1747. https://doi.org/10.1111/j.1467-8624.2012.01806.x

Glover S, Rosenbaum DA, Graham J, Dixon P (2004) Grasping the meaning of words. Exp Brain Res 154:103–108. https://doi.org/10.1007/s00221-003-1659-2

Goble DJ, Lewis CA, Hurvitz EA, Brown SH (2005) Development of upper limb proprioceptive accuracy in children and adolescents. Hum Mov Sci 24:155–170. https://doi.org/10.1016/j.humov.2005.05.004

Hay DF (2006) Yours and mine: Toddlers' talk about possessions with familiar peers. Br J Dev Psychol 24(1):39–52. https://doi.org/10.1348/026151005X68880

Hobson RP, García-Pérez RM, Lee A (2010) Person-centred (deictic) expressions and autism. J Autism Dev Disord 40:403–415. https://doi.org/10.1007/s10803-009-0882-5

Hood B, Weltzien S, Marsh L, Kanngiesser P (2016) Picture yourself: self-focus and the endowment effect in preschool children. Cognition 152:70–77. https://doi.org/10.1016/j.cognition.2016.03.019

Kahneman D, Tversky A (1984) Choices, values, and frames. Am Psychol 39(4):341–350. https://doi.org/10.1037/0003-066X.39.4.341

Kahneman D, Knetsch JL, Thaler RH (1991) Anomalies: the endowment effect, loss aversion, and status quo bias. J Econ Perspect 5(1):193–206. https://doi.org/10.2307/1942711

Kanngiesser P, Gjersoe N, Hood BM (2010) The effect of creative labor on property-ownership transfer by preschool children and adults. Psychol Sci 21:1236–1241. https://doi.org/10.1177/0956797610380701

Kritikos A, Dozo N, Oainter DR, Bayliss AP (2011) Mountain high, valley low: direction-specific effects of articulation on reaching. Q J Exp Psychol 65(1):39–54. https://doi.org/10.1080/17470218.2011.592951

Lewis M, Ramsay D (2004) Development of self-recognition, personal pronoun use, and pretend play during the second year. Child Dev 75:1821–1831. https://doi.org/10.1111/j.1467-8624.2004.00819.x

Loeffler J, Raab M, Cañal-Bruland R (2016) A Lifespan perspective on embodied cognition. Front Psychol 7:845. https://doi.org/10.3389/fpsyg.2016.00845

McClelland D (1951) Personality. Holt, Rinehart, & Winston, New York

Miles LK, Nind LK, Macrae CN (2010) Moving through time. Psychol Sci 21:222–223. https://doi.org/10.1177/0956797609359333

Needham A, Libertus K (2011) Embodiment in early development. Wiley Interdiscip Rev Cogn Sci 2:117–123. https://doi.org/10.1002/wcs.109

Niendenthal PM (2007) Embodying emotion. Science 316(5827):1002–1005. https://doi.org/10.1126/science.1136930

Piaget J (1932) The moral judgment of the child. Routlege & Kegan Paul, London

Pizzuto E, Capobianco M (2005) The link and differences between deixis and symbols in children's early gestural-vocal system. Gesture 5:179–199. https://doi.org/10.1177/0142723707087736

Prinz W (1997) Perception and action planning. Eur J Cogn Psychol 9:129–154. https://doi.org/10.1080/713752551

Robins DL, Fein D, Barton ML (1999) Modified checklist for autism in toddlers (M-CHAT)

Rochat P (1998) Self-perception and action in infancy. Exp Brain Res 123:102–109. https://doi.org/10.1007/s002210050550

Ross H, Friedman O, Field A (2015) Toddlers assert and acknowledge ownership rights. Soc Dev 24:341–356. https://doi.org/10.1111/sode.12101

Rossano F, Fiedler L, Tomasello M (2015) Preschoolers' understanding of the role of communication and cooperation in establishing property rights. Dev Psychol 51(2):176–184. https://doi.org/10.1037/a0038493

Rossano F, Rakoczy H, Tomasello M (2011) Young children's understanding of violations of property rights. Cognition 121:219–227. https://doi.org/10.1016/j.cognition.2011.06.007

Rutter M, Bailey A, Lord C (2003) SCQ The Social Communication Questionnaire. Western Psychological Services, California

Saylor MM, Ganea PA, Vazquez MD (2011) What's mine is mine: twelve-month-olds use possessive pronouns to identify referents. Dev Sci 14(4):859–864. https://doi.org/10.1111/j.1467-7687.2010.01034.x

Schneiberg S, Sveistrup H, McFadyen B, McKinley P, Levin MF (2002) The development of coordination for reach-to-grasp movements in children. Exp Brain Res 146:142–154. https://doi.org/10.1007/s00221-002-1156-z

Sparks S, Cunningham S, Kritikos A (2016) Culture modulates implicit ownership-induced self-bias in memory. Cognition 153:89–98. https://doi.org/10.1016/j.cognition.2016.05.0030010-0277

Sui J, Zhu Y (2005) Five-year-olds can show the self-reference advantage. Int J Behav Dev 29:382–387. https://doi.org/10.1080/01650250500172673
Acknowledgements
This research was funded by a z DP13100253 to Chief Investigators Ada Kritikos, Kate Sofronoff, Virginia Slaughter and Andrew Bayliss.
Additional information
Publisher's Note
Springer Nature remains neutral with regard to jurisdictional claims in published maps and institutional affiliations.
Communicated by Melvyn A. Goodale .
Electronic supplementary material
Below is the link to the electronic supplementary material.
About this article
Cite this article
Kritikos, A., Lister, J., Sparks, S. et al. To have and to hold: embodied ownership is established in early childhood. Exp Brain Res (2020) doi:10.1007/s00221-020-05726-w
Received:

Accepted:

Published:
Keywords
Embodied cognition

Ownership

Early childhood

Kinematics

Reach-to-grasp actions