Abstract
Vision of human actions can affect several features of visual motion processing, as well as the motor responses of the observer. Here, we tested the hypothesis that action observation helps decoding environmental forces during the interception of a decelerating target within a brief time window, a task intrinsically very difficult. We employed a factorial design to evaluate the effects of scene orientation (normal or inverted) and target gravity (normal or inverted). Button-press triggered the motion of a bullet, a piston, or a human arm. We found that the timing errors were smaller for upright scenes irrespective of gravity direction in the Bullet group, while the errors were smaller for the standard condition of normal scene and gravity in the Piston group. In the Arm group, instead, performance was better when the directions of scene and target gravity were concordant, irrespective of whether both were upright or inverted. These results suggest that the default viewer-centered reference frame is used with inanimate scenes, such as those of the Bullet and Piston protocols. Instead, the presence of biological movements in animate scenes (as in the Arm protocol) may help processing target kinematics under the ecological conditions of coherence between scene and target gravity directions.
This is a preview of subscription content, log in to check access.
Access options
Buy single article
Instant unlimited access to the full article PDF.
US$ 39.95
Price includes VAT for USA
Subscribe to journal
Immediate online access to all issues from 2019. Subscription will auto renew annually.
US$ 199
This is the net price. Taxes to be calculated in checkout.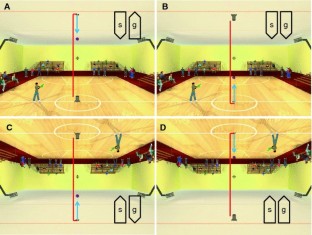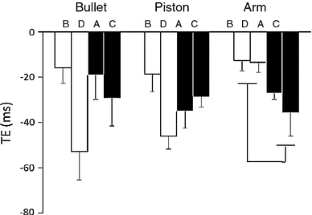 References
Abernethy B (1990) Expertise, visual search, and information pick-up in squash. Perception 19:63–77

Aymoz C, Viviani P (2004) Perceptual asynchronies for biological and non-biological visual events. Vision Res 44:1547–1563

Bahill AT, Baldwin DG, Venkateswaran J (2005) Predicting a baseball's path. Am Sci 93:218–225

Blake R, Shiffrar M (2007) Perception of human motion. Annu Rev Psychol 58:47–73

Bove M, Tacchino A, Pelosin E, Moisello C, Abbruzzese G, Ghilardi MF (2009) Spontaneous movement tempo is influenced by observation of rhythmical actions. Brain Res Bull 80:122–127

Brass M, Bekkering H, Prinz W (2001) Movement observation affects movement execution in a simple response task. Acta Psychol Amst 106:3–22

Carrozzo M, Moscatelli A, Lacquaniti F (2010) Tempo rubato: animacy speeds up time in the brain. PLoS One 5(12):e15638

Christensen A, Ilg W, Giese MA (2011) Spatiotemporal tuning of the facilitation of biological motion perception by concurrent motor execution. J Neurosci 31(9):3493–3499

Craighero L, Bello A, Fadiga L, Rizzolatti G (2002) Hand action preparation influences the responses to hand pictures. Neuropsychologia 40:492–502

Fujimoto K (2003) Motion induction from biological motion. Perception 32:1273–1277

Gallagher S (2000) Philosophical conceptions of the self: Implications for cognitive science. Trends Cogn Sci 4:14–21

Heyes C, Bird G, Johnson H, Haggard P (2005) Experience modulates automatic imitation. Cogn Brain Res 22:233–240

Hommel B (2004) Event files: feature binding in and across perception and action. Trends Cogn Sci 8:494–500

Huys R, Smeeton NJ, Hodges NJ, Beek PJ, Williams AM (2008) On the dynamic information underlying visual anticipation skill. Percept Psychophys 70:1217–1234

Jokisch D, Troje NF (2003) Biological motion as a cue for the perception of size. J Vis 3:252–264

Kilner JM, Paulignan Y, Blakemore SJ (2003) An interference effect of observed biological movement on action. Curr Biol 13:522–525

Metzinger T (2000) The subjectivity of subjective experience: a representationalist analysis of the first-person perspective. In: Metzinger T (ed) Neural correlates of consciousness. MIT Press, Cambridge, pp 285–306

Miller WL, Maffei V, Bosco G, Iosa M, Zago M, Macaluso E, Lacquaniti F (2008) Vestibular nuclei and cerebellum put visual gravitational motion in context. J Neurophysiol 99:1969–1982

Neri P, Luu JY, Levi DM (2006) Meaningful interactions can enhance visual discrimination of human agents. Nat Neurosci 9:1186–1192

Newman-Norlund RD, van Schie HT, van Zuijlen AMJ, Bekkering H (2007) The mirror neuron system is more active during complementary compared with imitative action. Nat Neurosci 10:817–818

Ocampo B, Kritikos A (2010) Placing actions in context: motor facilitation following observation of identical and non-identical manual acts. Exp Brain Res 201:743–751

Oh S, Shiffrar M (2008) Rolling perception without rolling motion. Perception 37:317–320

Port NL, Lee D, Dassonville P, Georgopoulos AP (1997) Manual interception of moving targets. I. Performance and movement initiation. Exp Brain Res 116:406–420

Reed CL, Stone V, Bozova S, Tanaka J (2003) The body inversion effect. Psychol Sci 14:302–308

Schlack A, Krekelberg B, Albright TD (2008) Speed perception during acceleration and deceleration. J Vis 8(8):9.1–9.11

Sebanz N, Knoblich G (2009) Prediction in joint action: what, when, and where. Top Cogn Sci 1:353–367

Senot P, Zago M, Lacquaniti F, McIntyre J (2005) Anticipating the effects of gravity when intercepting moving objects: differentiating up and down based on nonvisual cues. J Neurophysiol 94:4471–4480

Shim J, Carlton LG, Chow JW, Chae WS (2005) The use of anticipatory visual cues by highly skilled tennis players. J Mot Behav 37:164–175

Tadin D, Lappin JS, Blake R, Grossman ED (2002) What constitutes an efficient reference frame for vision? Nat Neurosci 5:1010–1015

Troje NF (2003) Reference frames for orientation anisotropies in face recognition and biological-motion perception. Perception 32:201–210

Vogeley K, Fink GR (2003) Neural correlates of the first-person-perspective. Trends Cogn Sci 7:38–42

Watanabe K (2008) Behavioral speed contagion: automatic modulation of movement timing by observation of body movements. Cognition 106:1514–1524

Yin RK (1969) Looking at upside-down faces. J Exp Psychol 81:141–145

Zago M, Bosco G, Maffei V, Iosa M, Ivanenko YP, Lacquaniti F (2005) Fast adaptation of the internal model of gravity for manual interceptions: evidence for event-dependent learning. J Neurophysiol 93:1055–1068

Zago M, Iosa M, Maffei V, Lacquaniti F (2010) Extrapolation of vertical target motion through a brief visual occlusion. Exp Brain Res 201:365–384

Zago M, La Scaleia B, Miller WL, Lacquaniti F (2011) Coherence of structural visual cues and pictorial gravity paves the way for interceptive actions. J Vis (in press)

Zentgraf K, Munzert J, Bischoff M, Newman-Norlund RD (2011) Simulation during observation of human actions—theories, empirical studies, applications. Vis Res 51:827–831

Zwickel J, Grosjean M, Prinz W (2010) On interference effects in concurrent perception and action. Psychol Res 74:152–171
Acknowledgments
We thank Giuseppe Cotignola and Riccardo De Marco for help with the setup and the experiments. We thank the reviewers of Experimental Brain Research for many helpful suggestions leading to the final version of the manuscript. The work was supported by the Italian Health Ministry and Italian Space Agency (CRUSOE grant). W. L. M. was formerly affiliated with the Santa Lucia Foundation and is now affiliated with the National Science Foundation, but the work described in this manuscript does not necessarily represent the views of the National Science Foundation or the United States Government.
Electronic supplementary material
Below is the link to the electronic supplementary material.
Movies in the supplementary material present a low-resolution and simplified version of the actual animations for the Arm protocol. Movie labels identify the conditions A–D. In all cases, the ball was correctly intercepted. Four different characters are depicted in each scene. During the actual experiments, six different characters were randomly used in each trial of each condition (see Methods) (MOV 354 kb)
Supplementary material 2 (MOV 396 kb)
Supplementary material 3 (MOV 395 kb)
Supplementary material 4 (MOV 397 kb)
About this article
Cite this article
Zago, M., La Scaleia, B., Miller, W.L. et al. Observing human movements helps decoding environmental forces. Exp Brain Res 215, 53 (2011). https://doi.org/10.1007/s00221-011-2871-0
Received:

Accepted:

Published:
Keywords
Interception

Pictorial

Scene inversion

Gravity