Abstract
We aimed to dissociate components in prism adaptation and its aftereffect by using prism adaptation training in healthy humans. Arm proprioceptive aftereffects are usually measured by indicating the subjective straight ahead direction with eyes closed (S). This measure however could be affected by other components besides proprioception, such as an efferent motor component and internal egocentric reference frame. Here we report a very long lasting proprioceptive shift, detected by two measuring methods, that is a component of the adaptation aftereffects to left wedge prism glasses. In order to minimize possible active motor components, arm passive proprioceptive midsagittal judgment was measured (P). The subject's arm was passively brought from the right or left lateral position, and stopped by subjects' verbal order. The results from these different measurements of midsagittal judgment were compared for 7 days after prism adaptation. Surprisingly, we found two distinctly separate aftereffects of proprioceptive shift depending on the directions of the passive arm movement. The shift of the midsagittal plane appeared only when tested from the left (Pl). This indicates that our strong prism adaptation procedure affected proprioception in a directionally biased way and not a spatially ubiquitous way. Further, the early aftereffect seen in active straight ahead pointing (S) was mostly similar to this biased shift in proprioception (Pl). However the long lasting aftereffect in straight ahead pointing was independently maintained up to day 7, when the passive proprioception had returned to pretest level. These results indicate that active straight ahead pointing (S) involves other components in addition to the passively measurable proprioceptive component. We suggest a late onset shift in the internal egocentric reference frame is involved in S. Possible neural mechanisms for these phenomena are discussed.
Access options
Buy single article
Instant access to the full article PDF.
USD 39.95
Price includes VAT (USA)
Tax calculation will be finalised during checkout.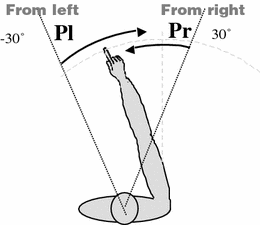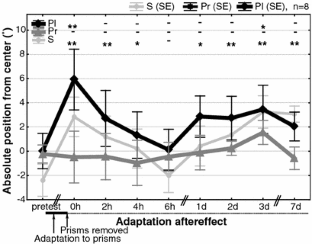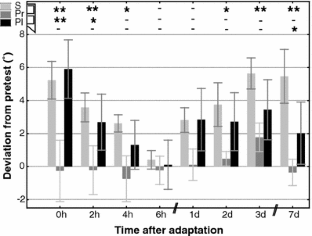 References
Al-Falahe NA, Nagaoka M, Vallbo AB (1990) Response profiles of human muscle afferents during active finger movements. Brain 113:325–346

Bailey C, Kandel ER (1993) Structural changes accompanying memory storage. Annu Rev Physiol 55:397–426

Baily JS (1972) Arm-body adaptation with passive arm movements. Percept Psychophys 12:39–44

Baizer JS, Kralj-Hans I, Glickstein M (1999) Cerebellar lesions and prism adaptation in macaque monkeys. J Neurophysiol 81:1960–1965

Beckett PA (1980) Development of the third component in prism adaptation: effects of active and passive movement. J Exp Psychol Hum Percept Perform 6:433–444

Bottini G, Karnath HO, Vallar G, Sterzi R, Frith CD, Frackowiak RS, Paulesu E (2001) Cerebral representations for egocentric space: Functional-anatomical evidence from caloric vestibular stimulation and neck vibration. Brain 124:1182–1196

Burke D, Hagbarth KE, Lofstedt L, Wallin BG (1976a) The responses of human muscle spindle endings to vibration of non-contracting muscles. J Physiol 261:673–693

Burke D, Hagbarth KE, Lofstedt L, Wallin BG (1976b) The responses of human muscle spindle endings to vibration during isometric contraction. J Physiol 261:695–711

Butler AJ, Fink GR, Dohle C, Wunderlich G, Tellmann L, Seitz RJ, Zilles K, Freund HJ (2004) Neural mechanisms underlying reaching for remembered targets cued kinesthetically or visually in left or right hemispace. Hum Brain Mapp 21:165–177

Capaday C, Cooke JD (1981) The effects of muscle vibration on the attainment of intended final position during voluntary human arm movements. Exp Brain Res 42:228–230

Capaday C, Cooke JD (1983) Vibration-induced changes in movement-related EMG activity in humans. Exp Brain Res 52:139–146

Chokron S, Colliot P, Atzeni T, Bartolomeo P, Ohlmann T (2004) Active versus passive proprioceptive straight-ahead pointing in normal subjects. Brain Cogn 55:290–294

Clower DM, West RA, Lynch JC, Strick PL (2001) The inferior parietal lobule is the target of output from the superior colliculus, hippocampus, and cerebellum. J Neurosci 21:6283–6291

Clower DM, Dum RP, Strick PL (2005) Basal ganglia and cerebellar inputs to 'AIP'. Cereb Cortex 15:913–920

Cordo P, Carlton L, Bevan L, Carlton M, Kerr GK (1994) Proprioceptive coordination of movement sequences: role of velocity and position information. J Neurophysiol 71:1848–1861

Crago PE, Houk JC, Rymer WZ (1982) Sampling of total muscle force by tendon organs. J Neurophysiol 47:1069–1083

Girardi M, McIntosh RD, Michel C, Vallar G, Rossetti Y (2004) Sensorimotor effects on central space representation: prism adaptation influences haptic and visual representations in normal subjects. Neuropsychologia 42:1477–1487

Graziano MS, Hu XT, Gross CG (1997) Coding the locations of objects in the dark. Science 277:239–241

Harris CS (1963) Adaptation to displaced vision: visual, motor, or proprioceptive change? Science 140:812–813

Hatada Y, Rossetti Y (2004a) Long-lasting prism-adaptation aftereffects: shift in open-loop midsagittal pointing involves more than just visual and proprioceptive components. Perception 33:Suppl:140

Hatada Y, Rossetti Y (2004b) Prism adaptation generates a very long lasting-directionally biased proprioceptive shift in healthy subjects. Soc neurosci Abstr 524:12

Hatada Y, Wu F, Sun ZY, Schacher S, Goldberg DJ (2000) Presynaptic morphological changes associated with long-term synaptic facilitation are triggered by actin polymerization at preexisting varicosities. J Neurosci 20:RC82

Hatada Y, Miall RC, Rossetti Y (2005) Two waves of a long-lasting after-effect of prism adaptation measured over 7 days. Exp Brain Res. E-pub on 18th Nov 2005

Hatada Y, Rossetti Y, Miall RC (2006) Long-lasting prism-adaptation after-effects reveal that shifts in vision and proprioception are independent. Exp Brain Res 1–14. DOI 10.1007/s00221-00609437-3

Houk J, Henneman E (1967) Responses of golgi tendon organs to active contractions of the soleus muscle of the cat. J Neurophysiol 30:466–481

Inglis JT, Frank JS (1990) The effect of agonist/antagonist muscle vibration on human position sense. Exp Brain Res 81:573–580

Kandel ER (2001) The molecular biology of memory storage: a dialogue between genes and synapses. Science 294:1030–1038 Review

Martin KC, Kosik KS (2002) Synaptic tagging – who's it? Nat Rev Neurosci 3:813–820

Martin TA, Keating JG, Goodkin HP, Bastian AJ, Thach WT (1996) Throwing while looking through prisms. II. Specificity and storage of multiple gaze-throw calibrations. Brain 119:1199–1211

Maviel T, Durkin TP, Menzaghi F, Bontempi B (2004) Sites of neocortical reorganization critical for remote spatial memory. Science 305:96–99

Naito E, Roland PE, Grefkes C, Choi HJ, Eickhoff S, Geyer S, Zilles K, Ehrsson HH (2005) Dominance of the right hemisphere and role of area 2 in human kinesthesia. J Neurophysiol 93:1020–1034

Pisella L, Rossetti Y, Michel C, Rode G, Boisson D, Pélisson D, Tilikete C (2005) Ipsidirectional impairment of prism adaptation after unilateral lesion of anterior cerebellum. Neurology 65:150–152

Previc FH (1998) The neuropsychology of 3-D space. Psychol Bull 124(2):123–164 Review

Prochazka A (1981) Muscle spindle function during normal movement. Int Rev Physiol 25:47–90

Prochazka A, Stephens JA, Wand P (1979) Muscle spindle discharge in normal and obstructed movements. J Physiol 287:57–66

Prud'Homme MJ, Kalaska JF (1994) Proprioceptive activity in primate primary somatosensory cortex during reaching movements. J Neurophysiol 72:2280–2301

Redding GM, Wallace B (1992) Effects of pointing rate and availability of visual feedback on visual and proprioceptive components of prism adaptation. J Mot Behav 24:226–237

Redding GM, Wallace B (1996) Adaptive spatial alignment and strategic perceptual-motor control. J Exp Psychol Hum Percept Perform 22:379–394

Redding GM, Wallace B (1997) Adaptive spatial alignment. Lawrence Erlbaum Associates, New Jersey

Redding GM, Wallace B (2006) Prism adaptation and unilateral neglect: review and analysis. Neuropsychologia 44:1–20

Redding GM, Rossetti Y, Wallace B (2005) Applications of prism adaptation: a tutorial in theory and method. Neurosci Biobehav Rev 29:431–444

Riley MA, Turvey MT (2001) Inertial constraints on limb proprioception are independent of visual calibration. J Exp Psychol Hum Percept Perform 27:438–455

Rizzolatti Fadiga L, Fogassi L, Gallese V (1997) The space around us. Science 277:190–191

Rossetti Y, Rode G, Pisella L, Farne A, Li L, Boisson D, Perenin MT (1998) Prism adaptation to a rightward optical deviation rehabilitates left hemispatial neglect. Nature 395:166–169

Takehara K, Kawahara S, Kirino Y (2003) Time-dependent reorganization of the brain components underlying memory retention in trace eyeblink conditioning. J Neurosci 23:9897–9905

Wei JY, Simon J, Randic M, Burgess PR (1986) Joint angle signaling by muscle spindle receptors. Brain Res 370:108–118

Weiner MJ, Hallett M, Funkenstein HH. (1983) Adaptation to lateral displacement of vision in patients with lesions of the central nervous system. Neurology 33:766–772

Welch RB (1978) Perceptual modification: adaptating to altered sensory environments. Academic press, New York

Welch RB (1986) Adaptation of space perception. In: Boff KR, Kaufman L, Thomas JR (eds) Handbook of perception and human performance, vol. 1: sensory processes and perception. Wiley, New York, pp 24.1–24.45

Wilkinson DA (1971) Visual-motor control loop: a linear system? J Exp Psychol 89:250–257
Acknowledgment
The authors would like to thank Gordon Redding, Kiyoshi Kurata and Ansgar Koene for their comments and suggestions. YH was partially supported by Gatsby charitable foundation.
Additional information
R. Chris Miall and Yves Rossetti contributed equally to this work.
About this article
Cite this article
Hatada, Y., Miall, R.C. & Rossetti, Y. Long lasting aftereffect of a single prism adaptation: directionally biased shift in proprioception and late onset shift of internal egocentric reference frame. Exp Brain Res 174, 189–198 (2006). https://doi.org/10.1007/s00221-006-0437-3
Received:

Accepted:

Published:

Issue Date:
Keywords
Visuo-motor

Sensory-motor

Plasticity

Spatial coding

Perception