Abstract.
Brain-damaged patients may extinguish contralesional stimuli when ipsilesional stimuli are presented simultaneously. Most theories of extinction postulate that stimuli compete for pathologically limited attentional resources with a bias to process ipsilesional over contralesional stimuli. Implicit in this view is the idea that responses follow the outcome of an earlier competition between inputs. In the current study of two patients, we used signal detection analyses to test the hypothesis that response criteria and response modalities also contribute to visual awareness. We found that identification was more sensitive than detection in uncovering deficits of contralesional awareness. Extinction was worse with bilateral stimuli when the ipsilesional stimulus was identical or similar to the target than when it was dissimilar. This diminished awareness was more likely to reflect a shift towards more conservative responses rather than diminished discrimination of contralesional stimuli. By contrast, one patient was better able to discriminate contralesional stimuli when using his contralesional limb to indicate awareness of targets than when using his ipsilesional limb. These data indicate that the nature of stimuli can modulate response criteria and the motor response can affect the sensory discriminability. Sensory discrimination and response output are not organized in a simple serial manner. Rather, input and output parameters interact in complicated ways to produce visual awareness. Visual awareness itself appears to be the outcome of two bottlenecks in processing, one having to do with sensory processing that may be covert and the other having to do with decision making, which by definition is overt. Finally, we advocate the use of signal detection analyses in studies of extinction, a method that has been surprisingly neglected in this line of research.
This is a preview of subscription content, log in to check access.
Access options
Buy single article
Instant access to the full article PDF.
US$ 39.95
Price includes VAT for USA
Subscribe to journal
Immediate online access to all issues from 2019. Subscription will auto renew annually.
US$ 199
This is the net price. Taxes to be calculated in checkout.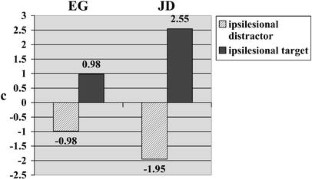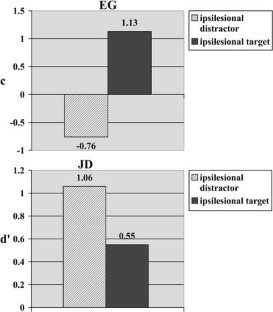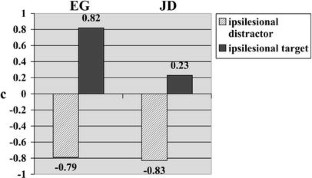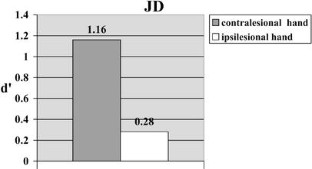 References
Battersby WS, Bender MB, Pollack M, Kahn RN (1956) Unilateral spatial agnosia (inattention) in patients with cerebral lesions. Brain 79:68–93

Baylis GC, Driver J, Rafal RD (1993) Visual extinction and stimulus repetition. J Cogn Neurosci 5:453–466

Baylis GC, Gore CL, Rodriguez PD, Shisler RJ (2001) Visual extinction and awareness: the importance of binding dorsal and ventral pathways. Vis Cogn 8:359–379

Bender MB (1952) Disorders in perception. CC Thomas, Springfield, IL

Bisiach E (1999) Unilateral neglect and related disorders. In: Denes G, Pizzamiglio L (eds) Handbook of clinical and experimental neuropsychology. Psychology Press, Hove, East Sussex, pp 479–493

Bisiach E, Vallar G (1988) Hemineglect in humans. In: Boller F, Grafman J (eds) Handbook of neuropsychology, vol 1. Elsevier, Amsterdam, pp 195–222

Bisiach E, Vallar G, Geminiani G (1989) Influence of response modality on perceptual awareness of contralesional visual stimuli. Brain 1627–1636

Bisiach E, Geminiani G, Berti A, Rusconi ML (1990) Perceptual and premotor factors of unilateral neglect. Neurology 40:1278–1281

Bruning JL, Kintz BL (1977) Computational handbook of statistics. Scott Foresman and Co., Gelnnview, IL

Chatterjee A (1998) Motor minds and mental models in neglect. Brain Cogn 37:339–349

Chatterjee A (2002) Spatial anisometry and representational release in neglect. In: Karnath HO, Milner D, Vallar G (eds) The cognitive and neural bases of spatial neglect. Oxford University Press, Oxford

Chatterjee A, Mennemeier M, Heilman KM (1992) A stimulus-response relationship in unilateral neglect: the power function. Neuropsychologia 30:1101–1108

Chatterjee A, Thompson KA, Ricci R (1999) Quantitative analysis of cancellation tasks in neglect. Cortex 35:153–162

Colby CL, Goldberg GE (1999) Space and attention in parietal cortex. Annu Rev Neurosci 23:319–349

di Pellegrino G, De Renzi E (1995) An experimental investigation on the nature of extinction. Neuropsychologia 33:153–170

Duhamel J, Brouchon M (1990) Sensorimotor aspects of unilateral neglect: a single case analysis. Cogn Neuropsychol 7:57–74

Duncan J, Humphreys G, Ward R (1997) Competitive brain activity in visual attention. Curr Opin Neurobiol 7:255–261

Farah MJ, Monheit MA, Wallace MA (1991) Unconscious perception of "extinguished" visual stimuli: reassessing the evidence. Neuropsychologia 29:949–958

Grafton ST, Mazziotta JC, Woods RP, Phelps ME (1992) Human functional anatomy of visually guided finger movements. Brain 115:565–587

Graziano MSA, Gross CG (1995) The representation of extrapersonal space: a possible role for bimodal, visual-tactile neurons. In: Gazzaniga MS (ed) The cognitive neurosciences. MIT Press, Cambridge, MA, pp 1021–1034

Green DM, Swets JA (1966) Signal detection theory and psychophysics. Wiley, New York

Heilman KM, Valenstein E (1979) Mechanisms underlying hemispatial neglect. Ann Neurol 5:166–170

Karnath H-O (1988) Deficits of attention in acute and recovered visual hemineglect. Neuropsychologia 34:9–22

Kawashima R, Roland PE, O'Sullivan BT (1994) Fields in human motor areas involved in preparation for reaching, actual reaching, and visuomotor learning: a positron emission tomography study. J Neurosci 14:3462–3474

Kinsbourne M (1993) Orientational bias model of unilateral neglect: evidence from attentional gradients within hemispace. In: Robertson IH, Marshall JC (eds) Unilateral neglect: clinical and experimental studies. Lawrence Erlbaum Associates, Hillsdale, pp 63–86

Làdavas E, di Pellegrino G, Farnè A, Zeloni G (1998) Neuropsychological evidence of an integrated visuotactile representation of peripersonal space in humans. J Cogn Neurosci 10:581–589

Mattingley J, Berberovic N, Rorden C, Driver J (2003) Attentional load at fixation modulates the spatial gradient for detection of visual stimuli in extinction. Cognitive Neuroscience Society, 10th Annual Meeting, March 30–April 1, New York, USA, p 125

Milner AD, Harvey M, Roberts RC, Forster SV (1993) Line bisection errors in visual neglect: misguided action or size distortion? Neuropsychologia 31:39–49

Na DL, Adair JC, Williamson DJG, Schwartz RL, Haws B, Heilman KM (1998) Dissociation of sensory-attentional from motor-intentional neglect. J Neurol Neurosurg Psychiatry 64:331–338

Olson E, Stark M, Chatterjee A (2003) Evidence for a unimodal somatosensory attention system. Exp Brain Res 151:15–23

Posner MI, Walker JA, Friedrich FJ, Rafal RD (1987) How do the parietal lobes direct covert attention? Neuropsychologia 25:135–45

Rafal R, Danziger S, Grossi G, Machado L, Ward R (2002) Visual detection is gated by attending for action: evidence from hemispatial neglect. Proc Natl Acad Sci U S A 99:16371–16375

Rapcsak SZ, Verfaellie M, Fleet WS, Heilman KM (1989) Selective attention in hemispatial neglect. Arch Neurol 46:178–182

Ricci R, Chatterjee A, Genero R, Zampieri D, Colombatti S (2003) Influence of sensory and response factors on contralesional visual awareness. Cognitive Neuroscience Society, 10th Annual Meeting, March 30–April 1, New York, USA, p 161

Rizzolatti G, Camarda R (1987) Neural circuits for spatial attention and unilateral neglect. In: Jeannerod M (ed) Neurophysiological and neuropsychological aspects of neglect. North Holland Press, Amsterdam, pp 289–313

Robertson IH, North NT (1993) Active and passive activation of the left limbs: influence on visual and sensory neglect. Neuropsychologia 31:293–300

Robertson IH, Tegnér R, Goodrich SJ, Wilson C (1994) Walking trajectory and hand movements in unilateral left neglect: a vestibular hypothesis. Neuropsychologia 32:1495–1502

Smania N, Martini MC, Prior M, Marzi C (1996) Input and response determinants of visual extinction: a case study. Cortex 32:567–591

Snodgrass JG, Corwin J (1988) Pragmatics of measuring recognition memory: applications to dementia and amnesia. J Exp Psychol Gen 117:34–50

Tegnér R, Levander M (1991) Through a looking glass. A new technique to demonstrate directional hypokinesia in unilateral neglect. Brain 114:1943–1951

Vaishnavi S, Calhoun J, Chatterjee A (1999) Crossmodal and sensorimotor integration in tactile awareness. Neurology 53:1596–1598

Vaishnavi S, Calhoun J, Southwood MH, Chatterjee A (2000) Sensory and response interference by ipsilesional stimulation in tactile extinction. Cortex 36:81–92

Vaishnavi S, Calhoun J, Chatterjee A (2001) Binding personal and peripersonal space: evidence from tactile extinction. J Cogn Neurosci 13:181–189

Vuilleumier P, Rafal RD (2000) A systematic study of visual extinction between- and within-field deficits of attention in hemispatial neglect. Brain 123:1263–1279

Wilson B, Cockburn J, Halligan PW (1987) Behavioral Inattention Test. Thames Valley Test Co., Bury St. Edmunds, UK

Worthington AD (1996) Cueing strategies in neglect dyslexia. Neuropsychol Rehabil 6:1–17
Acknowledgements.
This research was supported by NIH grant NS 037539. We thank Jessica Lease-Spellmeyer for help with data collection.
About this article
Cite this article
Ricci, R., Chatterjee, A. Sensory and response contributions to visual awareness in extinction. Exp Brain Res 157, 85–93 (2004). https://doi.org/10.1007/s00221-003-1823-8
Received:

Accepted:

Published:

Issue Date:
Keywords
Neglect

Visual attention

Consciousness

Signal detection theory