Abstract
Extinction is generally viewed as a disorder of selective attention for spatial locations. Recent physiologic, behavioral and lesion studies view spatial locations as a complex construct in which multiple modalities and motor systems are integrated. Accordingly, cross-modal and sensory-motor conditions often modify extinction. In a patient with tactile extinction, we tested the hypothesis that attentional deficits can also be confined to a specific sensory modality. Using objectively and subjectively balanced tactile stimuli and signal detection analysis, we found that our patient's contralesional tactile discrimination was not modulated by proprioceptive or visual input or by movement. By contrast, increasing the salience of the contralesional tactile stimuli did improve her contralesional tactile discrimination, consistent with our hypothesis that she suffered from a modality-specific attentional deficit. Additionally, she did not have any evidence of visual extinction, again bolstering our claim that her extinction was confined to touch. These data suggest that in addition to polymodal and sensory-motor attentional systems, spatial attention also operates on specific sensations. We also advocate the use of signal detection analysis, a method that has been surprisingly neglected in extinction research.
This is a preview of subscription content, log in to check access.
Access options
Buy single article
Instant access to the full article PDF.
US$ 39.95
Price includes VAT for USA
Subscribe to journal
Immediate online access to all issues from 2019. Subscription will auto renew annually.
US$ 199
This is the net price. Taxes to be calculated in checkout.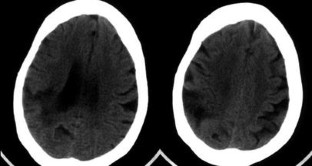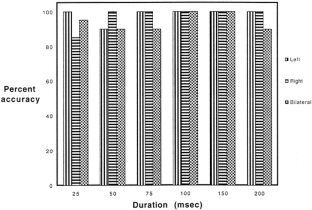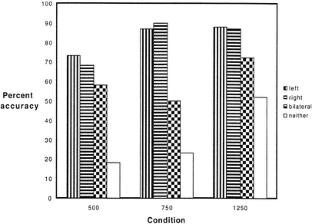 Notes
1.

Additionally, in the active condition there was no difference in her ability to discriminate contralesional touch between the competitive and non-competitive conditions. The reason for this lack of extinction is not clear. In normal subjects tactile thresholds increase with simultaneous movement. Simultaneous movement may have produced a floor effect, disproportionately affecting the non-competitive condition.
References
Andersen RA (1995) Encoding of intention and spatial location in the posterior parietal cortex. Cereb Cortex 5:457–469

Birch HG, Belmont I, Karp E (1967) Delayed information processing and extinction following cerebral damage. Brain 90:113–130

Chatterjee A (2003) Neglect. A disorder of spatial attention. In: D'Esposito M (ed) Neurological foundations of cognitive neuroscience. MIT Press, Cambridge, MA (in press)

Chatterjee A, Thompson KA (1998) Weigh(t)ing for awareness. Brain Cogn 37:477–490

Chatterjee A, Ricci R, Calhoun J (2000) Weighing the evidence for cross over in neglect. Neuropsychologia 38:1390–1397

Colby CL, Duhamel J-R (1996) Spatial representations for action in parietal cortex. Cogn Brain Res 5:105–115

Colby CL, Goldberg GE (1999) Space and attention in parietal cortex. Annu Rev Neurosci 23:319–349

Damasio H, Damasio AR (1989) Lesion analysis in neuropsychology. Oxford University Press, New York

De Renzi E, Gentilini M, Pattacini F (1984) Auditory extinction following hemisphere damage. Neuropsychologia 22:733–744

Denny-Brown D, Meyer J, Horenstein S (1952) The significance of perceptual rivalry resulting from parietal lesion. Brain 75:433–471

di Pellegrino G, Ladavas E (1997) Seeing where your hands are. Nature 338:730

Driver J, Spence C (1998) Cross-modal links in spatial attention. Philos Trans R Soc Lond B 353:1319–1331

Goodrich S, Ward R (1997) Anti-extinction following unilateral parietal damage. Cogn Neuropsychol 14:595–612

Graziano MSA, Gross CG (1995) The representation of extrapersonal space: a possible role for biomodal, visual-tactile neurons. In: Gazzaniga MS (ed) The cognitive neurosciences. MIT Press, Cambridge, MA, pp 1021–1034

Green DM, Swets JA (1966) Signal detection theory and psychophysics. Wiley, New York

Gross CG, Graziano MSA (1995) Multiple representations of space in the brain. Neuroscientist 1:43–50

Heilman KM, Valenstein E (1979) Mechanisms underlying hemispatial neglect. Ann Neurol 5:166–170

Inhoff AW, Rafal RD, Posner MJ (1992) Bimodal extinction without cross-modal extinction. J Neurol Neurosurg Psychiatry 55:36–39

Kinsbourne M (1970) The cerebral basis of lateral asymmetries in attention. Acta Psychol 33:193–201

Ladavas E, Di Pellegrino G, Farne A, Zeloni G (1998) Neuropsychological evidence of an integrated visuotactile representation of peripersonal space in humans. J Cogn Neurosci 10:581–589

Marzi CA, Girelli M, Natale E, Miniussi C (2001) What exactly is extinguished in unilateral visual extinction? Neurophysiological evidence. Neuropsychologia 39:1354–1366

Mattingley JB, Driver J, Beschin N, Robertson IH (1997) Attentional competition between modalities: extinction between touch and vision after right hemisphere damage. Neuropsychologia 35:867–880

Nathan PW (1946) On simultaneous bilateral stimulation of the body in a lesion of the parietal lobe. Brain 69:325–334

Reider N (1946) Phenomena of sensory suppression. Archiv Neurol Psychiatry 55:583–590

Ricci R, Lease-Spellmeyer J, Chatterjee A (2002) Modulation of awareness in visual extinction. In: Twentieth European Workshop in Cognitive Neuropsychology, Bressanone, Italy

Snodgrass JG, Corwin J (1988) Pragmatics of measuring recognition memory: applications to dementia and amnesia. J Exp Psychol Gen 117:34–50

Spence C, Driver J (1998) Cross-modal links in exogenous covert spatial orienting between touch, audition, and vision. Percept Psychophys 60:544–557

Stoelting C (1996) Semmes-Weinstein monofilaments operation manual. Catalog no. 18011. Wood Dale, IL

Vaishnavi S, Calhoun J, Chatterjee A (1999) Crossmodal and sensorimotor integration in tactile awareness. Neurology 53:1596–1598

Vaishnavi S, Calhoun J, Southwood MH, Chatterjee A (2000) Sensory and response interference by ipsilesional stimulation in tactile extinction. Cortex 36:81–92

Vaishnavi S, Calhoun J, Chatterjee A (2001) Binding personal and peripersonal space: evidence from tactile extinction. J Cogn Neurosci 13:181–189

Vallar G, Rusconi ML, Bignamini L, Geminiani G, Perani D (1994) Anatomical correlates of visual and tactile extinction in humans: a clinical CT scan study. J Neurol Neurosurg Psychiatry 57:464–470
Acknowledgments.
This research was supported by NIH grant RO1NS37539. We also thank Ashley Wilson for help with data collection.
About this article
Cite this article
Olson, E., Stark, M. & Chatterjee, A. Evidence for a unimodal somatosensory attention system. Exp Brain Res 151, 15–23 (2003). https://doi.org/10.1007/s00221-003-1428-2
Received:

Accepted:

Published:

Issue Date:
Keywords
Neglect

Extinction

Cross-modal integration

Tactile attention

Awareness