Abstract
Three bioactive components (6-gingerol, zingerone and sesquiterpenes) in essential oil from ginger were successfully separated and purified by high-speed counter-current chromatography (HSCCC), and their proliferation inhibition on cancer cells was further investigated. The HSCCC was performed using n-hexane–ethyl acetate–methanol–water (7:3:5:5, v/v), n-hexane–methanol–water (3:2:1, v/v), and n-hexane–chloroform–acetonitrile (6:2:5, v/v) in 600 μl samples severally, yielding 35 mg 6-gingerol, 23 mg zingerone, and 105 mg sesquiterpenes with the purities of 98.6%, 99.4%, and 99.2% determined by high-performance liquid chromatography (HPLC). Their relative contents reached 84.07%, 94.67%, and 95.17%. MTT results showed that the three compounds caused cytotoxicity on the A549, HepG2 and MDA-MB-231 cells and 6-gingerol had the strongest anti-proliferation activity. Moreover, Hoechst 33342/PI staining confirmed that 6-gingerol could induce A549 cells to exhibit some typical features of apoptosis and Annexin V-FITC/PI verified that the cells induced by 6-gingerol underwent apoptosis rather than necrosis during this process. The HSCCC could be used to prepare bioactive substance with anti-tumor activities.
This is a preview of subscription content, log in to check access.
Access options
Buy single article
Instant access to the full article PDF.
US$ 39.95
Price includes VAT for USA
Subscribe to journal
Immediate online access to all issues from 2019. Subscription will auto renew annually.
US$ 199
This is the net price. Taxes to be calculated in checkout.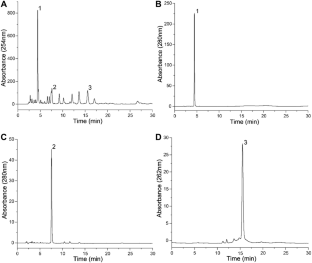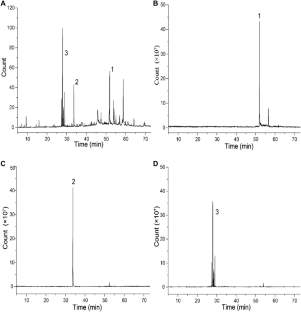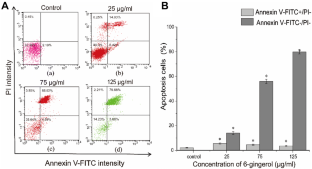 References
1.

Si W, Chen YP, Zhang J, Chen Z-Y, Chung HY (2018) Antioxidant activities of ginger extract and its constituents toward lipids. Food Chem 239:1117–1125. https://doi.org/10.1016/j.foodchem.2017.07.055

2.

Shirin APR, Jamuna P (2010) Chemical composition and antioxidant properties of ginger root (Zingiber officinale). J Med Plants Res 4(24):2674–2679

3.

Cakir U, Tayman C, Serkant U, Yakut HI, Cakir E, Ates U, Koyuncu I, Karaogul E (2018) Ginger (Zingiber officinale Roscoe) for the treatment and prevention of necrotizing enterocolitis. J Ethnopharmacol 225:297–308. https://doi.org/10.1016/j.jep.2018.07.009

4.

Nile SH, Park SW (2015) Chromatographic analysis, antioxidant, anti-inflammatory, and xanthine oxidase inhibitory activities of ginger extracts and its reference compounds. Ind Crops Prod 70:238–244. https://doi.org/10.1016/j.indcrop.2015.03.033

5.

Mansour MS, Ni YM, Roberts AL, Kelleman M, RoyChoudhury A, St-Onge MP (2012) Ginger consumption enhances the thermic effect of food and promotes feelings of satiety without affecting metabolic and hormonal parameters in overweight men: a pilot study. Metabolism 61(10):1347–1352. https://doi.org/10.1016/j.metabol.2012.03.016

6.

Arablou T, Aryaeian N (2018) The effect of ginger (Zingiber officinale) as an ancient medicinal plant on improving blood lipids. J Herb Med 12:11–15. https://doi.org/10.1016/j.hermed.2017.09.005

7.

Peng F, Tao Q, Wu X, Dou H, Spencer S, Mang C, Xu L, Sun L, Zhao Y, Li H, Zeng S, Liu G, Hao X (2012) Cytotoxic, cytoprotective and antioxidant effects of isolated phenolic compounds from fresh ginger. Fitoterapia 83(3):568–585. https://doi.org/10.1016/j.fitote.2011.12.028

8.

Khayyat SA, Roselin LS (2018) Recent progress in photochemical reaction on main components of some essential oils. J Saudi Chem Soc 22(7):855–875. https://doi.org/10.1016/j.jscs.2018.01.008

9.

Jolad SD, Lantz RC, Solyom AM, Guan JC, Bates RB, Timmermann BN (2004) Fresh organically grown ginger (Zingiber officinale): composition and effects on LPS-induced PGE 2 production. Phytochemistry 65(13):1937–1954. https://doi.org/10.1016/j.phytochem.2004.06.008

10.

Siripoltangman N, Chickos J (2019) Vapor pressure and vaporization enthalpy studies of the major components of ginger, α-zingiberene, β-sesquiphellandrene and (−) ar curcumene by correlation gas chromatography. J Chem Thermodyn 138:107–115. https://doi.org/10.1016/j.jct.2019.06.011

11.

Haloui I, Meniai A-H (2017) Supercritical CO2 extraction of essential oil from Algerian Argan (Argania spinosa L.) seeds and yield optimization. Int J Hydrog Energy 42(17):12912–12919. https://doi.org/10.1016/j.ijhydene.2016.12.012

12.

Oka H, Harada K-I, Ito Y, Ito Y (1998) Separation of antibiotics by counter-current chromatography. J Chromatogr A 812(1):35–52. https://doi.org/10.1016/S0021-9673(97)01277-6

13.

Gu M, Ouyang F, Su Z (2004) Comparison of high-speed counter-current chromatography and high-performance liquid chromatography on fingerprinting of Chinese traditional medicine. J Chromatogr A 1022(1):139–144. https://doi.org/10.1016/j.chroma.2003.09.038

14.

Wang D, Zhao H, Zhu H, Wen L, Yu J, Li L, Chen L, Geng Y (2019) A novel method for highly efficient biotransformation and separation of isoflavone aglycones from soybean with high-speed counter-current chromatography. Ind Crops Prod 129:224–230. https://doi.org/10.1016/j.indcrop.2018.11.043

15.

Peng J, Li K, Zhu W, Deng X, Li C (2018) Separation and purification of four phenolic compounds from persimmon by high-speed counter-current chromatography. J Chromatogr B 1072:78–85. https://doi.org/10.1016/j.jchromb.2017.11.010

16.

Zhu Q, Liu F, Xu M, Lin X, Wang X (2012) Ultrahigh pressure extraction of lignan compounds from Dysosma versipellis and purification by high-speed counter-current chromatography. J Chromatogr B 905:145–149. https://doi.org/10.1016/j.jchromb.2012.08.016

17.

Marques AM, Fingolo CE, Kaplan MAC (2017) HSCCC separation and enantiomeric distribution of key volatile constituents of Piper claussenianum (Miq.) C. DC. (Piperaceae). Food Chem Toxicol 109:1111–1117. https://doi.org/10.1016/j.fct.2017.04.026

18.

Howes M-JR, Simmonds MSJ (2014) The role of phytochemicals as micronutrients in health and disease. Curr Opin Clin Nutr Metab Care 17(6):558–566

19.

Rahman MA, Sahabjada AJ (2017) Evaluation of anticancer activity of Cordia dichotoma leaves against a human prostate carcinoma cell line, PC3. J Trad Complement Med 7(3):315–321. https://doi.org/10.1016/j.jtcme.2016.11.002

20.

Chakraborty D, Bishayee K, Ghosh S, Biswas R, Kumar Mandal S, Rahman Khuda-Bukhsh A (2012) [6]-Gingerol induces caspase 3 dependent apoptosis and autophagy in cancer cells: Drug–DNA interaction and expression of certain signal genes in HeLa cells. Eur J Pharmacol 694(1):20–29. https://doi.org/10.1016/j.ejphar.2012.08.001

21.

Zhang F, Zhang J-G, Qu J, Zhang Q, Prasad C, Wei Z-J (2017) Assessment of anti-cancerous potential of 6-gingerol (Tongling White Ginger) and its synergy with drugs on human cervical adenocarcinoma cells. Food Chem Toxicol 109:910–922. https://doi.org/10.1016/j.fct.2017.02.038

22.

Yang G, Zhong L, Jiang L, Geng C, Cao J, Sun X, Ma Y (2010) Genotoxic effect of 6-gingerol on human hepatoma G2 cells. Chem Biol Interact 185(1):12–17. https://doi.org/10.1016/j.cbi.2010.02.017

23.

Mani V, Arivalagan S, Islam Siddique A, Namasivayam N (2017) Antihyperlipidemic and antiapoptotic potential of zingerone on alcohol induced hepatotoxicity in experimental rats. Chem Biol Interact 272:197–206. https://doi.org/10.1016/j.cbi.2017.04.019

24.

Vinothkumar R, Vinothkumar R, Sudha M, Nalini N (2014) Chemopreventive effect of zingerone against colon carcinogenesis induced by 1, 2-dimethylhydrazine in rats. Eur J Cancer Prev 23(5):361–371

25.

Durairaj J, Di Girolamo A, Bouwmeester HJ, de Ridder D, Beekwilder J, van Dijk ADJ (2019) An analysis of characterized plant sesquiterpene synthases. Phytochemistry 158:157–165. https://doi.org/10.1016/j.phytochem.2018.10.020

26.

AlShebly MM, AlQahtani FS, Govindarajan M, Gopinath K, Vijayan P, Benelli G (2017) Toxicity of ar-curcumene and epi-β-bisabolol from Hedychium larsenii (Zingiberaceae) essential oil on malaria, chikungunya and St. Louis encephalitis mosquito vectors. Ecotoxicol Environ Saf 137:149–157. https://doi.org/10.1016/j.ecoenv.2016.11.028

27.

Yoo H-J, Jwa S-K (2019) Efficacy of β-caryophyllene for periodontal disease related factors. Arch Oral Biol 100:113–118. https://doi.org/10.1016/j.archoralbio.2019.02.015

28.

Salea R, Veriansyah B, Tjandrawinata RR (2017) Optimization and scale-up process for supercritical fluids extraction of ginger oil from Zingiber officinale var. Amarum. J Supercrit Fluids 120:285–294. https://doi.org/10.1016/j.supflu.2016.05.035

29.

Mega Tiber P, Kocyigit Sevinc S, Kilinc O, Orun O (2019) Biological effects of whole Z. officinale extract on chronic myeloid leukemia cell line K562. Gene 692:217–222. https://doi.org/10.1016/j.gene.2019.01.015

30.

Gopalan B, Goto M, Kodama A, Hirose T (2000) Supercritical carbon dioxide extraction of turmeric (Curcuma longa). J Agric Food Chem 48(6):2189–2192

31.

Wang L, Qian J, Zhao L, Zhao S (2018) Effects of volatile oil from ginger on the murine B16 melanoma cells and its mechanism. Food Funct 9(2):1058–1069

32.

Wang Z, Hwang SH, Lim SS (2017) Comprehensive profiling of minor tyrosinase inhibitors from Gastrodia elata using an off-line hyphenation of ultrafiltration, high-speed countercurrent chromatography, and high-performance liquid chromatography. J Chromatogr A 1529:63–71. https://doi.org/10.1016/j.chroma.2017.11.008

33.

Wang X, Zheng Z, Guo X, Yuan J, Zheng C (2011) Preparative separation of gingerols from Zingiber officinale by high-speed counter-current chromatography using stepwise elution. Food Chem 125(4):1476–1480. https://doi.org/10.1016/j.foodchem.2010.10.066

34.

Yoichiro I (2005) Golden rules and pitfalls in selecting optimum conditions for high-speed counter-current chromatography. J Chromatogr A 1065(2):145–168

35.

Shi S, Ma Y, Zhang Y, Liu L, Liu Q, Peng M, Xiong X (2012) Systematic separation and purification of 18 antioxidants from Pueraria lobata flower using HSCCC target-guided by DPPH-HPLC experiment. Sep Purif Technol 89:225–233. https://doi.org/10.1016/j.seppur.2012.01.041

36.

Du Q, Wu C, Qian G, Wu P, Ito Y (1999) Relationship between the flow-rate of the mobile phase and retention of the stationary, phase in counter-current chromatography. J Chromatogr A 835(1–2):231–235

37.

Luo L, Cui Y, Zhang S, Li L, Li Y, Zhou P, Sun B (2016) Preparative separation of grape skin polyphenols by high-speed counter-current chromatography. Food Chem 212:712–721

38.

Jelled A, Fernandes Â, Barros L, Chahdoura H, Achour L, Ferreira ICFR, Cheikh HB (2015) Chemical and antioxidant parameters of dried forms of ginger rhizomes. Ind Crops Prod 77:30–35. https://doi.org/10.1016/j.indcrop.2015.08.052

39.

Tang B, Wan D, Wang Y-J, Yi Q-Y, Guo B-H, Liu Y-J (2018) An iridium (III) complex as potent anticancer agent induces apoptosis and autophagy in B16 cells through inhibition of the AKT/mTOR pathway. Eur J Med Chem 145:302–314. https://doi.org/10.1016/j.ejmech.2017.12.087

40.

Li Z, Wang H, Wang Q, Sun J (2016) Buyang Huanwu decoction vigorously rescues pc12 cells against 6-OHDA induced neurotoxicity via AKT/GSK3β pathway based on serum pharmacology methodology. Rejuven Res 19(6):467–477. https://doi.org/10.1089/rej.2015.1798
Acknowledgements
The project was supported by Hebei Province and School Science and Technology Cooperation Development Fund Project and The Project Program of Key Laboratory of Food Nutrition and Safety, Ministry of Education, China (no. 2018006).
Ethics declarations
Conflict of interest
All authors declare no conflicts of interest.
Compliance with ethics requirements
All applicable international, national, and institutional guidelines for the care and use of animals were followed by the authors.
Additional information
Publisher's Note
Springer Nature remains neutral with regard to jurisdictional claims in published maps and institutional affiliations.
About this article
Cite this article
Wang, C., Wang, L., Li, C. et al. Anti-proliferation activities of three bioactive components purified by high-speed counter-current chromatography in essential oil from ginger. Eur Food Res Technol (2020). https://doi.org/10.1007/s00217-020-03446-7
Received:

Revised:

Accepted:

Published:
Keywords
Essential oil from ginger

High-speed counter-current chromatography

Bioactive component

Cells proliferation inhibition

Apoptosis