Abstract
Thirteen apple cultivars were analyzed for their total phenolic content, total flavonoids, anthocyanins, ascorbic acid in methanolic extracts of both peel and cortex fractions. Three in vitro assays (FRAP, DPPH, and CUPRAC) were used to determine the antioxidant activity. Concentration of the phytochemicals studied varied greatly between the apple peel and the cortex region. Peels showed ~ 2.8 times higher total phenolic content and ~ 2.68% higher flavonoid content than the cortex. Principal component analysis could successfully explain 76.86% and 84.27% variability in the antioxidant determinants (antioxidants/assays) in the peel and cortex region of apple cultivars, respectively. Major contributor for antioxidant activity in both apple peel and cortex was total flavonoid content. Cultivars 'Well Spur' and 'Oregon Spur II' were found to be substantially rich in these two antioxidants. The antioxidant activity was best expressed by the in vitro FRAP assay in both the fractions. Non-hierarchical K-medoids clustering reflected the presence of an antioxidant/ assay protocol apart from the antioxidant/assay we considered in this study that needs further exploration to get full spectra of antioxidant profile across apple genotypes. Based on multivariate analysis and the concept of RACI, the FRAP antioxidant assay is recommended for determining antioxidant activity in apples.
This is a preview of subscription content, log in to check access.
Access options
Buy single article
Instant unlimited access to the full article PDF.
US$ 39.95
Price includes VAT for USA
Subscribe to journal
Immediate online access to all issues from 2019. Subscription will auto renew annually.
US$ 199
This is the net price. Taxes to be calculated in checkout.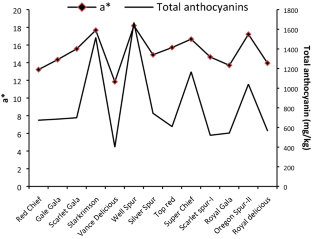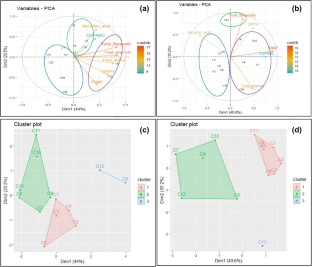 References
1.

Gallus S, Talamini R, Giacosa A, Montella M, Ramazzotti V, Franceschi S, Negri E, La Vecchia C (2005) Does an apple a day keep the oncologist away? Ann Oncol 16:1841–1844

2.

Wolfe K, Xianzhong W, Rui Hai L (2003) Antioxidant activity of apple peels. J Agric Food Chem 51:609–614

3.

Sharma RK, Sharma N, Khatri S, Kundra R (2015) Antioxidant properties of fruit pulp and peel of eight apple cultivars grown in Himachal Pradesh Int J Food Nutr Sci 4:102–108

4.

Awad M, de Jager A (2002) Relationships between fruit nutrients and concentrations of flavonoids and chlorogenic acid in Elstar apple skin. Sci Hortic 92:265–276

5.

Golding JB, Mcglasson WB, Wyllie SG, Leach DN (2001) Fate of apple peel phenolics during cool storage. J Agric Food Chem 49:2283–2289

6.

Lu Y, Foo L (2000) Antioxidant and radical scavenging activities of polyphenols from apple pomace. Food Chem 68:81–85

7.

van der Sluis A, Dekker M, Skrede G, Jongen W (2002) Activity and concentration of polyphenolic antioxidants in apple juice. 1. Effect of existing production methods. J Agric Food Chem 50:7211–7219

8.

Guyot S, Marnet N, Sanoner P, Drilleau J (2003) Variability of the polyphenolic composition of cider apple (Malus domestica) fruits and juices. J Agric Food Chem 51:6240–6240

9.

Karaman S, Tutem E, Baskan KS, Apak R (2012) Comparison of antioxidant capacity and phenolic composition of peel and flesh of some apple varieties. J Agric Food Chem 93:867–875

10.

Ou B, Huang D, Hampsch-Woodill M, Flanagan JA, Deemer EK (2002) Analysis of antioxidant activities of common vegetables employing oxygen radical absorbance capacity (ORAC) and ferric reducing antioxidant power (FRAP) assays: a comparative study. J Agric Food Chem 50:3122–3128

11.

Awika JM, Rooney LW, Wu X, Prior RL, Cisneros-Zevallos L (2003) Screening methods to measure antioxidant activity of sorghum (Sorghum bicolor) and sorghum products. J Agric Food Chem 51:6657–6662

12.

Prior RL, Wu X, Schaich K (2005) Standardized methods for the determination of antioxidant capacity and phenolics in foods and dietary supplements. J Agric Food Chem 53:4290–4302

13.

Apak R, Gorinstein S, Bohm V, Schaich KM, Ozyürek M, Guclu K (2013) Methods of measurement and evaluation of natural antioxidant capacity/activity (IUPAC technical report). Pure Appl Chem 85:957–998

14.

Lee KW, Kim YJ, Dae-Ok K, Lee HJ, Lee CY (2003) Major phenolics in apple and their contribution to the total antioxidant capacity. J Agric Food Chem 51:6516–6520

15.

Singleton VL, Rossi JA (1965) Colorimetry of total phenols with phosphomolybdic–phosphotungstic acid reagents. Am J Enol Vitic 16:144–158

16.

Ordonez AAL, Gomez JD, Vattuone MA, Isla MI (2006) Antioxidant activities of Sechium edule (Jacq.) swart extracts. Food Chem 97:452–458

17.

Ranganna S (2007) Handbook of analysis and quality control for fruits and vegetable products, 4th edn. Tata McGraw-Hill Publishing Company Ltd, Bengaluru

18.

Benzie IFF, Strain JJ (1996) The ferric reducing ability of plasma (FRAP) as a measure of "antioxidant power": the FRAP assay. Anal Biochem 239:70–76

19.

Ao C, Li A, Elzaawely AA, Xuan TD, Tawata S (2008) Evaluation of antioxidant and antibacterial activities of Ficus microcarpa L. fil. extract. Food Control 19:940–948

20.

Apak R, Guculu KG, Ozyurek M, Karademir SE (2004) Novel total antioxidant capacity index for dietary polyphenols and vitamins C and E, using their cupric iron reducing capability in the presence of neocuproine: CUPRAC method. J Agric Food Chem 52:7970–7981

21.

Sun T, Tanumihardjo SA (2007) An integrated approach to evaluate food antioxidant capacity. J Food Sci 72:159–165

22.

Kumar P, Sethi S, Sharma RR, Singh S, Saha S, Sharma VK, Verma MK, Sharma SK (2018) Nutritional characterization of apple as a function of genotype. J Food Sci Technol 55:2729–2738

23.

Imeh U, Khokhar S (2002) Distribution of conjugated and free phenols in fruits: antioxidant activity and cultivar variations. J Agric Food Chem 50:6301–6306

24.

Vrhovsek U, Rigo A, Tonon D, Mattivi F (2004) Quantitation of polyphenols in different apple varieties. J Agric Food Chem 52:6532–6538

25.

D'Abrosca B, Pacifico S, Cefarelli G, Mastellone C, Fiorentino A (2007) 'Limoncella' apple, an Italian cultivar: phenolic and flavonoid contents and antioxidant activity. Food Chem 104:1333–1337

26.

Ozoglu H, Bayindirli A (2002) Inhibition of enzymic browning in cloudy apple juice with selected antibrowning reagents. Food Control 13:213–221

27.

Lancaster JE, Grant JE, Lister CE (1994) Skin color in apples—influence of copigmentation and plastid pigments on shade and darkness of red color in five genotypes. J Am Soc Hortic Sci 119:63–69

28.

Birasuren B, Kim NY, Jeon HL, Kim MR (2013) Evaluation of the antioxidant capacity and phenolic content of Agriophyllum pungens seed extracts from Mongolia. Prev Nutr Food Sci 18:188–195

29.

Amiot MJ, Tacchini M, Aubert S, Nicolas J (1992) Phenolic composition and browning susceptibility of various apple cultivars at maturity. J Food Sci 57:958–962

30.

Sanoner P, Guyot S, Marnet N, Molle D, Drilleau JF (1999) Polyphenol profiles of French cider apple varieties (Malus domestica sp.). J Agric Food Chem 47:4847–4853
Ethics declarations
Conflict of interest
The authors declare that they have no conflict of interest.
Compliance with Ethics requirements
This article does not contain any studies with human or animal subjects.
Additional information
Publisher's Note
Springer Nature remains neutral with regard to jurisdictional claims in published maps and institutional affiliations.
Electronic supplementary material
Below is the link to the electronic supplementary material.
About this article
Cite this article
Sethi, S., Joshi, A., Arora, B. et al. Significance of FRAP, DPPH, and CUPRAC assays for antioxidant activity determination in apple fruit extracts. Eur Food Res Technol (2020) doi:10.1007/s00217-020-03432-z
Received:

Accepted:

Published:
Keywords
Apple

Total phenolic content

Total flavonoid content

Multivariate analysis

Ferric reducing antioxidant power (FRAP)

Relative antioxidant capacity index (RACI)