Abstract
For the purpose of supervision and academic research on GMO, it was necessary to establish a simple and effective on-site qualitative and quantitative method for GMO detection. In this paper, double-stranded displacement probes were first designed to monitor the quantitative LAMP amplification, and calcein was used effectively in LAMP reaction for qualitative measurement. High specificity of the methods was identified by testing 16 crops. The rice endogenous gene SPS and M12 event-specific gene can both be quantified in a wide dynamic range (200–20,000 copies). The LOD and LOQ of both genes were 20 and 200 copies, respectively. When the methods were used to analyze rice samples, 0.5% (w/w) of the GM rice M12 event could be quantified accurately and 0.1% (w/w) could be detected qualitatively. These results indicated that the developed methods were specific, sensitive and repeatable, and proven to be an efficient alternative to real-time PCR. Moreover, the developed methods were more suitable for the reliable quantification in poor-equipped laboratories or on-site detection.
This is a preview of subscription content, log in to check access.
Access options
Buy single article
Instant access to the full article PDF.
US$ 39.95
Price includes VAT for USA
Subscribe to journal
Immediate online access to all issues from 2019. Subscription will auto renew annually.
US$ 199
This is the net price. Taxes to be calculated in checkout.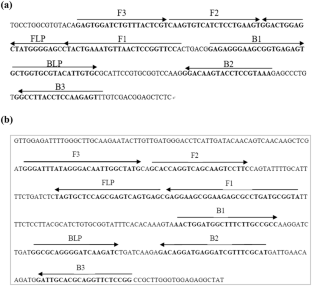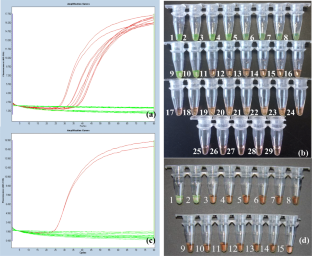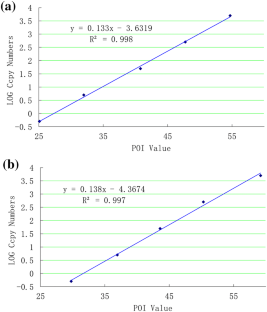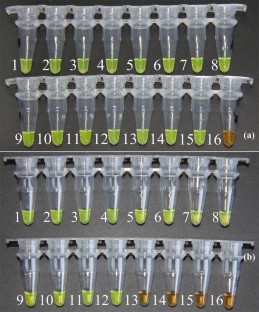 Abbreviations
LAMP:

Loop-mediated isothermal amplification

GM:

Genetically modified

PCR:

Polymerase chain reaction

LOD:

Limit of detection

LOQ:

Limit of quantification
References
1.

Dörries HH, Remus I, Grönewald A, Grönewald C, Berghof-Jäger K (2010) Development of a qualitative, multiplex real-time PCR kit for screening of genetically modified organisms (GMOs). Anal Bioanal Chem 396:2043–2054

2.

Wang X, Teng D, Yang Y, Tian F, Guan Q, Wang J (2011) Construction of a reference plasmid molecule containing eight targets for the detection of genetically modified crops. Appl Microb Biotech 90:721–731

3.

Xu X, Chen X, Lai Y, Zhang Q, Wu Y, Li J, Peng C, Wang X, Miao Q, Liu H, Xu J (2019) Event-specific qualitative and quantitative detection of genetically modified rice G6H1. Food Anal Method 12:440–447

4.

Grohmann L, Reiting R, Mäde D, Uhlig S, Simon K, Frost K, Randhawa GJ, Zur K (2015) Collaborative trial validation of cry1Ab/Ac and Pubi-cry TaqMan-based real-time PCR assays for detection of DNA derived from genetically modified Bt plant products. Accred Qual Assur 20:85–96

5.

Barbau-Piednoir E, Stragier P, Roosens N, Mazzara M, Savini C, Van den Eede G, Van den Bulcke M (2014) Inter-laboratory testing of GMO detection by combinatory SYBR®Green PCR screening (CoSYPS). Food Anal Method 7:1719–1728

6.

Yang L, Yang Y, Jin W, Zhang X, Li X, Wu Y, Li J, Li L (2018) Development and interlaboratories validation of event-specific quantitative real-time PCR method for genetically modified rice G6H1 event. J Agr Food Chem 66:8179–8186

7.

Huang X, Chen L, Xu J, Ji HF, Zhu S, Chen H (2014) Rapid visual detection of phytase gene in genetically modified maize using loop-mediated isothermal amplification method. Food Chem 156:184–189

8.

Wang C, Li R, Quan S, Shen P, Zhang D, Shi J, Yang L (2015) GMO detection in food and feed through screening by visual loop-mediated isothermal amplification assays. Anal Bioanal Chem 407:4829–4834

9.

Zhou D, Guo J, Xu L, Gao S, Lin Q, Wu Q, Wu L, Que Y (2014) Establishment and application of a loop-mediated isothermal amplification (LAMP) system for detection of cry1Ac transgenic sugarcane. Sci Rep UK 4:4912

10.

Takabatake R, Kagiya Y, Minegishi Y, Yeasmin S, Futo S, Noguchi A, Kondo K, Mano J, Kitta K (2018) Development and evaluation of rapid screening detection methods for genetically modified crops using loop-mediated isothermal amplification. Food Chem 252:390–396

11.

Li Q, Fang J, Liu X, Xi X, Li M, Gong Y, Zhang M (2013) Loop-mediated isothermal amplification (LAMP) method for rapid detection of cry1Ab gene in transgenic rice (Oryza sativa L.). Eur Food Res Technol 236:589–598

12.

Chen X, Wang X, Jin N, Zhou Y, Huang S, Miao Q, Zhu Q, Xu J (2012) Endpoint visual detection of three genetically modified rice events by loop-mediated isothermal amplification. Int J Mol Sci 13:14421–14433

13.

Norihiro T, Yasuyoshi M, Hidetoshi K, Tsugunori N (2008) Loop-mediated isothermal amplification (LAMP) of gene sequences and simple visual detection of products. Nat Protoc 3:877

14.

Notomi T, Okayama H, Masubuchi H, Yonekawa T, Watanabe K, Amino N, Hase T (2000) Loop-mediated isothermal amplification of DNA. Nucleic Acids Res 28:E63

15.

Nagamine K, Hase T, Notomi T (2002) Accelerated reaction by loop-mediated isothermal amplification using loop primers. Mol Cell Probe 16:223–229

16.

Mori Y, Kitao M, Tomita N, Notomi T (2004) Real-time turbidimetry of LAMP reaction for quantifying template DNA. J Biochem Biophys Method 59:145–157

17.

Parida M, Sannarangaiah S, Dash PK, Rao PVL, Morita K (2008) Loop mediated isothermal amplification (LAMP): a new generation of innovative gene amplification technique; perspectives in clinical diagnosis of infectious diseases. Rev Med Virol 18:407–421

18.

Soleimani M, Shams S, Majidzadeh-A K (2013) Developing a real-time quantitative loop-mediated isothermal amplification assay as a rapid and accurate method for detection of Brucellosis. J Appl Microbiol 115:828–834

19.

Li C, Li Z, Jia H, Yan J (2011) One-step ultrasensitive detection of microRNAs with loop-mediated isothermal amplification (LAMP). Chem Commun 47:2595–2597

20.

Navarro E, Serrano-Heras G, Castaño MJ, Solera J (2015) Real-time PCR detection chemistry. Clin Chim Acta 439:231–250

21.

Yang J, Ni D, Wu J, Xu C, Jia S, Tang Y, Fauquet C, Zhang S (2006) Breeding and food safety evaluation of transgenic hybrid rice harboring Xa21 gene. Mol Plant Breeding 4:174–180

22.

Wang W, Han J, Wu Y, Yuan F, Chen Y, Ge Y (2011) Simultaneous detection of eight food allergens using optical thin-film biosensor chips. J Agr Food Chem 59:6889–6894

23.

Yu J, Hu S, Wang J, Wong GKS, Li S, Liu B, Deng Y, Dai L et al (2002) A draft sequence of the rice genome (Oryza sativa L. ssp. indica). Science 296:79–92

24.

Ding J, Jia J, Yang L, Wen H, Zhang C, Liu W, Zhang D (2004) Validation of a rice specific gene, sucrose phosphate synthase, used as the endogenous reference gene for qualitative and real-time quantitative PCR detection of transgenes. J Agr Food Chem 52:3372–3377

25.

International Standard Orgarnization (1994) Accuracy (trueness and precision) of measurement methods and results. International Organization for Standardization, ISO) 5725. In: Geneva: International Standard Orgarnization, pp 5–6

26.

European Network of GMO Laboratories (ENGL) (2015) Definition of minimum preformance requirements for analytical methods of GMO testing. EURL-Scientific and Technical Research Reports JRC95544. https://gmo-crl.jrc.ec.europa.eu/doc/MPR%20Report%20Application%2020_10_2015.pdf. Accessed 18 Aug 2017

27.

Xu L, Liu P, Li W, Sun Z, Song G (2018) Analysis of the recent trends of international labeling policies for genetically modified products and the enlightenment to China's labeling management. China Biotechnol 38:94–98

28.

Meti-Buh G, Torstein T, La Jose Luis P, Holst-Jensen A, Maria P, Teresa E, Jana Ž, Kristina G (2010) Comparison of nine different real-time PCR chemistries for qualitative and quantitative applications in GMO detection. Anal Bioanal Chem 396:2023–2029

29.

Fu W, Zhu P, Wang C, Huang K, Du Z, Tian W, Wang Q, Wang H, Xu W, Zhu S (2015) A highly sensitive and specific method for the screening detection of genetically modified organisms based on digital PCR without pretreatment. Sci Rep UK 5:12715

30.

Zhang L, Cao Y, Liu X, Wu G, Wu Y, Lu C (2012) In-depth analysis of the endogenous reference genes used in the quantitative PCR detection systems for rice. Eur Food Res Technol 234:981–993

31.

Sina-Elisabeth BA, Zita Erika M, Rupert H, David Q, Bernhard P, Haslberger AG, Christian B (2014) Mutation scanning in a single and a stacked genetically modified (GM) event by real-time PCR and high resolution melting (HRM) analysis. Int J Mol Sci 15:19898–19923

32.

Zhu P, Wang C, Huang K, Luo Y, Xu W (2016) A novel pretreatment-free duplex chamber digital PCR detection system for the absolute quantitation of GMO samples. Int J Mol Sci 17:402. https://doi.org/10.3390/ijms17030402

33.

Fan C, Ma J, Guo Q, Li X, Wang H, Lu M (2013) Selection of reference genes for quantitative real-time PCR in bamboo (Phyllostachys edulis). PLoS ONE 8:e56573

34.

Ling H, Wu Q, Guo J, Xu L, Que Y (2014) Comprehensive selection of reference genes for gene expression normalization in sugarcane by real time quantitative RT-PCR. PLoS ONE 9:e97469

35.

Kim JH, Park SB, Roh HJ, Shin MK, Moon GI, Hong JH, Kim HY (2017) Event-specific qualitative and quantitative detection of five genetically modified rice events using a single standard reference molecule. Food Chem 226:187–192

36.

Wu G, Wu Y, Nie S, Zhang L, Xiao L, Cao Y, Lu C (2010) Real-time PCR method for detection of the transgenic rice event TT51-1. Food Chem 119:417–422

37.

Hernández M, Esteve T, Prat S, Pla M (2004) Development of real-time PCR systems based on SYBR® Green I, Amplifluor™ and TaqMan® technologies for specific quantitative detection of the transgenic maize event GA21. J Cereal Sci 39:99–107

38.

Taverniers I, Windels P, Vaïtilingom M, Milcamps A, Van Bockstaele E, Van den Eede G, De Loose M (2005) Event-specific plasmid standards and real-time PCR methods for transgenic Bt11, Bt176, and GA21 maize and transgenic GT73 canola. J Agr Food Chem 53:3041–3052

39.

Liu E, Lu L, Lv Y, Jiang X, Zhang W, Tang J, Zheng G, Lin X, Fu Q (2015) Event-specific qualitative PCR detection method of genetically modified alfalfa events J101. J Food Saf Qual 6:1936–1940

40.

Li P, Zhang L, Ye J, He S, Jia J, Pan A, Tang X (2018) A qualitative and quantitative PCR detection method for disease-resistant genetically modified rice M12 and its derivates. Acta Agron Sin 44:949–955

41.

Wan J, Li S, Wu Y, Brzoska P, Keys D, Chen C, Valliyodan B, Shannon JG, Nguyen HT (2016) Application of digital PCR in the analysis of transgenic soybean plants. Adv Biosci Biotechnol 7:403–417
Acknowledgements
This work was supported by National GMO Cultivation Major Project of New Varieties (Grant no. 2018ZX08012001).
Ethics declarations
Conflict of interest
The authors declare no conflict of interest.
Compliance with ethics requirements
This article does not contain any studies with human or animal subjects.
Additional information
Publisher's Note
Springer Nature remains neutral with regard to jurisdictional claims in published maps and institutional affiliations.
About this article
Cite this article
Deng, T., Huang, W., Xing, R. et al. Establishment and application of a loop-mediated isothermal amplification method with double-stranded displacement probes to quantify the genetically modified rice M12 event. Eur Food Res Technol 246, 631–641 (2020). https://doi.org/10.1007/s00217-020-03430-1
Received:

Revised:

Accepted:

Published:

Issue Date:
Keywords
Loop-mediated isothermal amplification (LAMP)

Rice

Genetically modified rice M12 event

Quantification