Abstract
The purpose of this study was to produce an oil-in-water nano-emulsion with different compositions of the continuous and dispersed phases through microfluidization. The aqueous phase was a solution of maltodextrin with five different emulsifying ingredients including modified starch (Capsul and Hi-Cap), sodium caseinate (SC), whey protein hydrolysate (WPH), or whey protein concentrate (WPC), while the oil phase consisted of d-limonene or fish oil. Results showed that micofluidizer was capable of producing nano-emulsions (D32 as small as 150 nm) with a narrow size distribution. Generally, moderate microfluidization pressures (42–63 MPa) and cycles (1–2) were the optimum conditions beyond which, there were adverse changes in the emulsion size. For the two oils tested as the dispersed phase, fish oil emulsions had lower Sauter mean diameters (D32) but with wider size distributions than d-limonene. When different emulsifying ingredients were compared, Hi-Cap produced nano-emulsions with the narrowest distribution but highest D32 (about 600 nm). Nano-emulsions with WPC had the smallest D32 (about 200 nm) but the widest size distribution. It was found that a d-limonene volume fraction of 0.10 was the optimum dispersed-phase concentration in terms of emulsion droplet size (D32). Also, adding a surfactant (Tween 20) helped to reduce the emulsion size significantly during microfluidization, but it lead to extensive flocculation of emulsion droplets because of surfactant–biopolymer interactions and emulsifier displacement.
This is a preview of subscription content, log in to check access.
We're sorry, something doesn't seem to be working properly.
Please try refreshing the page. If that doesn't work, please contact support so we can address the problem.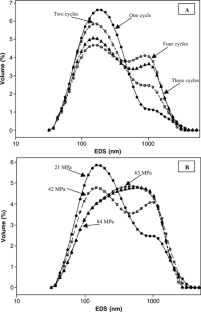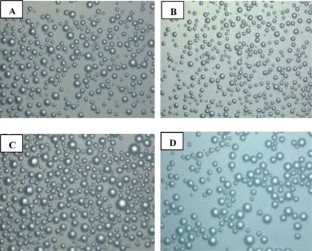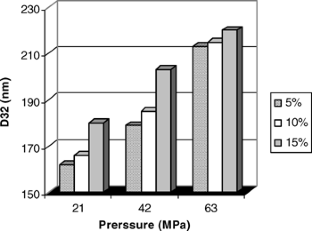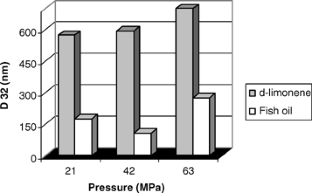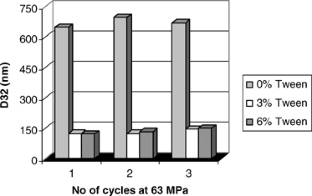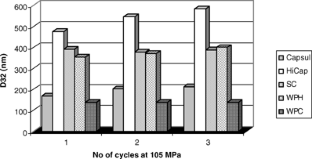 Notes
1.

In rest of the discussion, instead of using different terms such as droplet diameter, droplet size, emulsion size, etc. which may become confusing, emulsion droplet size or simply EDS will be used.
References
1.

Becher P (2001) Emulsions: theory and practice. Oxford University Press, UK

2.

McClements DJ (2005) Food emulsions: principles, practice, and techniques. CRC Press, USA

3.

Liu XD, Atarashi T, Furuta T, Yoshii H, Aishima S, Ohkawara M, Linko P (2001) Drying Tech 19:1361–1374

4.

Liu XD, Furuta T, Yoshii H, Linko P (2000) Food Sci Technol Res 6:335–339

5.

Risch SJ, Reineccius GA (1988) ACS Symp Ser 370:67–77

6.

Soottitantawat A, Yoshii H, Furuta T, Ohkawara M, Linko P (2003) J Food Sci 68:2256–2262

7.

Soottitantawat A, Bigeard F, Yoshii H, Furuta T, Ohkawara M, Linko P (2005) Innovative Food Sci Emerg Technol 6:107–114

8.

Windhab EJ, Dressler M, Feigl K, Fischer P, Megias-Alguacil D (2005) Chem Eng Sci 60:2101–2113

9.

Izquierdo P, Esquena J, Tadros TF, Dederen C, Garcia MJ, Azemar N, Solans C (2002) Langmuir 18:26–30

10.

Tadros T, Izquierdo R, Esquena J, Solans C (2004) Adv Colloid Interface Sci 108–09:303–318

11.

Schulz MB, Daniels R (2000) Eur J Pharm Biopharm 49:231–236

12.

Sonneville-Aubrun O, Simonnet J, L'Alloret F (2004) Adv Colloid Interface Sci 108–09:145–149

13.

Forgiarini A, Esquena J, Gonzalez C, Solans C (2001) Langmuir 17:2076–2083

14.

Seekkuarachchi IN, Tanaka K, Kumazawa H (2006) Indust Eng Chem Res 45:372–390

15.

Stang M, Schuchmann H, Schubert H (2001) Eng Life Sci 1:151–157

16.

Schultz S, Wagner G, Urban K, Ulrich J (2004) Chem Eng Tech 27:361–368

17.

Urban K, Wagner G, Schaffner D, Roglin D, Ulrich J (2006) Chem Eng Tech 29:24–31

18.

Olson DW, White CH, Richter RL (2004) J Dairy Sci 87:3217–3223

19.

Microfluidics (2003) Manual of microfluidizer. Microfluidics Corp, Newton, MA, USA

20.

Robin O, Blanchot V, Vuillemard JC, Paquin P (1992) Lait 72:511–531

21.

Dalgleish DG, Tosh SM, West S (1996) Netherlands Milk Dairy J 50:135–148

22.

Maa YF, Hsu CC (1999) Pharm Dev Tech 4:233–240

23.

Strawbridge KB, Ray E, Hallett FR, Tosh SM, Dalgleish DG (1995) J Colloid Interface Sci 171:392–398

24.

Robin O, Remillard N, Paquin P (1993) Colloids surfaces—physics. Eng Aspects 80:211–222

25.

Robin O, Kalab M, Britten M, Paquin P (1996) Lait 76:551–570

26.

McCrae CH (1994) J Soc Dairy Tech 47:28–31

27.

Pinnamaneni S, Das NG, Das SK (2003) Pharmazie 58:554–558

28.

Jafari SM, He Y, Bhandari B (2006) Int J Food Properties 9:475–485

29.

Lobo L, Svereika A (2003) J Colloid Interface Sci 261:498–507

30.

Desrumaux A, Marcand J (2002) Int J Food Sci Tech 37:263–269

31.

Kolb G, Viardot K, Wagner G, Ulrich J (2001) Chem Eng Tech 24:293–296

32.

Marie P, Perrier-Cornet JM, Gervais P (2002) J Food Eng 53: 43–51

33.

Karbstein H, Schubert H (1995) Chem Eng Process 34:205–211

34.

Paquin P (1999) Int Dairy J 9:329–335

35.

Floury J, Desrumaux A, Axelos MAV, Legrand J (2003) J Food Eng 58:227–238

36.

Perrier-Cornet JM, Marie P, Gervais P (2005) J Food Eng 66:211–217

37.

Bouaouina H, Desrumaux A, Loisel C, Legrand J (2006) Int Dairy J 16:275–284

38.

Floury J, Desrumaux A, Legrand J (2002) J Food Sci 67:3388–3395

39.

Narsimhan G, Goel P (2001) J Colloid Interface Sci 238:420–432

40.

Uniqema (2006) Tween Series. Uniqema International Chemical Industries

41.

Kerstens S, Murray BS, Dickinson E (2006) J Colloid Interface Sci 296:332–341

42.

Trubiano PC, Lacourse NL (1988) In: Reineccius GA, Risch S (eds) Flavor encapsulation. American Chemical Society, Washington, DC, pp 45–54

43.

Tesch S, Gerhards C, Schubert H (2002) J Food Eng 54:167–174

44.

Dickinson E (2003) Food Hydrocolloids 17:25–39

45.

Klinkesorn U, Sophanodora P, Chinachoti P, McClements DJ (2004) Food Res Int 37:851–859

46.

Pugnaloni LA, Dickinson E, Ettelaie R, Mackie AR, Wilde PJ (2004) Adv Colloid Interface Sci 107:27–49

47.

Arboleya JC, Wilde PJ (2005) Food Hydrocolloids 19:485–491

48.

McClements DJ (2004) Curr Opin Colloid Interface Sci 9:305–313
About this article
Cite this article
Jafari, S.M., He, Y. & Bhandari, B. Optimization of nano-emulsions production by microfluidization. Eur Food Res Technol 225, 733–741 (2007). https://doi.org/10.1007/s00217-006-0476-9
Received:

Revised:

Accepted:

Published:

Issue Date:
Keywords
Nano-emulsion

d-Limonene

Fish oil

Emulsification

Emulsifier

Droplet size distribution