Abstract
Lactic acid fermentation can have preservative effect on red beet juice. The behavior of the pigment in the fermented juice was investigated and the results were compared with those of non-fermented juice. Two red beet varieties (Czerwona Kula and Chrobry) were used in our experiment. Three probiotic bacteria and three infant intestinal microbiota of Lactobacillus sp. were selected for beet juice fermentation.
Lactic acid fermentation influenced both red and yellow pigments. In the two beetroot varieties (Chrobry and Czerwona Kula) studied, the dominant red-violet pigment components were betanin, isobetanin, while vulgaxanthin I was the major yellow pigment. Betanin was the main red-violet component in juices before fermentation. After fermentation also betanidin and isobetanidin were observed. Huge amounts of betanidin were found especially in fermented Chrobry juice.
It was observed that fermented juice from Chrobry cultivar contained higher betanidin than betanin levels. Contrarily, in juice from Czerwona Kula cv., betanin level was much higher than betanidin level.
This is a preview of subscription content, log in to check access.
Access options
Buy single article
Instant unlimited access to the full article PDF.
US$ 39.95
Price includes VAT for USA
Subscribe to journal
Immediate online access to all issues from 2019. Subscription will auto renew annually.
US$ 199
This is the net price. Taxes to be calculated in checkout.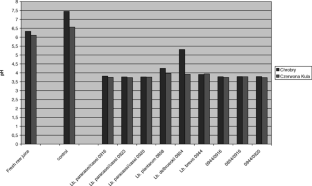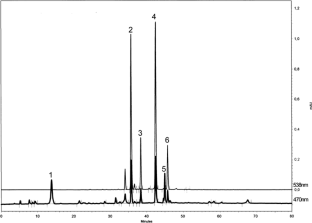 References
1.

Borowska J (2003) Przem Ferm i Owoc-Warzyw (in Polish)

2.

Kapadia GJ, Azuine MA, Sridhar R, Okuda Y, Tsuruta A, Ichiishi E, Mukainake T, Takasaki M, Konoshima T, Nishino H, Tokuda H (2003) Pharmacol Res 47:141–148

3.

van Duyn MAS, Pivonka E (2000) J Am Diet Assoc 100:1511–1521

4.

Vinson JA, Hao Y, Su X, Zubik L (1998) J Agric Food Chem 46:3630–3634

5.

Kanner J, Harel S, Granit R (2001) J Agric Food Chem 49:5178–5185

6.

Escribano J, Pedreno MA, Garcia-Carmona F, Munoz R (1998) Phytochem Anal 9(3):124–127

7.

Braun-Młodecka (2004) Electron J Pol Agric Univ Hortic 7(1)

8.

Klimek G (2003) Hasło Ogrodnicze 5 (in Polish)

9.

Herbach KM, Stintzing FC, Carle R (2004) J Food Sci 69:491–498

10.

Adams JP, von Elbe JH, Amundson CH (1976) J Food Sci 41:78.

11.

Barath A, Halasz A, Nemeth E, Zalan Z (2004) Eur Food Res Technol 218:184–187

12.

Klewicka E, Motyl I, Libudzisz Z (2004) Eur Food Res Technol 218:178–183

13.

Lichtenthaler R, Marx F (2005) J Agric Food Chem 53:103–110

14.

Nilsson T (1970) Lantbrukshoegsk Ann 36:179

15.

Stintzing FC, Schieber A, Carle R (2002) J Agric Food Chem 50:2302–2307

16.

Gardner NJ, Savard T, Obermeier P, Caldwell G, Champagne CP (2001) Int J Food Microbiol 64:261–275

17.

Yamazaki S, Kaneko T, Takemoto N, Kano K, Ikeda Z (2002) Biosci Biotechnol Biochem 66:2100

18.

Stintzing FC, Carle R (2004) Trends Food Sci Technol 15:19–38

19.

Schwartz SJ, Hildenbrand BE, von Elbe JH (1981) J Food Sci 46:296–297

20.

Kujala TS, Loponen JM, Klika KD, Pihlaja K (2000) J Agric Food Chem 48:5338–5342

21.

Żuradzka E, Antos M, Pawłowska B (1996) VI Ogólnopolski Zjazd Hodowców Roślin Ogrodniczych "Hodowla roślin o podwyższonej jakości" Kraków, February 15–16, 160–164 (in Polish)

22.

Sapers GM, Hornstein JS (1979) J Food Sci 44:1245–1248

23.

Kujala T, Vienola MS, Klika KD, Loponen J, Pihlaja K (2002) Eur Food Res Technol 214:505–510

24.

Cai Y, Sun M, Schliemann W, Corke H (2001) J Agric Food Chem 49:4429–4435

25.

Schliemann W, Strack D (1998) Phytochemistry 49:585–588

26.

Stintzing FC, Schieber A, Carle R (2000) Obst-, Gemuse und Kartoffelverarbeitung 85:196–204

27.

Alard D, Wray V, Grotjahn L, Reznik H, Strack D (1985) Phytochemistry 24:2383–2385

28.

Kujala T, Loponen J, Pihlaja K (2001) Z Naturforsch C J Biosci 56:343–348

29.

Stintzing FC, Herbach KM, Mosshammer MR, Carle R, Yi W, Sellappan S, Akoh CC, Bunch R, Felker P (2005) J Agric Food Chem 53:442–451
Acknowledgments
This research is financially supported by the grant of the Polish Commission KBN. The results have been achieved in the frame of Polish project PBZ-KBN_094/P06/2003. The authors wish to thank Prof. Janusz Czapski for betanin standard and advice.
About this article
Cite this article
Czyżowska, A., Klewicka, E. & Libudzisz, Z. The influence of lactic acid fermentation process of red beet juice on the stability of biologically active colorants. Eur Food Res Technol 223, 110–116 (2006). https://doi.org/10.1007/s00217-005-0159-y
Received:

Accepted:

Published:

Issue Date:
Keywords
Beetroot

Betalains

Lactic acid bacteria

Fermented juice