Abstract
The effects of temperature, pH, inoculum level, and NaCl on the growth and metabolism of Lactobacillus sanfranciscensis and Candida humilis in rye sourdough were determined. The temperature optima for growth of C. humilis and L. sanfranciscensis were 28 and 32 °C, respectively. Yeast growth was inhibited at 35 °C. The pH did not affect yeast growth in the range 3.5–5.5, whereas growth of L. sanfranciscensis was inhibited at pH 4.0. A NaCl concentration of 4% (flour base) inhibited growth of L. sanfranciscensis but not C. humilis. The effects of the process parameters on the formation of lactate, acetate, ethanol, and CO2 by the organisms were generally in agreement with their effects on growth. However, decreased formation of acetate by L. sanfranciscensis was observed at 35 °C although lactate and ethanol formation were not affected. In conclusion, the study provides a rationale for the stable persistence of L. sanfranciscensis and C. humilis in traditional sourdoughs and will facilitate the optimisation of sourdough fermentations in traditional and new applications.
This is a preview of subscription content, log in to check access.
Access options
Buy single article
Instant access to the full article PDF.
US$ 39.95
Price includes VAT for USA
Subscribe to journal
Immediate online access to all issues from 2019. Subscription will auto renew annually.
US$ 199
This is the net price. Taxes to be calculated in checkout.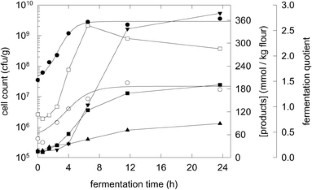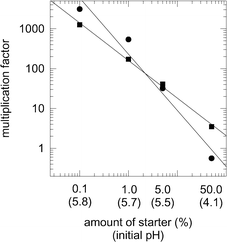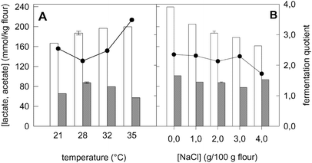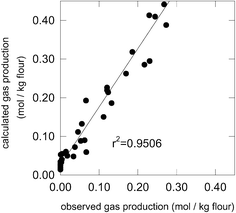 References
1.

Schieberle P (1996) Adv Food Sci 18:237–244

2.

Hansen B, Hansen Ă (1994) Z Lebensm Unters Forsch 198:202–209

3.

Thiele C, Gänzle MG, Vogel RF (2002) Cereal Chem 79:45–51

4.

Boskov Hansen H, Andreasen MF, Nielsen MM, Larsen LM, Back Knudsen KE, Meyer AS, Christensen LP, Hansen Ă (2002) Eur Food Res Technol 214:33–42

5.

Korakli M, Rossmann A, Gänzle MG, Vogel RF (2001) J Agric Food Chem 49:5194–5200

6.

Martínez-Anaya MA, Devesa A (2000) Food Sci Tech 6:109–116

7.

Thiele C, Gänzle MG, Vogel RF (2003) J Agric Food Chem 51:2745–2752

8.

Lavermicocca P, Valerio F, Evidente A, Lazzaroni S, Corsetti A, Gobbetti M (2000) Appl Environ Microbiol 66:4084–4090

9.

Rosenquist H, Hansen Ă (1998) J Appl Microbiol 85:621–631

10.

Gänzle MG, Vogel RF (2002) Int J Food Microbiol 80:31–45

11.

Hammes WP, Gänzle MG (1997) Sourdough breads and related products. In: Wood BJB (ed) Microbiology of fermented food. Chapman and Hall, London, pp199–216

12.

Vogel RF, Ehrmann MA, Gänzle MG (2002) Antonie van Leeuwenhoek 81:631–638

13.

Gänzle MG, Ehmann M, Hammes WP (1998) Appl Environ Microbiol 64:2616–2623

14.

Stolz P, Böcker G, Hammes WP, Vogel RF (1995) Z Lebensm Unters Forsch 201:91–96

15.

Böcker G, Vogel RF, Hammes WP (1990) Getreide Mehl Brot 44:269–274

16.

Anonymous (1980) L01.00–37. In: Bundesgesundheitsamt (ed) Amtliche Sammlung von Untersuchungsverfahren § 35 LMBG. Beuth, Berlin

17.

Zwietering MH, Jongenburger I, Rombouts FM, van't Riet K (1990) Appl Environ Microbiol 56:1875–1881

18.

Hamad S, Böcker G, Vogel RF, Hammes WP (1992) Appl Microbiol Biotechnol 37:728–731

19.

Anonymous (1983) Approved methods of the American Association of Cereal Chemists, 8th edn. Am Assoc Cereal Chemists, St. Paul

20.

Simonson L, Salovaara H, Korhola M (2003) Food Microbiol 20:193–199

21.

Meroth CB, Walter J, Hertel C, Brandt MJ, Hammes WP (2003) Appl Environ Microbiol 69:475–482

22.

Hammes WP, Stolz P, Gänzle MG (1996) Adv Food Sci 18:176–184

23.

Stolz P, Böcker G, Vogel RF, Hammes WP (1993) FEMS Microbiol Lett 109:237–242

24.

Spicher G, Stephan H (1999) Handbuch Sauerteig. Behr's, Hamburg

25.

Brandt MJ, Hammes WP (2001) Getreide Mehl Brot 55:341–345

26.

Gänzle MG, Häusle S, Hammes WP (1997) Getreide Mehl Brot 51:209–215
Acknowledgements
This work was supported by the Commission of the European Communities' FAIR programme contract no. CT 961126.
About this article
Cite this article
Brandt, M.J., Hammes, W.P. & Gänzle, M.G. Effects of process parameters on growth and metabolism of Lactobacillus sanfranciscensis and Candida humilis during rye sourdough fermentation. Eur Food Res Technol 218, 333–338 (2004). https://doi.org/10.1007/s00217-003-0867-0
Received:

Published:

Issue Date:
Keywords
Rye sourdough

Lactobacillus sanfranciscensis
Candida humilis

Modelling