Abstract
Immunoglobin E (IgE)-related allergy constitutes a high proportion in allergic diseases. The production of specific IgE is key to evoking serial cascades and pathological reactions. Thus, targeting IgE is a different therapeutic approach from symptomatic treatments. Monoclonal antibodies (mAbs) against IgE were developed and a humanized antibody, omalizumab, was approved by five countries. It could inhibit the binding of IgE with epsilon receptor I of crystallizable fragment (FcεRI), thus preventing anaphylactic reactions. However, no bioactivity assay, which is the critical quality attribute and should thoroughly reflect the clinical mechanism, has been established to date. In commercial lot release, only the enzyme-linked immunosorbent assay (ELISA) method was applied, which only reflects the binding of omalizumab to IgE but not the subsequent reaction. In scientific research works, human FcεRI-transfected RBL-2H3 cells were used to indicate degranulation based on the detection of β-hexosaminidase. Nevertheless, this method needs much work to stabilize the response and, hence, is not suitable for routine usage in commercial production and control of antibodies. To evaluate the bioactivity of anti-IgE antibodies including omalizumab using a simple assay that reflects the following mechanism of actions (MOA) after binding, we established an RBL-2H3 cell line transfected with both the α subunit of human FcεRI and nuclear factor-activated T cell (NFAT) response elements, the latter is conjugated with a luciferase gene, which could shed luminescence when substrates exist. The method was proven to possess good specificity, accuracy, linearity, and precision and may be utilized as a supplement to anti-IgE antibody bioactivity assays in terms of development, lot release, stability, and comparability studies.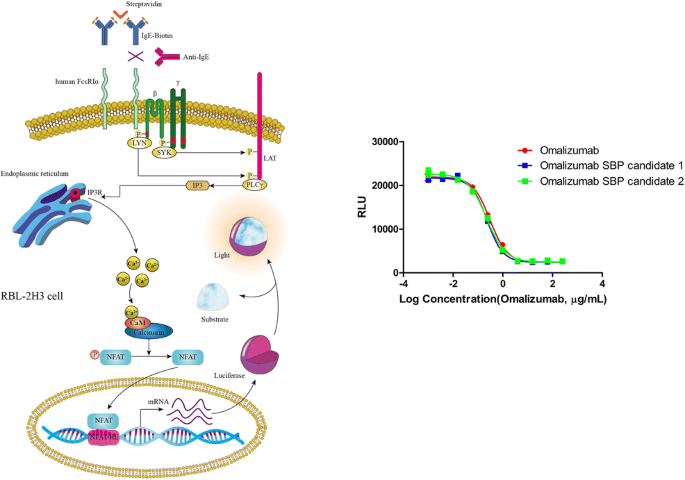 This is a preview of subscription content, log in to check access.
Access options
Buy single article
Instant access to the full article PDF.
US$ 39.95
Price includes VAT for USA
Subscribe to journal
Immediate online access to all issues from 2019. Subscription will auto renew annually.
US$ 157
This is the net price. Taxes to be calculated in checkout.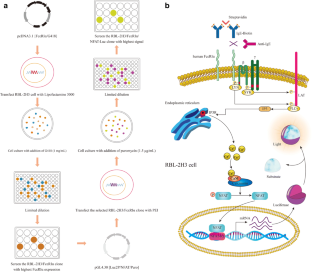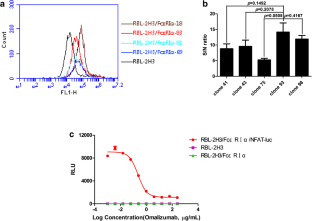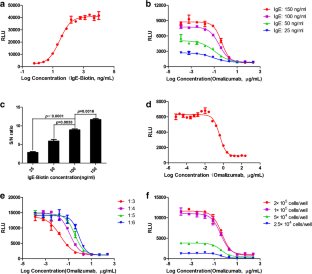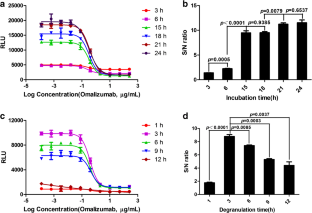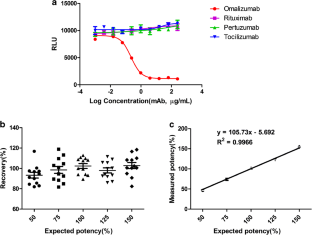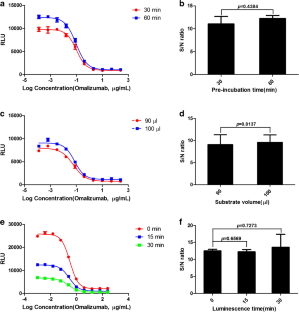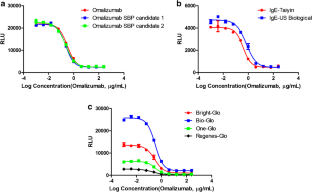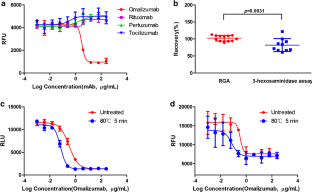 References
1.

Kalesnikoff J, Huber M, Lam V, Damen JE, Zhang J, Siraganian RP, et al. Monomeric IgE stimulates signaling pathways in mast cells that lead to cytokine production and cell survival. Immunity. 2001;14:801–11.

2.

Walker SMM, Phelan K, Lasserson TJ, Walters EH. Anti-IgE for chronic asthma in adults and children. Cochrane Database Syst Rev. 2006;19(2):CD003559. https://doi.org/10.1002/14651858.CD003559.pub3.

3.

Douglass JA, O'Hehir RE. Diagnosis, treatment and prevention of allergic disease: the basics. Med J Aust. 2006;185(4):228–33.

4.

Kawakami T, Blank U. From IgE to omalizumab. J Immunol. 2016;197(11):4187–92.

5.

Oettgen HC. Fifty years later: emerging functions of IgE antibodies in host defense, immune regulation, and allergic diseases. J Allergy Clin Immunol. 2016;137(6):1631–45.

6.

Baena-Cagnani CE. The global burden of asthma and allergic diseases: the challenge for the new century. Curr Allergy Asthma Rep. 2001;1(4):297–8.

7.

Braman SS. The global burden of asthma. Chest. 2006;130(1 Suppl):4S–12S.

8.

Ehteshami-Afshar S, Fitzgerald JM, Doyle-Waters MM, Sadatsafavi M. The global economic burden of asthma and chronic obstructive pulmonary disease. Int J Tuberc Lung Dis. 2016;20(1):11–23.

9.

Cruz AA, Stelmach R, Ponte EV. Asthma prevalence and severity in low-resource communities. Curr Opin Allergy Clin Immunol. 2017;17(3):188–93.

10.

Anto JM, Pinart M, Akdis M, Auffray C, Bachert C, Basagana X, et al. Understanding the complexity of IgE-related phenotypes from childhood to young adulthood: a Mechanisms of the Development of Allergy (MeDALL) seminar. J Allergy Clin Immunol. 2012;129(4):943–54 e4.

11.

Hoffmann A, Vieths S, Haustein D. Biologic allergen assay for in vivo test allergens with an in vitro model of the murine type I reaction. J Allergy Clin Immunol. 1997;99(2):227–32.

12.

Vogel L, Luttkopf D, Hatahet L, Haustein D, Vieths S. Development of a functional in vitro assay as a novel tool for the standardization of allergen extracts in the human system. Allergy. 2005;60(8):1021–8.

13.

Navines-Ferrer A, Serrano-Candelas E, Molina-Molina GJ, Martin M. IgE-related chronic diseases and anti-IgE-based treatments. J Immunol Res. 2016;2016:8163803.

14.

Platts-Mills TAE, Schuyler AJ, Erwin EA, Commins SP, Woodfolk JA. IgE in the diagnosis and treatment of allergic disease. J Allergy Clin Immunol. 2016;137(6):1662–70.

15.

Khodoun MV, Kucuk ZY, Strait RT, Krishnamurthy D, Janek K, Lewkowich I, et al. Rapid polyclonal desensitization with antibodies to IgE and FcepsilonRIalpha. J Allergy Clin Immunol. 2013;131(6):1555–64.

16.

MacGinnitie AJ, Rachid R, Gragg H, Little SV, Lakin P, Cianferoni A, et al. Omalizumab facilitates rapid oral desensitization for peanut allergy. J Allergy Clin Immunol. 2017;139(3):873–81 e8.

17.

Holgate S, Buhl R, Bousquet J, Smith N, Panahloo Z, Jimenez P. The use of omalizumab in the treatment of severe allergic asthma: a clinical experience update. Respir Med. 2009;103(8):1098–113.

18.

D'Amato G, Stanziola A, Sanduzzi A, Liccardi G, Salzillo A, Vitale C, et al. Treating severe allergic asthma with anti-IgE monoclonal antibody (omalizumab): a review. Multidiscip Respir Med. 2014;9(1):23. https://doi.org/10.1186/2049-6958-9-23.

19.

Palmer GW. RBL cells expressing human FcεRI are a sensitive tool for exploring functional IgE-allergen interactions: studies with sera from peanut-sensitive patients. J Immunol Methods. 2003;274(1):37–45.

20.

Hoffmann HJ, Santos AF, Mayorga C, Nopp A, Eberlein B, Ferrer M, et al. The clinical utility of basophil activation testing in diagnosis and monitoring of allergic disease. Allergy. 2015;70(11):1393–405.

21.

Takagi K, Nakamura R, Teshima R, Sawada J. Application of human FcεRI a-chain-transfected RBL-2H3 cells for estimation of active serum IgE. Biol Pharm Bull. 2003;26(2):252–5.

22.

Rice LV, Bax HJ, Russell LJ, Barrett VJ, Walton SE, Deakin AM, et al. Characterization of selective calcium-release activated calcium channel blockers in mast cells and T-cells from human, rat, mouse and guinea-pig preparations. Eur J Pharmacol. 2013;704(1–3):49–57.

23.

Sun R, Yang Y, Ran X, Yang T. Calcium influx of mast cells is inhibited by aptamers targeting the first extracellular domain of Orai1. PLoS One. 2016;11(7):e0158223.

24.

Tomita S, Matsuda A, Nishinami S, Kurita R, Shiraki K. One-step identification of antibody degradation pathways using fluorescence signatures generated by cross-reactive DNA-based arrays. Anal Chem. 2017;89(15):7818–22.

25.

Nakamura R, Uchida Y, Higuchi M, Nakamura R, Tsuge I, Urisu A, et al. A convenient and sensitive allergy test: IgE crosslinking-induced luciferase expression in cultured mast cells. Allergy. 2010;65(10):1266–73.

26.

Gauvreau GM, Arm JP, Boulet LP, Leigh R, Cockcroft DW, Davis BE, et al. Efficacy and safety of multiple doses of QGE031 (ligelizumab) versus omalizumab and placebo in inhibiting allergen-induced early asthmatic responses. J Allergy Clin Immunol. 2016;138(4):1051–9.

27.

Casale TB, Bernstein IL, Busse WW, CF LF, Tinkelman DG, Stoltz RR, et al. Use of an anti-IgE humanized monoclonal antibody in ragweed-induced allergic rhinitis. J Allergy Clin Immunol. 1997;100(1):110–21.

28.

Adelroth E, Rak S, Haahtela T, Aasand G, Rosenhall L, Zetterstrom O, et al. Recombinant humanized mAb-E25, an anti-IgE mAb, in birch pollen-induced seasonal allergic rhinitis. J Allergy Clin Immunol. 2000;106(2):253–9.

29.

Presta L, Shields R, O'Connell L, Lahr S, Porteri J, Goman C, et al. The binding site on human immunoglobulin E for its high affinity receptor. J Biol Chem. 1994;269(42):26368–73.

30.

Larson D, Mitre E. Histamine release and surface CD200R1 staining as sensitive methods for assessing murine mast cell activation. J Immunol Methods. 2012;379(1–2):15–22.

31.

Huang L, Pi J, Wu J, Zhou H, Cai J, Li T, et al. A rapid and sensitive assay based on particle analysis for cell degranulation detection in basophils and mast cells. Pharmacol Res. 2016;111:374–83.

32.

Nyborg AC, Zacco A, Ettinger R, Jack Borrok M, Zhu J, Martin T, et al. Development of an antibody that neutralizes soluble IgE and eliminates IgE expressing B cells. Cell Mol Immunol. 2016;13(3):391–400.

33.

Ho HP, Lau PM, Kwok HC, Wu SY, Gao M, Cheung AK, et al. Allergen screening bioassays: recent developments in lab-on-a-chip and lab-on-a-disc systems. Bioanalysis. 2014;6(14):2005–18.

34.

Knipping K, van Roest M, Kruijssen L, Smits M, Teunis M, Cox L, et al. Intra- and inter-laboratory validation of an innovative huFcepsilonRIalpha-RBL-2H3 degranulation assay for in vitro allergenicity assessment of whey hydrolysates. Toxicol in Vitro. 2016;33:29–34.

35.

Blott EJ, Griffiths GM. Secretory lysosomes. Nat Rev Mol Cell Biol. 2002;3(2):122–31.

36.

Kleine-Tebbe J, Erdmann S, Knol EF, MacGlashan DW Jr, Poulsen LK, Gibbs BF. Diagnostic tests based on human basophils: potentials, pitfalls and perspectives. Int Arch Allergy Immunol. 2006;141(1):79–90.

37.

Chirumbolo S. Basophil activation test in allergy: time for an update? Int Arch Allergy Immunol. 2012;158(2):99–114.

38.

Anna N, Johansson SGO, Adédoyin J, Ankerst J, Palmqvist M, Oman H. After 6 years with Xolair; a 3-year withdrawal follow-up. Allergy. 2010;65(1):56–60.

39.

Holgate ST. New strategies with anti-IgE in allergic diseases. World Allergy Organ J. 2014;7(1):17.

40.

Incorvaia C, Mauro M, Russello M, Formigoni C, Riario-Sforza GG, Ridolo E. Omalizumab, an anti-immunoglobulin E antibody: state of the art. Drug Des Devel Ther. 2014;8:197–207.

41.

Wang L, Yu C, Wang J. Development of reporter gene assays to determine the bioactivity of biopharmaceuticals. Biotechnol Adv. 2019:107466.

42.

Wang L, Xu GL, Gao K, Wilkinson J, Zhang F, Yu L, et al. Development of a robust reporter-based assay for the bioactivity determination of anti-VEGF therapeutic antibodies. J Pharm Biomed Anal. 2016;125:212–8.

43.

Yang Y, Zhou Y, Yu L, Li X, Shi X, Qin X, et al. A novel reporter gene assay for recombinant human erythropoietin (rHuEPO) pharmaceutical products. J Pharm Biomed Anal. 2014;100:316–21.

44.

Yu L, Shi X, Han C, Rao C, Wang J. A rapid reporter assay for recombinant human brain natriuretic peptide (rhBNP) by GloSensor technology. J Pharm Anal. 2018;8(5):297–301.
Funding
This work was supported by the National Science and Technology Major Projects for Major New Drugs Innovation and Development (Grant number: 2018ZX09736-008).
Ethics declarations
Conflict of interest
The authors declare that they have no conflicts of interest.
Additional information
Publisher's note
Springer Nature remains neutral with regard to jurisdictional claims in published maps and institutional affiliations.
About this article
Cite this article
Guo, S., Yu, C., Wang, Y. et al. A robust and stable reporter gene bioassay for anti-IgE antibodies. Anal Bioanal Chem (2020). https://doi.org/10.1007/s00216-020-02442-w
Received:

Revised:

Accepted:

Published:
Keywords
IgE

Omalizumab

Anti-IgE antibodies

Bioassay

Reporter gene assay