Smartphone coupled with paper-based chemical sensor for on-site determination of iron(III) in environmental and biological samples
Abstract
We report a smartphone–paper-based sensor impregnated with cetyltrimethylammonium bromide modified silver nanoparticles (AgNPs/CTAB) for determination of Fe3+ in water and blood plasma samples. The methodology for determination of Fe3+ is based on the change in signal intensity of AgNPs/CTAB fabricated on a paper substrate after the deposition of analyte, using a smartphone followed by processing with ImageJ software. The mechanism of sensing for detection and determination of Fe3+ is based on the discoloration of AgNPs which impregnated the paper substrate. The discoloration is attributed to the electron transfer reaction taking place on the surface of NPs in the presence of CTAB. Fe3+ was determined when the paper was impregnated with 1 mM AgNPs for 5 min of reaction time and the substrate was kept under acidic conditions. The linear range for determination of total iron in terms of Fe3+ was 50–900 μg L−1 with a limit of determination (LOD) of 20 μg L−1 and coefficient of variation (CV) of 3.2%. The good relative recovery of 91.3–95.0% and interference studies showed the selectivity of the method for determination of total iron in water and blood plasma samples. Smartphone–paper-based sensors have advantages of simplicity, rapidity, user-friendliness, low cost, and miniaturization of the method for on-site determination of total iron compared to methods that require sophisticated analytical instruments.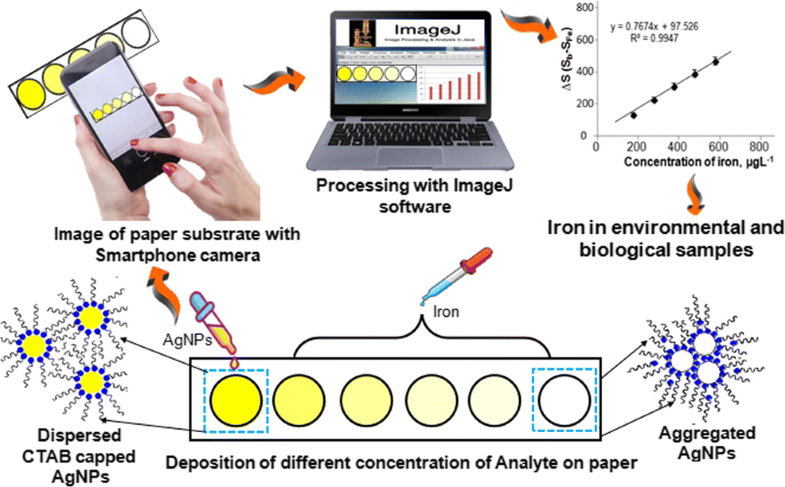 Keywords
Smartphone 
Paper sensor 
AgNPs/CTAB 
ImageJ software 
Fe3 + 
Water and blood samples 
Notes
Acknowledgements
We would like to thank the Science and Engineering Research Board (SERB), New Delhi for awarding Kamlesh Shrivas as Extra Mural Research Project (File No: EMR/2016/005813).
Compliance with ethical standards
Conflict of interest
The authors declare that they have no competing interests.
Copyright information
© Springer-Verlag GmbH Germany, part of Springer Nature 2020