Abstract
Efficient removal of interferents from complex matrices would significantly improve the performance of state of the art dipstick assays. Herein, we evaluate a graphitized carbon black (GCB)–incorporated dipstick, a configuration that has not been explored before, for reliable and facile on-site analysis of complex matrices. Carrot juice, a highly pigmented sample matrix, is chosen for evaluating the retention of interferents within the sorbent-incorporated cleanup pad on the dipstick. A peptide with a specific cleavage site for botulinum neurotoxin A light chain (BoNT/A LC), a model protease for validation of the proposed dipstick assay, is incubated with the test samples containing BoNT/A LC. Subsequently, the BoNT/A LC digested substrate and sample matrix flow vertically through the GCB-deposited cleanup pad within which the matrix interferents are captured, while the substrate, with a minimum of interferents, continues to flow toward a conjugation pad for labelling with Europium particles. Finally, the cleaved and uncleaved substrates flow toward a detection zone, where they bind to the test line producing a pinkish band which is not visible in the absence of GCB incorporation. The dipstick assay yields a LOD of 0.1 nM (5 ng/mL) of BoNT/A LC in carrot juice, within 20 min. The reported approach enables detection of proteases in a wide range of matrices upon incorporation of appropriate sorbents, ultimately aiming to exclude tedious laboratory-based sample pre-treatment protocols. Thus, merging extraction, cleanup, and pre-concentration steps with a sensitive optical detection approach is an attractive strategy for on-site assaying in complex matrices.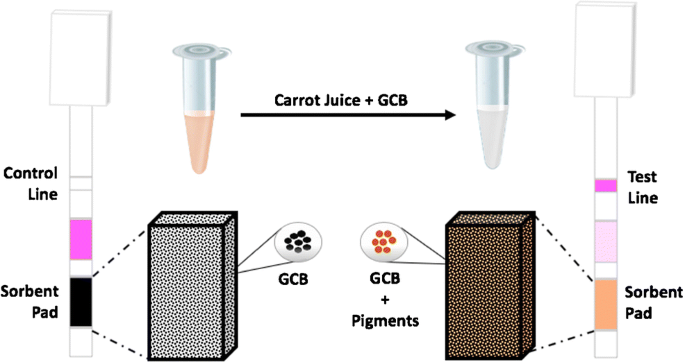 This is a preview of subscription content, log in to check access.
Access options
Buy single article
Instant access to the full article PDF.
US$ 39.95
Price includes VAT for USA
Subscribe to journal
Immediate online access to all issues from 2019. Subscription will auto renew annually.
US$ 157
This is the net price. Taxes to be calculated in checkout.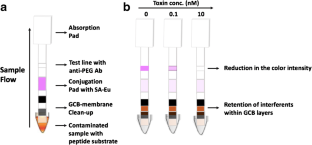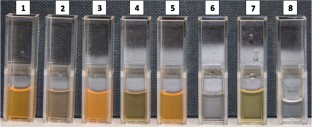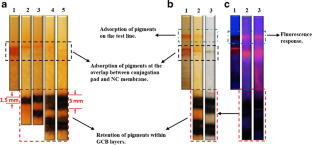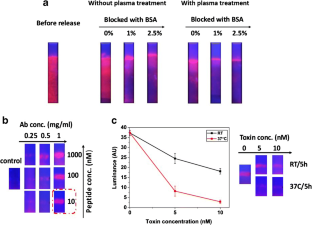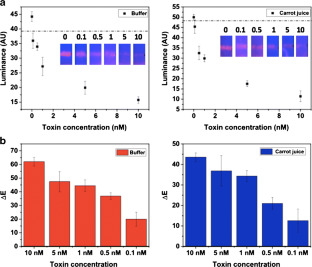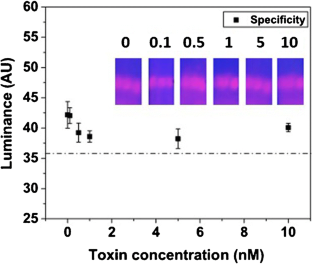 Acknowledgments
Support was obtained from Provost Office and the iFood initiative, NTU.
Ethics declarations
Conflict of interest
The authors declare that they have no conflict of interest.
Additional information
Publisher's note
Springer Nature remains neutral with regard to jurisdictional claims in published maps and institutional affiliations.
Electronic supplementary material
About this article
Cite this article
Klisara, N., Palaniappan, A. & Liedberg, B. Sorbent-incorporated dipstick for direct assaying of proteases. Anal Bioanal Chem 412, 1385–1393 (2020). https://doi.org/10.1007/s00216-019-02366-0
Received:

Revised:

Accepted:

Published:

Issue Date:
Keywords
Sorbents

Proteases

Dipstick assay

Graphitized carbon black

Botulinum neurotoxin A

Europium particles