TiO2 nanotubes loaded with CdS nanocrystals as enhanced emitters of electrochemiluminescence: application to an assay for prostate-specific antigen
Abstract
An enhanced cathodic electrochemiluminescence (ECL) assay for prostate-specific antigen (PSA) is developed based on the in situ activation of a semiconductor nanomaterial. An excellent ECL emitter (CdS/TiO2 nanotubes) was fabricated by the combination of TiO2 nanotubes (NTs) and thioglycolic acid-capped CdS nanocrystals (NCs). After the activation of the hydrogen peroxide-citric acid solution, the ECL signal was enhanced 265 times compared with that of the original TiO2 NT with H2O2 as co-reactant. For the ECL assay, activated CdS/TiO2 NTs were assembled with complementary DNA, PSA aptamer and probe DNA-functionalized SiO2@Pt nanoparticles (NPs) via DNA hybridization to form the detection platform. The SiO2@Pt NPs acted as ECL quencher of CdS/TiO2 NTs. In the presence of PSA, ECL increased after the release of pDNA-SiO2@Pt NPs because of the binding of PSA to the aptamer. An "off-on" ECL phenomenon appeared. The enhanced ECL signals were used for sensitive determination of PSA. The dynamic range was 0.001 to 50 ng mL−1 with a detection limit of 0.4 pg mL−1 (S/N = 3). This new approach conceivably paves the way for fabricating various other enhanced ECL emitter systems, with good application prospects in clinical practice.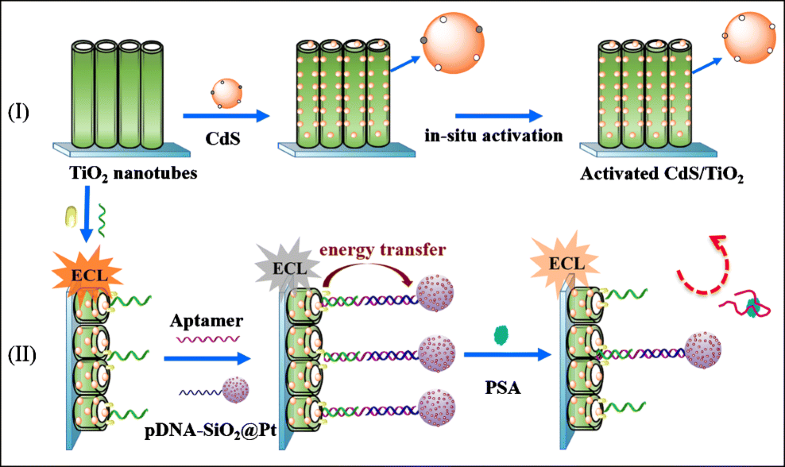 Keywords
Coupled semiconductor nanomaterials 
Enhanced electrochemiluminescence 
In situ activation 
Aptamer 
SiO2@Pt nanoparticles 
Notes
Acknowledgments
This work was supported by the National Natural Science Foundation of China (Grant No. 21705119), Key projects of Natural Science Research of Anhui Province (KJ2017A410), the Science Technology Project of Anhui Province (1606c08229, 1808085QB44, 1804a09020087) and the Foundation of State Key Laboratory of High-efficiency Utilization of Coal and Green Chemical Engineering (2017-K32). This work was also supported by the Domestic Visiting and Training Program for Outstanding Young Backbone Talents in Universities of Anhui Province (gxgnfx2019030).
Compliance with ethical standards
Conflict of interest
The authors declare that they have no competing interests.
Ethical approval
All studies were approved by the Ethics Committee of West Anhui University. All people had given informed consent.
Copyright information
© Springer-Verlag GmbH Germany, part of Springer Nature 2019