A fluorescent nanosphere-based immunochromatography test strip for ultrasensitive and point-of-care detection of tetanus antibody in human serum
Abstract
Tetanus still possesses a high infection risk and leads a number of human deaths in poor nations. Point-of-care and ultrasensitive detection of tetanus antibody levels in serum is the key to decrease the risk of tetanus infection and improve the health of people. In this work, by using ultra bright fluorescent nanospheres (FNs) and portable lateral flow test strip (LFTS), a point-of-care and ultrasensitive sensing method has been developed for the detection of tetanus antibodies in human serum. This assay works quite well for tetanus antibodies in the concentration range from 0.0002 to 0.0220 IU/mL with a low detection limit of 0.00011 IU/mL, which is 100-fold lower than conventional gold-based LFTSs. The high sensitivity makes this method suitable for use to detect the low-abundant target in real samples. Besides, this cost-effective FN-based LFTS assay possesses good selectivity, high accuracy, and satisfactory reliability, which holds great potential as a robust candidate for routine medical diagnosis and rapid home testing.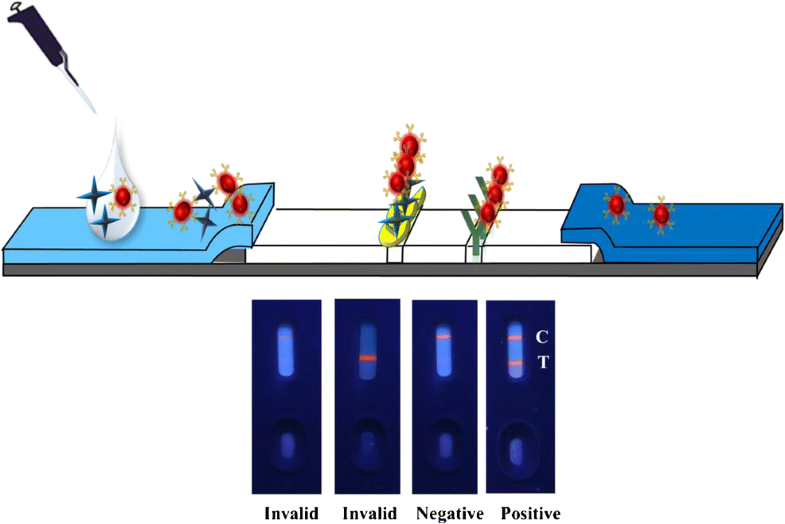 Keywords
Tetanus antibody 
Fluorescent nanospheres 
Lateral flow test strips 
Point-of-care testing 
Ultrasensitive detection 
Notes
Funding information
This work was supported by National Natural Science Foundation of China (21974125, 21605038, and 21877027), China Postdoctoral Science Foundation (2019T120623 and 2016M602245), and the Key Scientific Research Project in Universities of Henan Province (19A150048 and 16A150013).
Compliance with ethical standards
The serum samples were obtained by the First Affiliated Hospital of Zhengzhou University, approved by Life-Science Ethics Review Committee of Zhengzhou University.
Competing interests
The authors declare that they have no competing interest.
Copyright information
© Springer-Verlag GmbH Germany, part of Springer Nature 2019