Development of a qualitative/quantitative strategy for comprehensive determination of polar lipids by LC–MS/MS in human plasma
Abstract
Polar lipids, especially glycerophospholipids, constitute the main components of cell membranes and are precursors of signaling molecules in many cellular and physiological processes. For this reason, the development of methods with high capability for detection of polar lipids in biological samples is required. In this research, the objective was to develop a method for comprehensive qualitative/quantitative determination of polar lipids in plasma by a combination of acquisition methods with a triple quadrupole mass analyzer. The strategy was optimized in two steps: (a) a first step for detection of lipids by monitoring selective fragmentation patterns representative of each lipid family and (b) a second step for confirmation of lipid species by detection and identification of product ions associated with the conjugated fatty acids. The acquisition list was divided into two multiple reaction monitoring (MRM) methods to ensure the detection of all transitions with suited instrumental sensitivity according to chromatographic retention time and relative abundance in plasma. The combination of the two MRM methods allowed the detection of 398 polar lipids in plasma in 64 min. Precision, estimated as within-day variability, was below 6.8% for all determined lipid families, while between-day variability was below 24.0%. This strategy has been applied to a cohort formed by 384 individuals in order to obtain a qualitative and quantitative distribution of polar lipids in human plasma. The most concentrated lipid families in relative terms were lysophospholipids, plasmalogens, and phosphatydilcholines, with mean relative concentration of 58.0, 17.1, and 8.3%, respectively. Then, sphingomyelins and phosphatidylethanolamines reported a relative concentration of 2.0%, followed by phosphatidylserines, with 1.1%.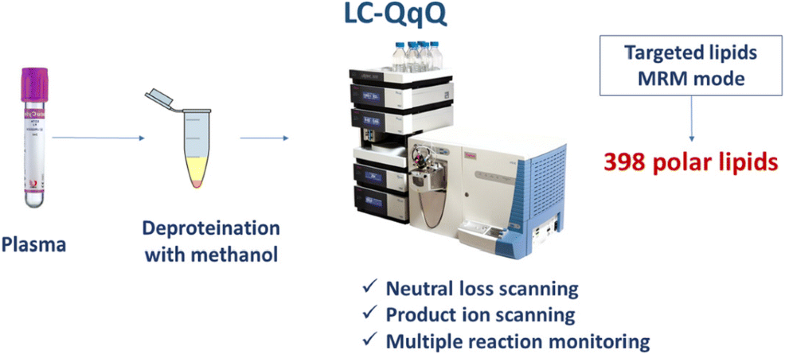 Keywords
Lipidomics 
Polar lipids 
LC 
MS/MS 
Plasma 
Multiple reaction monitoring 
Notes
Acknowledgments
M.A. López-Bascón thanks the Ministerio de Educación, Cultura, Deporte (MECD) for an FPU scholarship (FPU15/02373). The authors thank Analytical and Bioanalytical Chemistry Journal for the Poster Communication Award received in the XXII Meeting of the Spanish Analytical Chemistry Society.
Funding information
This research has been financed jointly by the Spanish Ministerio de Economía y Competitividad (through the CTQ2015-68813-R and AGL2014-54089-R projects), the Instituto de Salud Carlos III (through the PIE14/00005/1, FLEXI-MET project), and the European Union H2020 Research and Innovation Programme (JPI-HDHL project "Fatty Acid Metabolism–Interlinking Diet with Cardiometabolic Health").
Compliance with ethical standards
The study was conducted according to the Declaration of Helsinki and was approved by the Reina Sofia Hospital Biomedical Research and University of Cordoba Biomedical Experimentation Ethical Committees [20]. The individuals enrolled in this study were previously informed to obtain complete consent. The authors declare that they have no conflict of interest.
Copyright information
© Springer-Verlag GmbH Germany, part of Springer Nature 2019