Highly sensitive real-time PCR method to identify species origin in heparinoids
Abstract
Heparinoids are the starting material for sulodexide production, a drug used as intravenous anti-coagulant, as an alternative to heparin. The origin determination in the starting material for sulodexide, heparin, and derivatives is crucial for safety (including the impact related to bovine spongiform encephalopathy) and efficacy of the final products. Therefore, European countries have decided to approve the production of heparin only from porcine intestinal mucosa. PCR (polymerase chain reaction) methods are available to evaluate the origin species of crude heparin, during heparin production process, while they lack for the same analysis in heparinoids during sulodexide manufacturing processes. Notably, two main critical issues occur during the origin determination by using PCR for heparinoid analysis: first, heparin has been known to inhibit DNA polymerase activity and, second, the DNA amounts are very low in these samples. To overcome these critical issues, our proposed method is based on two fundamental steps, the DNA concentration by glycogen treatment and DNA purification, which occur before and after DNA extraction, respectively. Finally, by applying real-time PCR, we amplify three specific DNA sequences of ruminant species (bovine, ovine, and caprine), to assess possible contamination, and one from swine, to confirm the origin species. To date, such a method is the only one that determines origin species by PCR for heparinoids that guarantee quality, safety, and traceability of heparin-derived pharmaceutical products. In conclusion, our proposed method is an alternative to nuclear magnetic resonance and ELISA methods, because real-time PCR offers significant advantages in sensitivity, specificity, and robustness.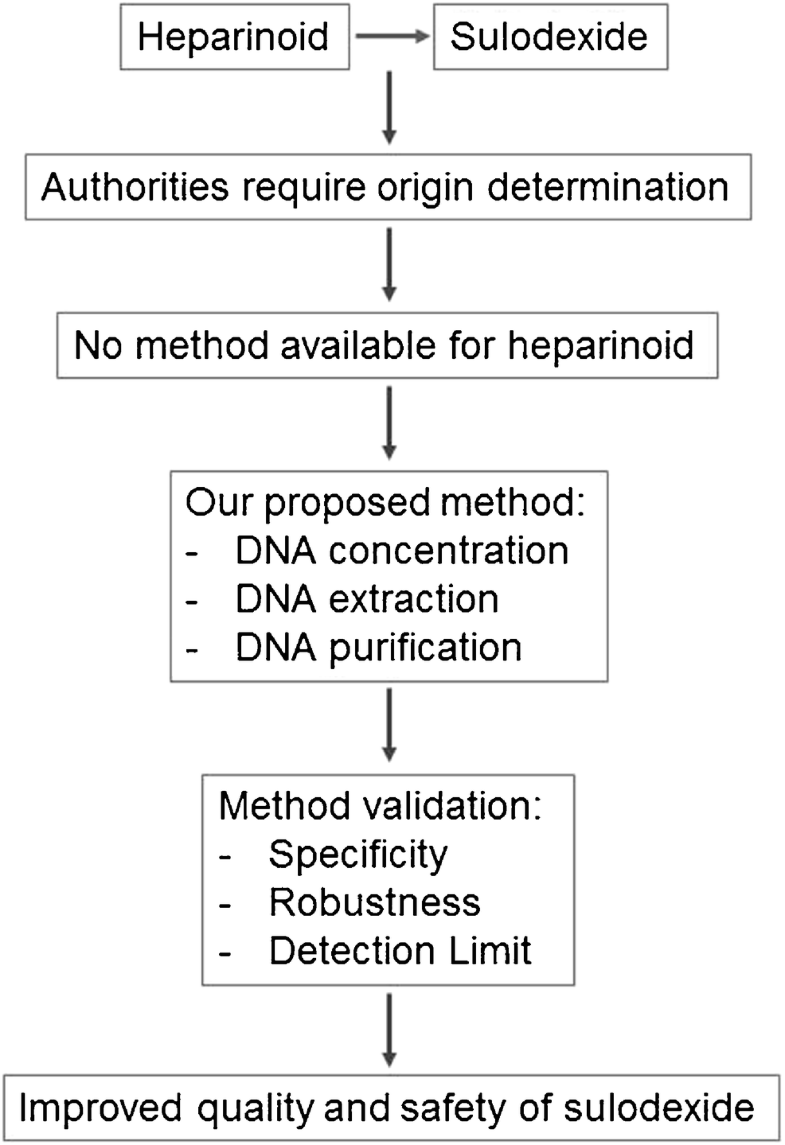 Keywords
Heparinoid 
PCR 
Glycogen 
Purification 
Origin 
Glycosaminoglycans 
Notes
Acknowledgements
The research was performed in the Quality Control and R&D laboratories of Biofer S.p.A., Medolla, Italy. The authors would like to thank Senior Management of the company, and particularly, Dr. Alessandro Lapini Sacchetti and Dr. Gianmaria Ristori for their support, endorsement, and extensive knowledge in the field of this class of active substances.
Compliance with ethical standards
Conflict of interest
The authors declare that they have no conflict of interest.
Copyright information
© Springer-Verlag GmbH Germany, part of Springer Nature 2019