SERS assessment of the cancer-specific methylation pattern of genomic DNA: towards the detection of acute myeloid leukemia in patients undergoing hematopoietic stem cell transplantation
Abstract
In this label-free surface-enhanced Raman scattering (SERS) study of genomic DNA, we demonstrate that the cancer-specific DNA methylation pattern translates into specific spectral differences. Thus, DNA extracted from an acute myeloid leukemia (AML) cell line presented a decreased intensity of the 1005 cm−1 band of 5-methylcytosine compared to normal DNA, in line with the well-described hypomethylation of cancer DNA. The unique methylation pattern of cancer DNA also influences the DNA adsorption geometry, resulting in higher adenine SERS intensities for cancer DNA. The possibility of detecting cancer DNA based on its SERS spectrum was validated on peripheral blood genomic DNA samples from n = 17 AML patients and n = 17 control samples, yielding an overall classification of 82% based on the 1005 cm−1 band of 5-methylcytosine. By demonstrating the potential of SERS in assessing the methylation status in the case of real-life DNA samples, the study paves the way for novel methods of diagnosing cancer.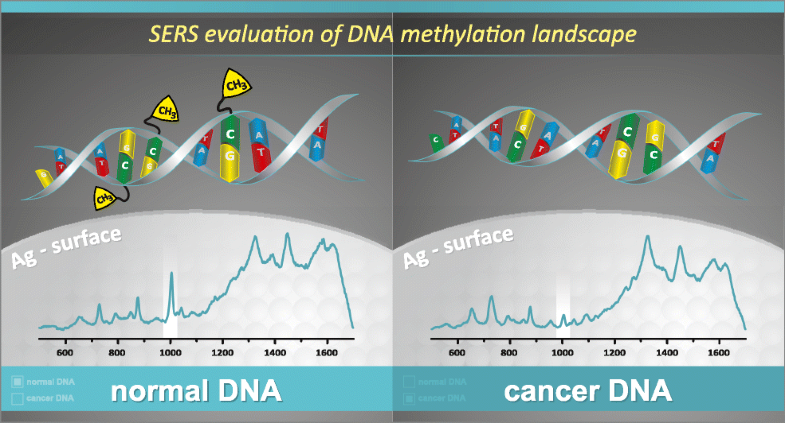 Keywords
Acute myeloid leukemia 
5-Methylcytosine 
SERS 
DNA methylation 
Epigenetics 
Notes
Acknowledgments
A.S. and S.I. acknowledge support from the College for Advanced Performance Studies, Babeș-Bolyai University, Cluj-Napoca, Romania.
Funding information
This work was supported by a grant from the Romanian Ministry of Research and Innovation, CCCDI-UEFISCDI, project number PN-III-P4-ID-PCCF-2016-0112 within PNCDI III.
Compliance with ethical standards
All procedures performed in studies involving human participants were in accordance with the ethical standards of the institutional and/or national research committee and with the 1964 Helsinki declaration and its later amendments or comparable ethical standards.
Conflict of interest
The authors declare that they have no conflict of interest.
Informed consent
Informed consent was obtained from all individual participants included in the study.
Copyright information
© Springer-Verlag GmbH Germany, part of Springer Nature 2019