Determination of ring-substituted amphetamines through automated online hollow fiber liquid-phase microextraction-liquid chromatography
Abstract
The present paper describes an original method for the online preconcentration and analysis of ring-substituted amphetamines in urine samples, used on the integration of robot-assisted hollow fiber liquid-phase microextraction (HF-LPME), high-performance liquid chromatography (HPLC), and fluorescence detection (FLD). A lab-made autosampler, actuating a 100-μL syringe and equipped with a three-way solenoid microvalve, allowed the acceptor phase to flow through and be withdrawn from the lumen fiber, enabling the automated online transference of the enriched acceptor phase for chromatographic analysis, through a six-port switching valve. The developed online HF-LPME-LC/FLD method demonstrated high analytical throughput and confidence, facilitating the efficient extraction and determination of the target analytes, with minimal solvent consumption and sample manipulation, in a straightforward way. Sample cleanup, analyte uptake, and analysis were carried out in 14.5 min. Under optimal conditions, automated online HF-LPME showed excellent linearity, precision, and trueness, obtaining intraday RSDs between 2.9 and 9.2% (n = 6) and interday RSDs between 5.3 and 9.3% (n = 6). Enrichment factors (EFs) ranged between 14.2 and 15.7, extraction recoveries (ERs) ranged between 17.7 and 19.5%, and the limits of detection (S/N = 3) were 2.0, 3.0, and 3.0 μg L−1 for MDA, MDMA, and MDEA, respectively. The method proved to be an effortless, rapid, reliable, and environment-friendly approach for the determination of drug abuse in urine samples.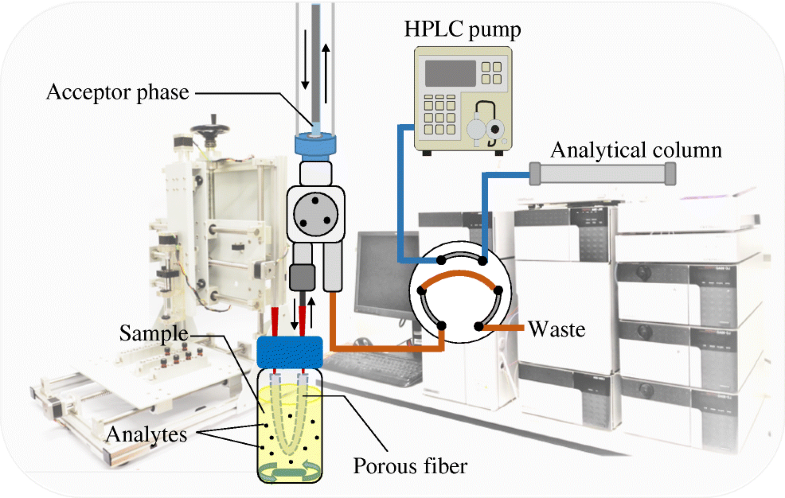 Keywords
Automation 
Microextraction 
Sample preparation 
Liquid chromatography 
Mass spectrometry 
Notes
Funding information
The authors received financial support from São Paulo Research Foundation (FAPESP) through grant nos. 2010/19910-9, 2014/03795-0, 2016/21950-5, 2017/02147-0, and 2018/00432-1, and from CNPq through grant nos. 459326/2014-7, 307293/2014-9, 311300/2015-4, and 425814/2018-1. This study was financed in part by the Coordenação de Aperfeiçoamento de Pessoal de Nível Superior - Brasil (CAPES) – Finance Code 001.
Compliance with ethical standards
All procedures performed in studies involving human participants were in accordance with the ethical standards of the University of Campinas committee, CAAE 58187816.6.0000.5404, and with the 1964 Helsinki Declaration. Urine samples were obtained from healthy volunteers who signed informed consent form.
Competing interests
The authors declare that they have no conflict of interest.
Copyright information
© Springer-Verlag GmbH Germany, part of Springer Nature 2019