Synthesis and characterization of deep eutectic solvents (five hydrophilic and three hydrophobic), and hydrophobic application for microextraction of environmental water samples
Abstract
Hydrophilic and hydrophobic deep eutectic solvents (DESs) as "green" solvents were applied in this study for the microextraction of environmental samples. A series of DESs (five hydrophilic and three hydrophobic) were synthesized and characterized by Fourier transform infrared spectroscopy. Physicochemical property parameters of eight DESs including water solubility, density, conductivity, and freezing point were assessed. Compared with the performance of five hydrophilic DESs in water phase, the three hydrophobic DESs were more suitable for application in dispersive liquid-liquid microextraction for the determination of sulfonamides in water sample. In dispersive liquid-liquid microextraction process, analytical parameters including type and volume of extraction solvent, extraction time, and pH of water sample were investigated. Under optimum conditions, 60 μL of hydrophobic DESs was used for extraction for 2 min in pH = 7.0 sample. The linear ranges were 0.05–5.0 μg/mL for the four sulfonamides with the correlation coefficients in the range of 0.9991–0.9999. The limits of detection were in the range of 0.0005–0.0009 μg/mL and the limits of quantification were in the range of 0.0019–0.0033 μg/mL. The recoveries of the analytes of the proposed method for the spiked samples were 80.17–93.5%, with the relative standard deviation less than 6.31%. The results indicated that three hydrophobic DESs showed commendable performance for extraction of sulfonamides, and hydrophobic DES-based microextraction method was successfully applied for monitoring sulfonamides in water samples.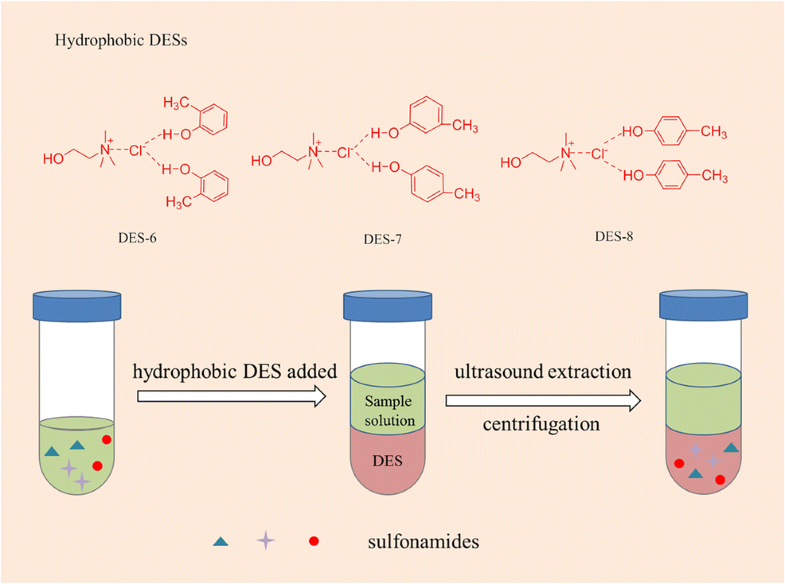 Keywords
Deep eutectic solvents 
Dispersive liquid-liquid microextraction 
Hydrophobic 
Sulfonamides 
Notes
Acknowledgments
This work was supported by the National Natural Science Foundation of China (No.21808173), and it was also supported by the Training Project of Innovation Team of Colleges and Universities in Tianjin (No.TD13-5020). This work was also supported by the National Research Foundation of Korea (NRF) grant funded by Korea government (MSIT) (No.NRF-2019R1A2C1010032).
Compliance with ethical standards
Conflict of interest
The authors declare that they have no competing interests.
Ethical approval
This article does not contain any studies with human participants or animals.
Informed consent
Informed consent is not applicable in this study.
Copyright information
© Springer-Verlag GmbH Germany, part of Springer Nature 2019