A novel GC-MS methodology to evaluate aromatase activity in human placental microsomes: a comparative study with the standard radiometric assay
Abstract
Estrogens are key factors in the development of the estrogen receptor–positive (ER+) breast cancer. Estrogens, estrone (E1), and estradiol (E2) production is achieved by aromatase, a cytochrome P450 enzyme that has androgens, androstenedione (AD), and testosterone (T) as substrates. Nowadays, third-generation aromatase inhibitors (AIs) are considered the gold-standard treatment for ER+ breast cancer in postmenopausal women as well as in premenopausal women with ovary ablation. Aromatase activity assessment still relies on radiometric assays that are expensive, hazardous, and non-environmentally friendly. Thus, in order to overcome these disadvantages, a new methodology was developed to evaluate aromatase activity, based on dispersive liquid-liquid microextraction (DLLME) followed by gas chromatography-mass spectrometry (GC-MS). The enzymatic reaction was carried out in human placental microsomes, using AD as substrate, and the anti-aromatase activity was measured by determining the conversion percentage of AD into E1 (ratio E1/AD) using isotopic analogues as internal standards. The method showed good linearity (r2 = 0.9908 for AD and 0.9944 for E1), high accuracy (more than 74% for AD and more than 66% for E1), high extraction efficiency, and good intra-day and inter-day precision (below 14%, 4 levels). In this work, the IC50 values of the third-generation AIs, anastrozole, letrozole, and exemestane, obtained from the radiometric assay are also compared, and similar IC50 values are described. This method is a good alternative to the current radiometric assay, being fast and sensitive with a good extraction efficiency, accuracy, and recovery. In addition, it may be applied for the evaluation of the anti-aromatase activity of new potential AIs.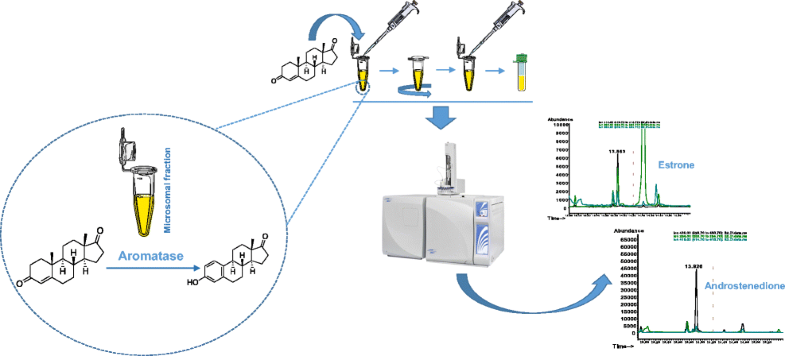 Keywords
Aromatase inhibitors 
Estrogens 
Aromatase activity 
Gas chromatography–mass spectrometry 
Radiometric assay 
Breast cancer 
Abbreviations
AD

Androstenedione

AIs

Aromatase inhibitors

Ana

Anastrozole

DHT-13C3

Dihydrotestosterone-2,3,4-13C3

DLLME

Dispersive liquid-liquid microextraction

DMSO

Dimethyl sulfoxide

DTE

1,4-Dithioerythritol

DTT

Dithiothreitol

ER+

Estrogen receptor-positive

Exe

Exemestane

E1

Estrone

E2

Estradiol

GC-MS

Gas chromatography–mass spectrometry

IS

Internal standard

LC-MS

Liquid chromatography mass spectrometry

Let

Letrozole

LLOQ

Lower limit of quantification

LOD

Limit of detection

MeCN

Acetonitrile

MSTFA

N-Methyl-N-(trimethylsilyl)trifluoroacetamide

NADPH

β-Nicotinamide adenine dinucleotide phosphate

SAR

Structure-activity relationships

SIM

Selective ion monitoring

%RSD

Relative standard deviation

T

Testosterone

TCA

Trichloroacetic acid

TIC

Total ion chromatograms

TMS

Trimethylsilyl

ULOQ

Upper limit of quantification
Notes
Author contributions
Conceived and designed the study: TV Augusto, C Amaral, G Correia-da-Silva, N Teixeira. Performed the experiments: TV Augusto, C Amaral, SC Cunha. Analyzed and interpreted the data: TV Augusto, SC Cunha, C Amaral, G Correia-da-Silva, N Teixeira. Wrote the paper: TV Augusto, SC Cunha, C Amaral, G Correia-da-Silva, N Teixeira. Revised the manuscript: SC Cunha, C Amaral, JO Fernandes, E Tavares da Silva, FMF Roleira, G Correia-da-Silva, N Teixeira. Read and approved the manuscript for publication: TV Augusto, SC Cunha, C Amaral, JO Fernandes, E Tavares da Silva, FMF Roleira, G Correia-da-Silva, N Teixeira.
Funding information
The authors are thankful to Fundação para a Ciência e Tecnologia (FCT) for the attribution of the PhD grant to Tiago Augusto (BD/128333/2017) funded in part by FCT PhD Programme in Medicines and Pharmaceutical Innovation (i3DU). Cristina Amaral thanks FCT for the contract under the funding program (DL nº. 57/2016 and L n.º 57/2017 – Norma Transitória) and through the post-doc grant (SFRH/BPD/98304/2013). This work was supported by the Applied Molecular Biosciences Unit - UCIBIO, which is financed by national funds from FCT/MCTES (UID/Multi/04378/2019). José Fernandes and Sara Cunha thanks to the project UID/QUI/50006/2019 funded through national funds. Sara Cunha also acknowledges FCT for the IF/01616/2015 contract.
Compliance with ethical standards
Human term placental tissues were obtained under informed consent and collected after birth. All the procedures concerning human placental handling were performed after approval of the Ethical Committee of Centro Materno Infantil do Norte, Centro Hospitalar do Porto, Portugal.
Conflict of interest
The authors declare that they have no conflict of interest.
Copyright information
© Springer-Verlag GmbH Germany, part of Springer Nature 2019