Self-heating tilted fiber Bragg grating device for melt curve analysis of solid-phase DNA hybridization and thermal cycling
Abstract
We demonstrate a DNA-based optical fiber device that uses an in-fiber grating, a light absorbing coating with surface anchored DNA, and a built-in optical thermometer. This device is used for precisely thermal cycling surface DNA spots bound by a simple UV cross-linking technique. Near-infrared light of wavelengths near 1550 nm and guided power near 300 mW is coupled out of the fiber core by a tilted fiber Bragg grating inscribed in the fiber and absorbed by the coating to increase its temperature to more than 95 °C. A co-propagating broadband light signal (also in the near-infrared region) is used to measure the reflection spectrum of the grating and thus the temperature from the wavelength shifts of the reflection peaks. The device is capable of sensitive DNA melt analysis and can be used for DNA amplification.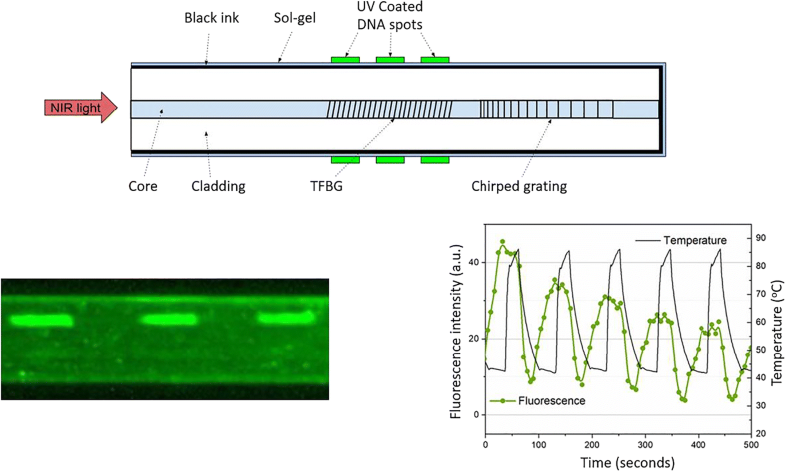 Keywords
DNA 
Fiber grating 
PCR 
Fiber sensor 
Notes
Acknowledgements
This work was funded by grants from the Natural Sciences and Engineering Research Council of Canada and Spartan Biosciences Inc. Gratings were fabricated in the Advanced Photonics Laboratory of Carleton University by Albane Laronche.
Compliance with ethical standards
This research does not involve any human participants or animals.
Conflict of interest
The authors declare that they have no competing interests.
Copyright information
© Springer-Verlag GmbH Germany, part of Springer Nature 2019