An efficient turn-on fluorescence biosensor for the detection of glutathione based on FRET between N,S dual-doped carbon dots and gold nanoparticles
Abstract
Fluorescence resonance energy transfer (FRET) is a kind of energy transfer mechanism depending on the distance between donor and acceptor, which exhibited potential application in biosensors. In this study, an efficient fluorescence "turn-on" strategy for the detection of glutathione (GSH) has been established based on FRET between nitrogen and sulfur dual-doped carbon dots (N,S-CDs) and gold nanoparticles (Au NPs). A novel N,S-CDs was synthesized by a one-pot hydrothermal treatment of 3-aminothiophenol, which possessed excellent fluorescence property with the maximum emission wavelength of 530 nm. Then, the as-prepared N,S-CDs served as energy donor to transfer energy to Au NPs via FRET process, resulting in fluorescence quenching of N,S-CDs. However, the fluorescence of N,S-CDs was recovered efficiently by adding GSH into the mixture solution of N,S-CDs and Au NPs. Therefore, the FRET assembly of N,S-CDs and Au NPs was used as a fluorescence probe for the "turn-on" sensing GSH with the linear range from 3.8 to 415.1 μM and the limit detection of 0.21 μM. This nanosensor platform was employed to monitor GSH in serum samples with satisfying results.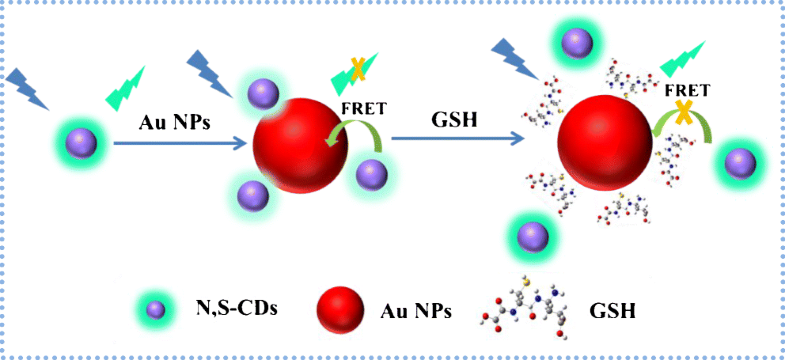 Keywords
N,S dual-doped carbon dots 
Gold nanoparticles 
Fluorescence resonance energy transfer 
Glutathione 
Notes
Acknowledgments
This work was financially supported by the National Natural Science Foundation of China (No. 21705101), Natural Science Foundation of Shanxi Province (No. 201801D121040), and China Postdoctoral Science Foundation (No. 2018M642969).
Compliance with ethical standards
Conflict of interest
The authors declare that they have no conflict of interest.
Ethics approval and consent to participate
This study conformed to the ethical guidelines of the Declaration of Helsinki and was approved by the Shanxi University Institutional Review Board Office. All human serum samples are supplied by the healthy volunteers with their informed consent.
Copyright information
© Springer-Verlag GmbH Germany, part of Springer Nature 2019