P,N Codoped carbon dots as an efficient "off-on" fluorescent probe for lipoic acid detection and its cellular dual-color imaging
Abstract
A facile single hydrothermal method was developed to synthetize P,N codoped carbon dots (P,N/CDs), which show strong and stable fluorescence, good water solubility, low toxicity and good biocompatibility. Hence, a novel and efficient "off-on" P,N/CDs fluorescent probe was developed for the highly sensitive detection of lipoic acid (LA) for the first time. The fluorescence of the P,N/CDs was quenched by Cu2+ forming a P,N/CDs-Cu2+ complex, which acted as the "off" process, but Cu2+ could be removed by LA, due to stronger chelating between LA and Cu2+, forming a more stable complex, which recovered the fluorescence of the P,N/CDs, in order to achieve the "on" process. Under optimal conditions, the concentration of LA and the increased fluorescence intensity of the P,N/CDs-Cu2+ complex displayed a good linear relationship within the range of 0.05–28 μM, with a detection limit (S/N = 3) of 0.02 μM. The established "off-on" fluorescent probe was successfully applied to the analysis of LA in urine samples. The average recoveries were in the range of 98.3–101.5%, with a relative standard deviations of less than 3.1%. In addition, the P,N/CDs were also successfully applied to cellular dual-color imaging of live T24 cells. The results show that the P,N/CDs have great application potential in clinical diagnosis, bioassay and bioimaging.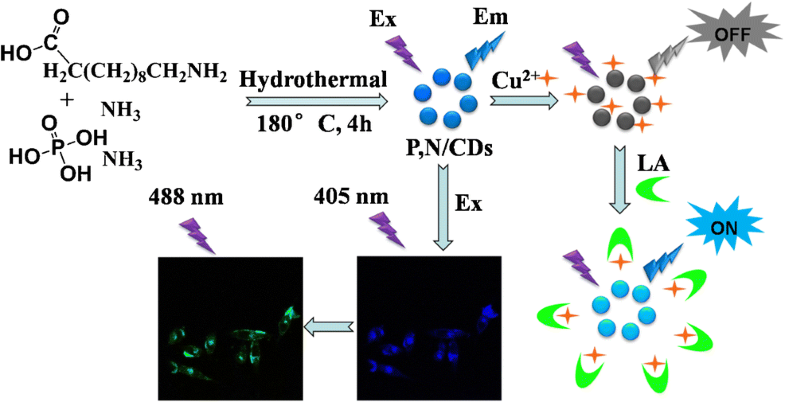 Keywords
Codoped carbon dots 
LA detection 
Fluorescent probe 
Cell imaging 
Notes
Funding information
This study received financial support from the Natural Science Foundation of Guangxi Province (No. 2017GXNSFAA198274).
Compliance with ethical standards
Conflict of interest
The author declares that there is no conflict of interest.
Ethical standards and informed consent
The urine sample was obtained from a healthy volunteer in Hezhou University and informed consent was obtained for the use of human urine. This research was approved by Hezhou University Ethic Committee and all experiments were performed in accordance with the Guideline for Experimentation of Hezhou University.
Copyright information
© Springer-Verlag GmbH Germany, part of Springer Nature 2019