Monocrotophos detection with a bienzyme biosensor based on ionic-liquid-modified carbon nanotubes
Abstract
Acetylcholinesterase (AChE) biosensor technology is widely applied in the detection of organophosphate pesticides in agricultural production via the inhibition of AChE activity by organophosphates. However, the AChE electrode has some drawbacks, such as low stability and high overpotential. Combining the advantages of multiwalled carbon nanotubes (MWCNTs) and ionic liquids, we constructed a novel bienzyme electrode [Cl/iron porphyrin (FePP)-modified MWCNTs/AChE/glassy carbon electrode], which included AChE and mimetic oxidase FePP. In this electrode, FePP is covalently bound to the AChE carrier via ionic liquid for increased electrode sensitivity and stability. Under optimal conditions, this novel biosensor has a monocrotophos detection limit of 3.2 × 10–11 mol/L and good recovery of 89–104%. After 5 weeks of storage at 4 °C, the oxidation current was 97.8% of its original value. The biosensor has high stability and sensitivity for monocrotophos detection and is a promising device for monitoring food safety.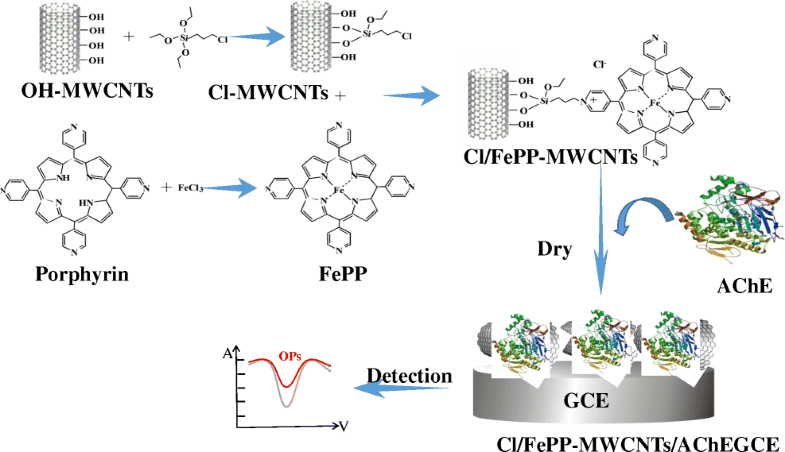 Keywords
Acetylcholinesterase 
Mimetic oxidase 
Modification 
Ionic liquids 
Monocrotophos 
Notes
Acknowledgements
The work was funded by the National Natural Science Foundation of China (no. 21406093), the Natural Science Foundation of Jiangsu Province (no. BK20140529), the Key University Science Research Project of Jiangsu Province (no. 14KJB530001), the China Postdoctoral Science Foundation (no. 2014M550271), and the Priority Academic Program Development of Jiangsu Higher Education Institutions.
Compliance with ethical standards
Conflict of interest
The authors declare no that they have no competing interests.
Copyright information
© Springer-Verlag GmbH Germany, part of Springer Nature 2019