T4 DNA polymerase-assisted upgrade of a nicking/polymerization amplification strategy for ultrasensitive electrochemical detection of Watermelon mosaic virus
Abstract
An upgraded nicking/polymerization strategy for ultrasensitive electrochemical detection of Watermelon mosaic virus (WMV) is proposed on the basis of the exonuclease and polymerase activity of T4 DNA polymerase and Mg2+-dependent DNAzyme-assisted and hemin/G-quadruplex DNAzyme-assisted cascade amplification strategies. Briefly, the hybridized DNA of the target WMV sequence, HP1, and P1 was recognized and nicked by nicking endonuclease Nb.BbvCI, and two DNA segments (P1-25 and P1-6) were produced. P1-25 was digested in the 3′→5′ direction, and digestion was halted at the 3′-terminal G locus with the exonuclease activity of T4 DNA polymerase. When dNTP solution mix was added to the mixture, an intact enzymatic sequence of Mg2+-dependent DNAzyme was synthesized by T4 DNA polymerase, which hybridized with its substrate sequence in the loop segment of HP2 immobilized on a gold electrode and initiated the cleavage round. The caged G-quadruplex sequence was released and formed hemin/G-quadruplex-based DNAzyme, resulting in sharply increased electrochemical signals. A correlation between the differential pulse voltammetry signal and the concentration of target WMV sequence was obtained in the range from 50 fM to 1 nM, with 50 fM detection limit. Because the nicking and polymerization reactions are irreversible and share the same buffer, the cascade amplification strategy is an ultrasensitive and high-efficiency strategy, indicating potential for viral detection.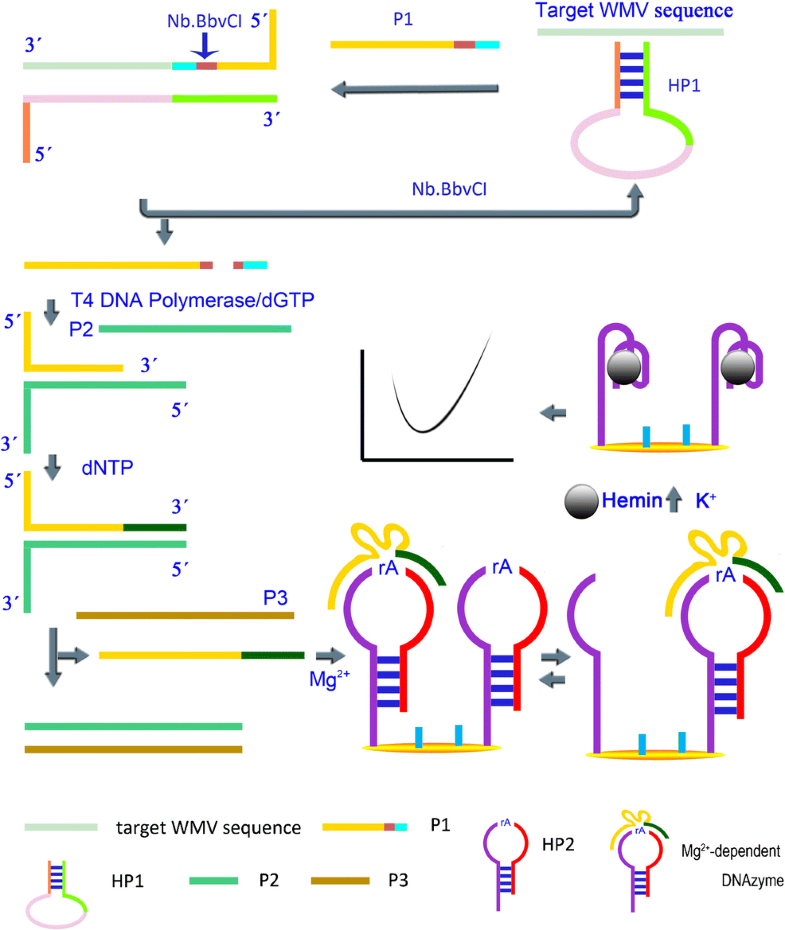 Keywords
Biosensors 
Watermelon mosaic virus
Electrochemical detection 
Exonucleolysis and polymerization 
T4 DNA polymerase 
Cascade amplification 
Notes
Acknowledgements
This work was financially supported by the National Natural Science Foundation of China (grant nos. 21675074 and 31701760) and the Shandong Provincial Major Application Technology Innovation Project.
Compliance with ethical standards
This research did not involve any human participants or animals.
Conflict of interest
The authors declare that they have no competing interests.
Copyright information
© Springer-Verlag GmbH Germany, part of Springer Nature 2019