Microwave-assisted facile synthesis of polymer dots as a fluorescent probe for detection of cobalt(II) and manganese(II)
Abstract
Polymer dots (PDs) were synthesized at 200 °C for 90 min via a microwave-assisted method. The PDs were characterized by fluorescence spectroscopy, UV-vis absorbance spectra, transmission electron microscopy, Fourier transform infrared spectroscopy, and X-ray photoelectron spectroscopy. The PDs display blue fluorescence under 320 nm excitation with a fluorescent quantum yield of 13.48%. The PDs show stable fluorescence against ion strength and light bleaching, especially extreme pH. Significant pH-independent behavior may relate to –OH of polyvinyl alcohol (PVA) retained on the surface of PDs. The bright fluorescence of PD solution can be distinctly quenched by cobalt ion (Co2+) and manganese ion (Mn2+) in PD solution. For Co2+, the linear was from 3.4 to 50.0 μmol L−1 and 46.7 to 600.0 μmol L−1 with the limit of detection (LOD) of 1.0 μmol L−1. The LOD of Mn2+ was 0.4 μmol L−1 in the range from 1.5 to 100.0 μmol L−1. Self-film-forming PDs (FPDs) were obtained via dropping PD solution on quartz glass. The bright blue fluorescence of FPDs can be obviously quenched by Co2+ and Mn2+. This paper may provide an efficient and flexible approach to the application of on-site detection.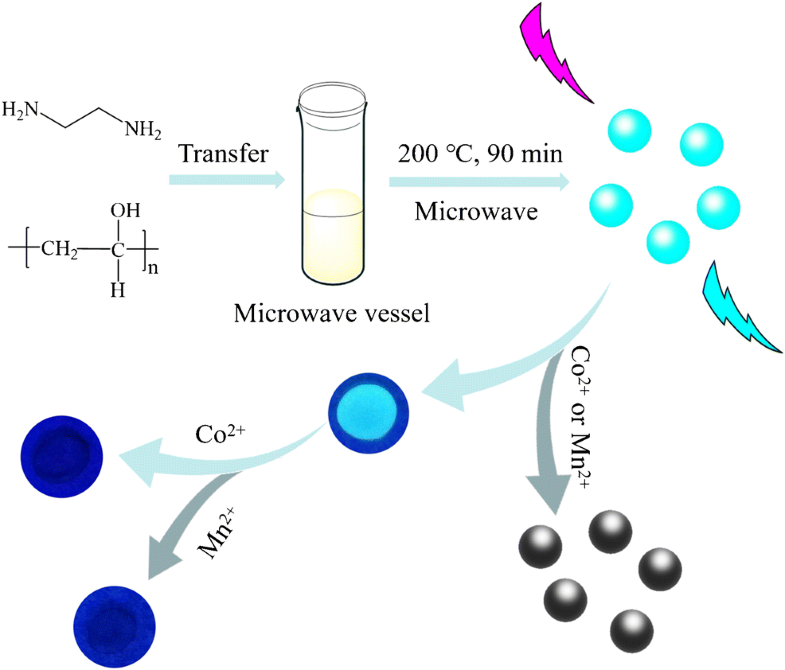 Keywords
Polymer dots 
Fluorescent 
Self-film forming 
Co2+ 
Mn2+ 
Notes
Funding information
This work was financially supported by the National Science Foundation of China (NSFC) (No. 201804049) and the Development Program of the Ministry of Science and Technology of Jilin Province, China (No. 20180201011GX).
Compliance with ethical standards
Conflict of interest
The authors declare that they have no competing interests.
Copyright information
© Springer-Verlag GmbH Germany, part of Springer Nature 2019