Metabolomic and lipidomic characterization of Oxalobacter formigenes strains HC1 and OxWR by UHPLC-HRMS
Part of the following topical collections:
Abstract
Diseases of oxalate, such as nephrolithiasis and primary hyperoxaluria, affect a significant portion of the US population and have limited treatment options. Oxalobacter formigenes, an obligate oxalotrophic bacterium in the mammalian intestine, has generated great interest as a potential probiotic or therapeutic treatment for oxalate-related conditions due to its ability to degrade both exogenous (dietary) and endogenous (metabolic) oxalate, lowering the risk of hyperoxaluria/hyperoxalemia. Although all oxalotrophs degrade dietary oxalate, Oxalobacter formigenes is the only species shown to initiate intestinal oxalate secretion to draw upon endogenous, circulating oxalate for consumption. Evidence suggests that Oxalobacter regulates oxalate transport proteins in the intestinal epithelium using an unidentified secreted bioactive compound, but the mechanism of this function remains elusive. It is essential to gain an understanding of the biochemical relationship between Oxalobacter and the host intestinal epithelium for this microbe to progress as a potential remedy for oxalate diseases. This investigation includes the first profiling of the metabolome and lipidome of Oxalobacter formigenes, specifically the human strain HC1 and rat strain OxWR, the only two strains shown thus far to initiate net intestinal oxalate secretion across native gut epithelia. This study was performed using untargeted and targeted metabolomics and lipidomics methodologies utilizing ultra-high-performance liquid chromatography-mass spectrometry. We report our findings that the metabolic profiles of these strains, although largely conserved, show significant differences in their expression of many compounds. Several strain-specific features were also detected. Discussed are trends in the whole metabolic profile as well as in individual features, both identified and unidentified.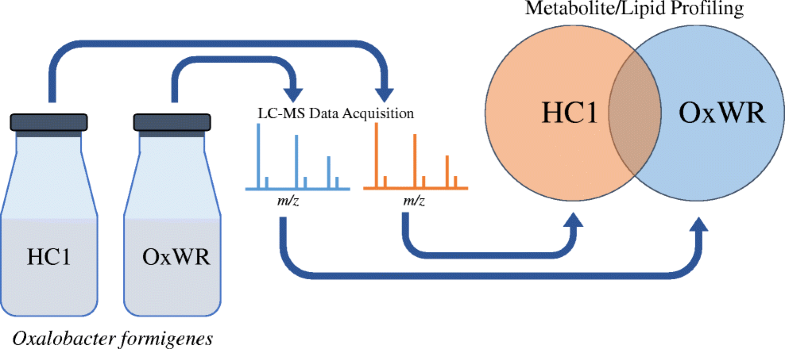 Keywords
Metabolomics 
Lipidomics 
Oxalobacter formigenes
Mass spectrometry 
LC-MS 
Oxalate 
Nephrolithiasis 
Hyperoxaluria 
Abbreviations
BMP

Bis(monoacylglycero)phosphate

CER

Ceramide

CL

Cardiolipin

CoQ10

Coenzyme Q10

DG

Diacylglycerol

DMPE

Dimethylphosphatidylethanolamine

FA

Formic acid

LPC

Lysophosphatidylcholine

LPE

Lysophosphatidylethanolamine

LSM

Lysosphingomyelin

OxPE

Oxidized phosphatidylethanolamine

PAzePC

1-Palmitoyl-2-azelaoyl-sn-glycero-3-phosphocholine

PC

Phosphatidylcholine

PE

Phosphatidylethanolamine

PG

Phosphatidylglycerol

PI

Phosphatidylinositol

PS

Phosphatidylserine

SM

Sphingomyelin

SO

Sphingosine

TG

Triacylglycerol
Notes
Acknowledgments
The authors would like to acknowledge Dr. Cory A. Leonard, Department of Pathology, Immunology and Laboratory Medicine, University of Florida, for her assistance with sample generation for this experiment, including media preparation and cell culture, harvest, and lysis. Also to be acknowledged are Dr. Jeremy P. Koelmel, Department of Pathology, Immunology and Laboratory Medicine, University of Florida, and Vanessa Y. Rubio, Department of Chemistry, University of Florida, for their contributions with figure generation for the lipidomics analysis and graphical abstract, respectively.
Funding information
This work was funded by the National Institutes of Health grant 2R01DK088892-05A1.
Compliance with ethical standards
Conflict of interest
The authors declare that they have no conflicts of interest.
Copyright information
© Springer-Verlag GmbH Germany, part of Springer Nature 2019