Highly sensitive fluorescent probe based on a novel phenothiazine dye for detection of thiophenols in real water samples and living cells
Abstract
Based on an excited-state intramolecular proton transfer (ESIPT) fluorophore, a novel fluorescent off-on probe for detection of thiophenols was designed and synthesized. This probe (λex = 401 nm, λem = 527 nm) displayed high specificity for sensing thiophenols over other biologically related species. Besides, this probe possessed capabilities of monitoring thiophenols with rapid response rate (3 min), a large Stokes shift (126 nm), and high sensitivity (2.7 nM). The sensing mechanism was considered to be that thiophenols triggered thiolysis of the probe and the ESIPT fluorophore was released, as confirmed by means of HPLC and HRMS. Most notably, this probe was successfully applied to monitor levels of thiophenols in realistic samples and MDA-MB-231 cells.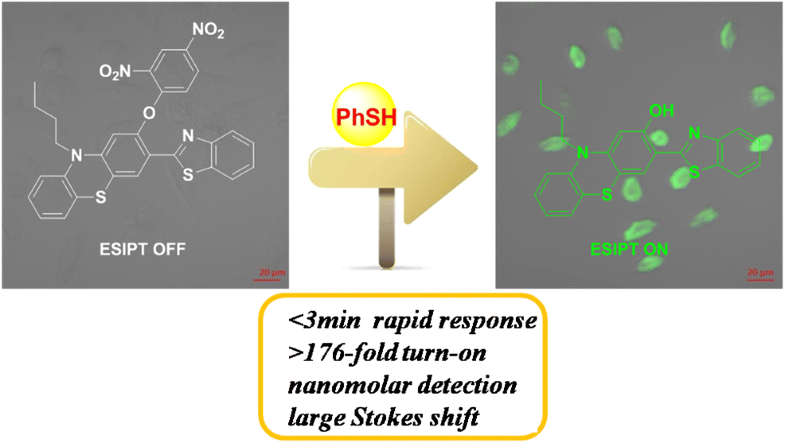 Keywords
Large stokes shift 
Thiophenol 
Probe 
MDA-MB-231 cells 
Notes
Funding information
The research was supported by University Nursing Program for Young Scholars with Creative Talents in Heilongjiang Province (No. UNPYSCT-2017167), China.
Compliance with ethical standards
Conflict of interest
The authors declare that they have no conflict of interest.
Copyright information
© Springer-Verlag GmbH Germany, part of Springer Nature 2018