A highly selective and sensitive colorimetric detection of uric acid in human serum based on MoS2-catalyzed oxidation TMB
Abstract
A simple, rapid, and effective colorimetric assay for the detection of uric acid (UA) has been built, using the MoS2 nanoflakes-catalyzed 3,3′,5,5′-tetramethylbenzidine (TMB)-H2O2 system. In the presence of oxygen and uricase, uric acid was oxidized specifically to produce H2O2. MoS2 nanoflakes synthesized by hydrothermal reaction could catalyze the oxidation of TMB by H2O2, and engendering the colorimetric signal. Finally, the change in the color from colorless to blue was seen with naked eye, indicating the presence or absence of UA. Under the optimized conditions, a linear relationship between the absorbance and UA concentration in the range of 0.5–100 μM (R2 = 0.996) with the limit of detection for 0.3 μM (S/N = 3). The proposed assay was successfully applied to the detection of UA in human serum with the recoveries over 94.54%. Thus, these results suggest that the UA assay–based MoS2-catalyzed TMB-H2O2 has great foreground for fast clinical diagnosis of gout without the need for advanced and costly equipment.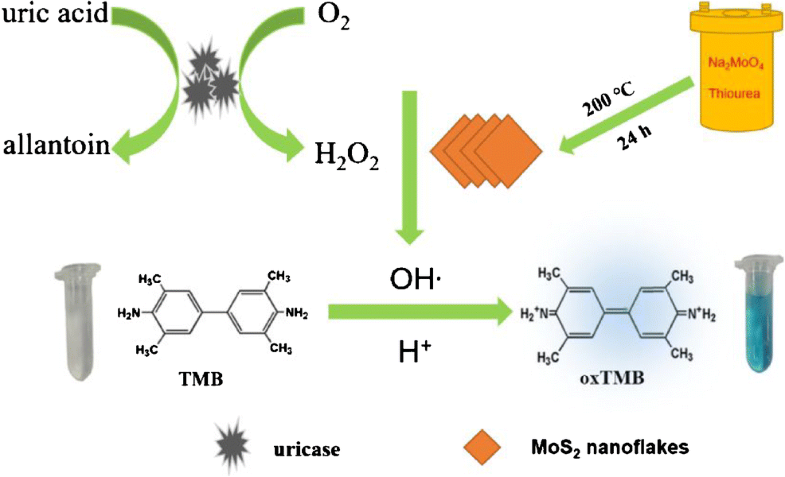 Keywords
Uric acid 
Uricase 
TMB 
MoS2 nanoflakes 
Serum samples 
Notes
Funding information
This work was financially supported by the National Natural Science Foundation of China (21765015, 21808099 to P. Qiu, 31860263 to X. Wang), the Science Foundation of Jiangxi Provincial Department of Education (No. KJLD14010 and 20153BCB23035 to X. Wang), the major program of Natural Science Foundation of Jiangxi Province (No. 20161ACB21002 to X. Wang), and the Jiangxi Province Food and Drug Administration Science Foundation (2016SP04), China.
Compliance with ethical standards
The study was approved by the ethics committee of Jiangxi Medical College, and their guidelines were followed throughout this study. The serum samples involved in our research were from gout individuals. Informed consent was obtained from all human participants.
Competing interests
The authors declare that they have no competing interests.
Copyright information
© Springer-Verlag GmbH Germany, part of Springer Nature 2018