Construction of H2O2-responsive asymmetric 2D nanofluidic channels with graphene and peroxidase-mimetic V2O5 nanowires
Part of the following topical collections:
Abstract
The flexible two-dimensional (2D) nanosheet structure, high specific surface, and unique electrical properties make graphene an emerging nano-building block for molecule-responsive nanochannels. Herein, we report a novel graphene and V2O5 nanowire–based porous asymmetric membrane, which shows excellent catalytic performance and sensitive and quick response for H2O2. Poly(diallyldimethylammonium chloride)–functionalized graphene nanosheets were made into restacked lamellar film with porous structure and high anion selectivity. V2O5 nanowire, a kind of enzyme-mimetic nanomaterial, was mounted on one side of the graphene membrane through a sequential vacuum filtration method. The V2O5 nanowires on the membrane have high catalytic activities for H2O2 reduction, with the Michealis-Menten constant (KM) of 1.74 mM, better than various reported peroxidase-based nanocomposites and peroxidase mimics. This composite membrane showed quick response to H2O2 within 5 s, with good reproducibility and high operational stability. The responsive linear range was from 10 μM to 1 mM, with the detection limit of 9.5 μM. This fabrication of 2D layered nanomaterials and enzyme mimics could be extended for developing novel smart molecule-responsive devices.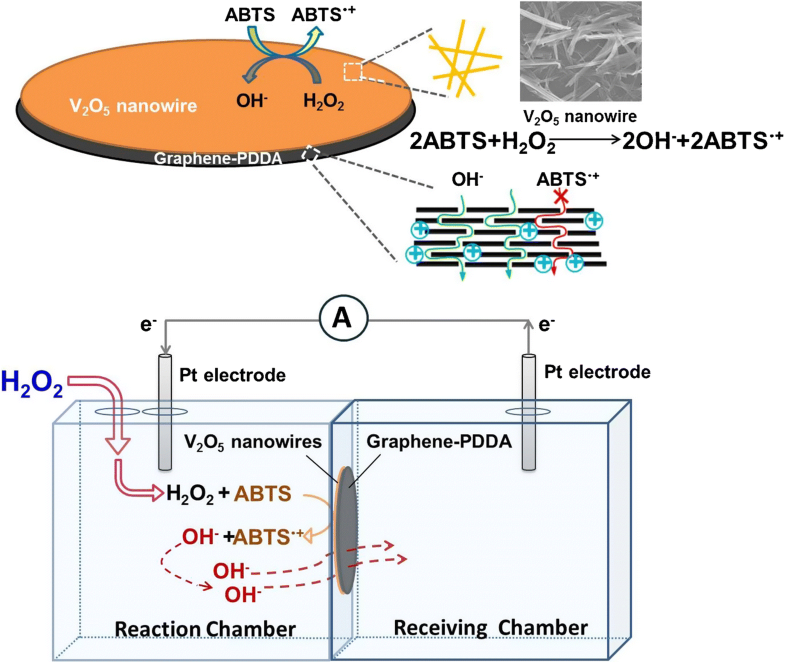 Keywords
2D nanochannels 
Graphene 
V2O5 nanowires 
Porous membrane 
H2O2-responsive 
Notes
Funding information
This work was financially supported by the National Natural Science Foundation of China (No. 21621003, No. 21235004, No. 21327806), National Key Research and Development Program of China (No. 2016YFA0203101), and Tsinghua University Initiative Scientific Research Program.
Compliance with ethical standards
Conflict of interest
The authors declare that they have no conflicts of interest.
Copyright information
© Springer-Verlag GmbH Germany, part of Springer Nature 2018