Epitope and affinity determination of recombinant Mycobacterium tuberculosis Ag85B antigen towards anti-Ag85 antibodies using proteolytic affinity-mass spectrometry and biosensor analysis
Abstract
Tuberculosis (TB) is the first cause of death from infectious diseases worldwide. Only a single anti-TB vaccine is currently available for clinical use, but its efficacy is not achieved with certainty. The aim of this work is to provide a basis for the rational design of a neo-glycoconjugate vaccine against TB. Structural characterization of recombinant antigenic proteins from Mycobacterium tuberculosis (MTB) Ag85B (rAg85B, variants, and semi-synthetic glycoconjugates) was initially carried out. Identification of antibody epitope analyses by proteolytic affinity-mass spectrometry and surface plasmon resonance (SPR) biosensor analyses were performed in order to qualitatively identify and quantitatively characterize interaction structures of the antigens with antibodies from different sources. A commercial monoclonal antibody and polyclonal antibodies from different sources (patients with active TB, vaccinated individuals, and a healthy control) were employed to analyze antigen-antibody interactions. These combined approaches provided the identification of different assembled epitope regions on the recombinant MTB antigens, their affinity binding constants in the interactions with specific antibodies, and revealed the importance of protection from excessive glycosylation. The identified epitope peptides should constitute a suitable basis for the design of new specific target vaccines.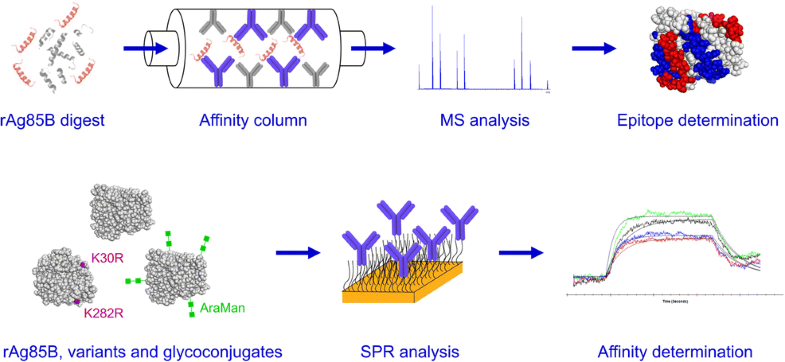 Keywords
Antibody epitope identification 
Affinity mass spectrometry 
Surface plasmon resonance 
Ag85B 
Tuberculosis 
Glycoconjugate vaccine 
Notes
Acknowledgments
The research visiting stay of Francesca Rinaldi at the Steinbeis Centre for Biopolymer Analysis and Biomedical Mass Spectrometry, Rüsselsheim am Main, was supported by an increase of the PhD scholarship and a grant for international mobility from the University of Pavia.
We dedicate this paper to the memory of Prof. Massimo Amicosante, who made a substantial contribution sharing his knowledge and providing valuable suggestions with great humanity and professionalism.
Compliance with ethical standards
Antibody samples were blind analyzed and derived from anonymous patients belonging to a no profit Biobank located at University of Rome "Tor Vergata".
Conflict of interest
The authors declare that they have no conflict of interest.
Copyright information
© Springer-Verlag GmbH Germany, part of Springer Nature 2018