Comprehensive analysis of oxylipins in human plasma using reversed-phase liquid chromatography-triple quadrupole mass spectrometry with heatmap-assisted selection of transitions
Abstract
Oxylipins, a subclass of lipid mediators, are metabolites of various polyunsaturated fatty acids with crucial functions in regulation of systemic inflammation. Elucidation of their roles in pathological conditions requires accurate quantification of their levels in biological samples. We refined an ultra-performance liquid chromatography-multiple reaction monitoring-mass spectrometry (UPLC-MRM-MS)-based workflow for comprehensive and specific quantification of 131 endogenous oxylipins in human plasma, in which we optimized LC mobile phase additives, column, and gradient conditions. We employed heatmap-assisted strategy to identify unique transitions to improve the assay selectivity and optimized solid phase extraction procedures to achieve better analyte recovery. The method was validated according to FDA guidelines. Overall, 94.4% and 95.7% of analytes at tested concentrations were within acceptable accuracy (80–120%) and precision (CV < 15%), respectively. Good linearity for most analytes was obtained with R2 > 0.99. The method was also validated using a standard reference material—SRM 1950 frozen human plasma to demonstrate inter-lab compatibility.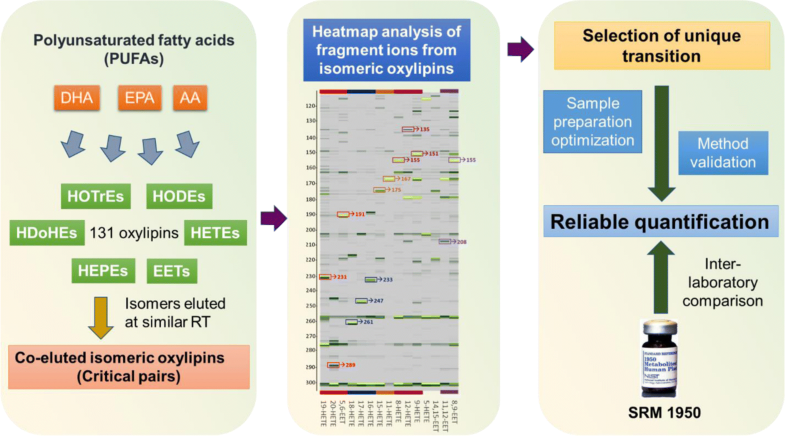 Keywords
Oxylipins 
Lipid mediators 
LC-MRM-MS 
Heatmap 
Human plasma 
SRM 1950 
Notes
Funding information
This work was partially supported by the American Heart Association (Grant 17CSA33570025) and the National Institute of Diabetes and Digestive and Kidney Diseases of the National Institutes of Health (Grant R01 DK116731).
Compliance with ethical standards
Deidentified, commercial human plasma were used in this work. Research conducted with unidentified samples is not human subjects' research and is not regulated by the Federal Policy for the Protection of Human Subjects (45 CFR Part 46).
Conflict of interest
The authors declare that they have no conflicts of interest.
Copyright information
© Springer-Verlag GmbH Germany, part of Springer Nature 2018