Selective extraction of 3,4-dihydroxybenzoic acid in Ilex chinensis Sims by meticulous mini-solid-phase microextraction using ternary deep eutectic solvent-based molecularly imprinted polymers
Abstract
A ternary deep eutectic solvent (TDES) was used as both template and functional monomer in the synthesis of TDES-based molecularly imprinted polymers (TDES-MIPs). A meticulous miniaturized solid-phase microextraction (mini-SPME) method followed by high-performance liquid chromatography (HPLC) were used for the optimal speciation of 3,4-dihydroxybenzoic acid (3,4-DHBA) in the needle of a syringe system with response surface methodology (RSM). Under the optimal conditions for the determination of 3,4-DHBA (amount of adsorbent (2 mg), sample volume (1 mL), cycles for adsorption and desorption (6)), the actual extraction amount was 8.46 μg g−1. The limits of detection (LODs, S/N = 3) for 3,4-DHBA in Ilex chinensis Sims were 0.26–0.31 μg mL−1, and the intra-day and inter-day precision (relative standard deviations, n = 4) after spiking with 5 μg mL−1, 100 μg mL−1, and 200 μg mL−1 were both less than 4.21%. The meticulous method (TDES-MIP-mini-SPME) combined with RSM offers a significant advance over existing methods, because of the meticulous operation and excellent selectivity of 3,4-DHBA from complex samples.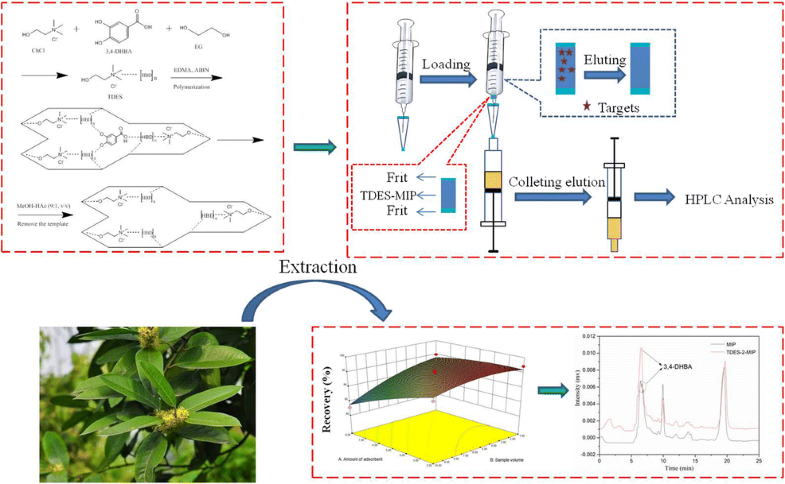 Keywords
Miniaturized solid-phase microextraction 
3,4-Dihydroxybenzoic acid 
Ternary deep eutectic solvent-based molecularly imprinted polymers 
Response surface methodology 
Ilex chinensis Sims 
Notes
Funding information
This study was supported by the Basic Science Research Program through the National Research Foundation of Korea (NRF) funded by the Ministry of Education (NRF-2015R1A4A1042434).
Compliance with ethical standards
Conflict of interest
The authors declare that they have no competing interests.
Copyright information
© Springer-Verlag GmbH Germany, part of Springer Nature 2018