Hexagonal cobalt oxyhydroxide nanoflakes/reduced graphene oxide for hydrogen peroxide detection in biological samples
Abstract
Abnormal concentration of hydrogen peroxide (H2O2) in blood plasma and cells may lead to several diseases. Thus, it is important to develop a selective and sensitive method to monitor H2O2. In the present work, a novel nonenzymatic H2O2-sensing platform based on cobalt oxyhydroxide (CoOOH)/reduced graphene oxide (RGO) nanocomposite was fabricated. CoOOH nanoflakes were firstly synthesized via soft chemistry routes and then assembled on the surface of RGO. A series of characterizations by X-ray diffraction, X-ray photoelectron spectroscopy, and transmission electron microscopy demonstrated that hexagonal CoOOH nanoflakes were well distributed on the surface of RGO. The nanocomposite exhibited excellent electrochemical performance for H2O2 detection. Two linear ranges of 6–200 μM and 200–1500 μM were obtained, and the detection limit was 0.01 μM (signal-to-noise ratio was 3). The good performance was attributed to more exposed catalytic active sites of CoOOH nanoflakes compared with zero-dimensional nanoparticles and outstanding conductivity of RGO as well as their synergistic effect. Moreover, the nanocomposite was used to detect H2O2 from human serum and HeLa cells with satisfactory results.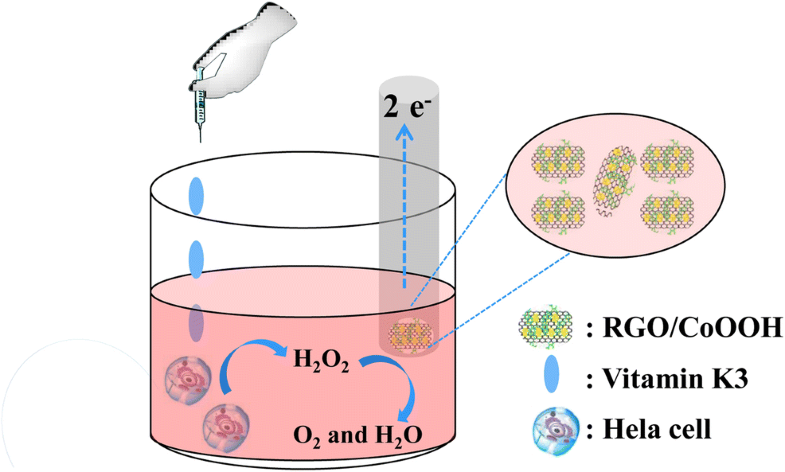 Keywords
Reduced graphene oxide 
Cobalt oxyhydroxide 
Hydrogen peroxide 
Electrochemistry 
Live cell 
Notes
Acknowledgements
We acknowledge financial support from the National Natural Science Foundation of China (grant nos. 21676270 and 21205132), the National Natural Science Foundation of China-Shanxi Joint Found for Coal-Based Low-Carbon Technology (grant no. U1610222), the Science and Education Integration Innovation of Molecule Science of Institute of Chemistry, Chinese Academy of Sciences (grant no. Y52902HED2), the Special Fund of the University of Chinese Academy of Sciences for Scientific Research Cooperation Between Faculty and Institutes (grant no. Y552016Y00), and the help from Chaochao Yue and Chun Shao.
Compliance with ethical standards
The study was approved by the Health Center of the University of Chinese Academy of Sciences and was performed in accordance with the ethical standards. Informed consent was obtained from all individual participants included in the study.
Conflict of interest
The authors declare that they have no competing interests.
Copyright information
© Springer-Verlag GmbH Germany, part of Springer Nature 2018